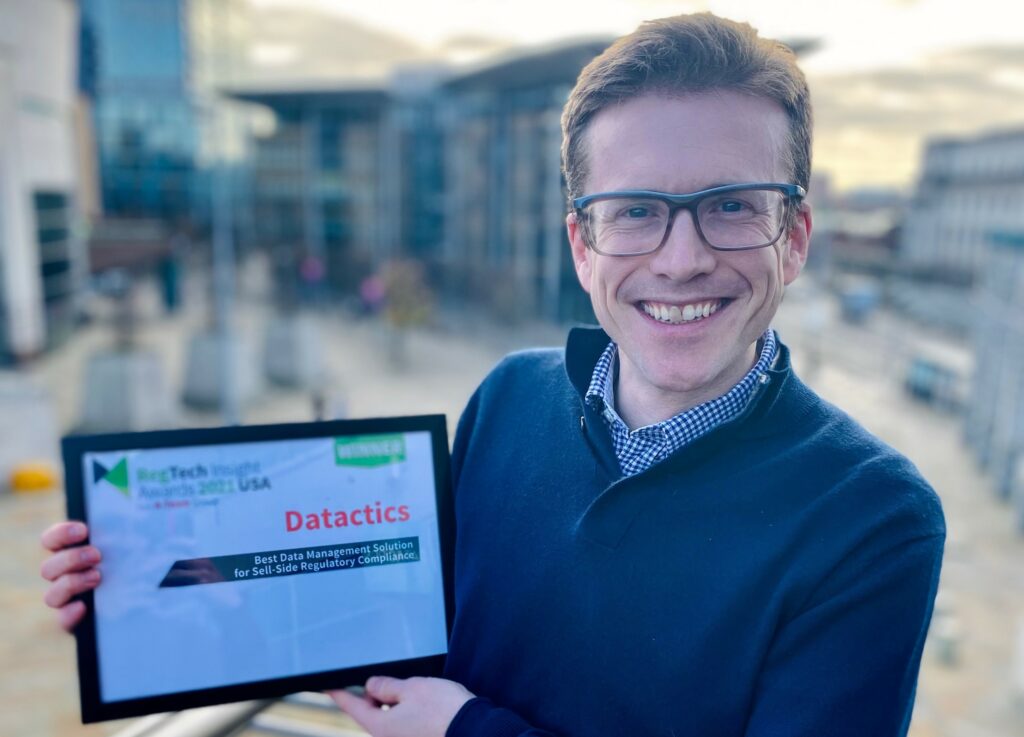 Datactics has won 'Best Data Management Solution for Sell-Side Regulatory Compliance' at the RegTech Insight Awards USA – 2021.
The RegTech Insight Awards USA recognise established solution providers and innovative newcomers, celebrating RegTech solutions that have successfully improved firms' ability to respond to the evolving and increasingly complex regulatory requirements across the global financial services industry.
The awards are designed to celebrate RegTech providers who are developing new and innovate solutions for their clients, in order to overcome a wide range of regulatory challenges, with a specific focus on Data Management, Trading Technology, RegTech and ESG suppliers. Nominations are invited from across the industry for consideration by the A-Team's advisory panel and team of editors.
Head of Sales, Kieran Seaward said,
"We are delighted to have won this award, particularly during a time where regulatory compliance has never been greater in light of the Pandemic. The regulatory reporting landscape is growing increasingly complex and demanding across the global financial services sector. In our experience, clients benefit from developing robust data management programmes from the ground up, in order to adapt and comply with changing regulations and standards.

"Our solution takes the headache out of being able to measure and report on emerging and specific regulations, with its no-code functionality and pre-built rules for regulations including IFRS 9 and BCBS 239 for financial services.

"We would like to thank our clients and A-Team's readers for voting for us as we continue to innovate and deploy new market solutions to our wealth and asset management customers"
Angela Wilbraham, CEO of A-Team Group, which hosts the prestigious RegTech Insight Awards USA said,
"We are delighted that our RegTech Insight community of over 35,000 senior regtech specialists has voted Datactics as the Best Data Management Solution for Sell-Side Regulatory Compliance in this highly competitive field. Datactics has proven themselves to be deserving winners and we congratulate them on their success."
About Datactics
Datactics provides business user-focused, no-code data quality and matching tools helping financial firms gain value from their data and reduce regulatory risk. Its award-winning platform integrates with multiple data sources, governance, and lineage systems with intelligent automation. It allows Chief Data Officers and senior data leaders to measure, report and fix their data, and match across multiple internal and external sources and systems. Using AI, the platform significantly reduces the manual effort required to make decisions, with full transparency. For more information or to book a demo please contact us. 
And for more from Datactics, find us on Linkedin, Twitter or Facebook.