Bad data can't wait for IT.
Business demands on data are increasing and traditional tools and processes can't keep up.
Datactics Self-Service Data Quality platform empowers business users to self-serve for high-quality data, saving time, reducing costs and increasing profitability.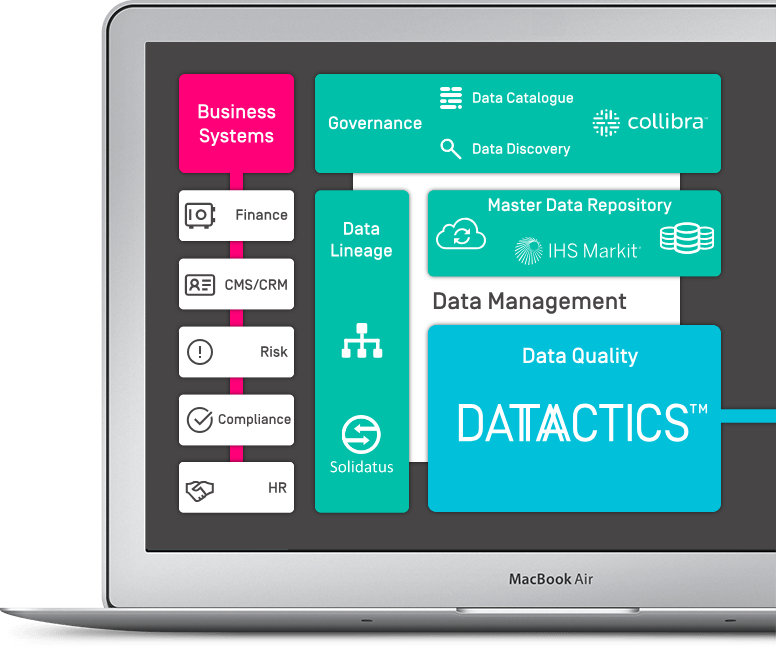 Datactics powers self-service data quality for data management professionals.
Increasingly, people without coding or programming experience are needing to get more from their data, without having to re-train or wait for IT teams to provide it, which is easily enabled with Self-Service Data Quality. The 'data management estate' requires market-leading specialities at every turn, designed with these business experts in mind.
This is where Datactics adds rapid value to any data strategy programme. Our home-grown self-service software features many hundreds of thousands of person-hours of development in the fundamentals of data quality and matching. We provide fast results, full training and guidance, empowering business users who understand the data to measure, fix and fully leverage their data assets. 
You will need to understand the nature of data as it flows through your organisation – where it came from, what happens to it, and where it is moving to. We have a strategic partnership with Solidatus in this area, whose capabilities are second to none.
This is the Datactics sweet spot, the basis of our 20+ years of successful data quality management programmes. Profiling, cleansing, matching and measuring data quality in a user-friendly UI with rich dashboarding is a modern-day prerequisite of successful data management. Utilising the data preparation capabilities of our platform helps deliver well-structured, defined data, a must for downstream data management, especially for metadata, definitions and standards that are critical to successful AI implementations.
Cataloguing, assigning policies and overarching roles & responsibilities for data is a fundamental tenet of data management. Data governance need not be the starting point, but it must be included if the data strategy is to succeed.
Self-Service Data Quality underpinned by Datactics technology
Datactics solutions are customisable and built on our award-winning software platform. Contact us to discover how we can accelerate your data quality journey.
It's easy to engage us on a low-risk, cost-effective Proof of Value: