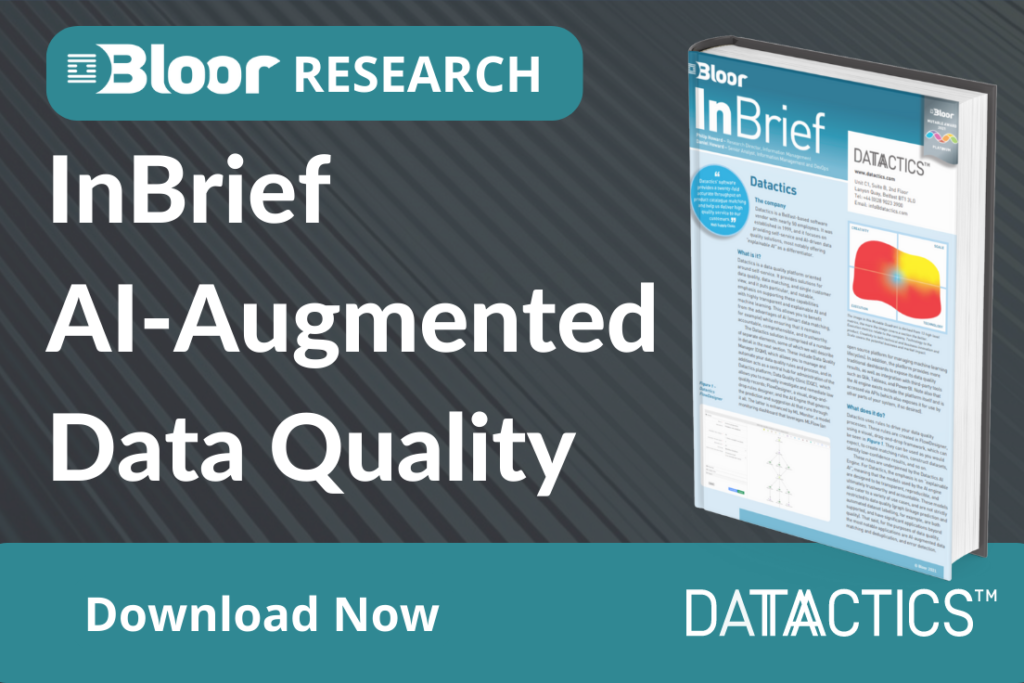 Access independent analyst research on Datactics' AI augmented data quality from Bloor. 
"Datactics is a data quality platform oriented around self-service. It provides solutions for data quality, data matching, and single customer view, and it puts particular, and notable, emphasis on supporting these capabilities with highly transparent and explainable AI and machine learning."
Bloor Research met with Datactics in 2021 to discuss the company's self-service data quality platform. You can access the full report by completing the form here, to uncover:
How Datactics employs Machine Learning in data quality operations
The 'self-service' methodology and its applicability to business users and subject matter experts
The robust components underpinning Datactics' data quality solutions
"Bloor is an independent research and analyst house focused on the idea that Evolution is Essential to business success and ultimately survival. For nearly 30 years Bloor has enabled businesses to understand the potential offered by technology and choose the optimal solutions for their needs. As one of Europe's leading independent IT research, analysis and consultancy firms, Bloor are widely respected and utilised by companies across the globe for providing actionable strategic insight that enable them to make considered purchasing decisions. We offer a completely unbiased, outside-in perspective of the markets and products we analyse, so when you read a piece of research from Bloor, you can be sure of it is an honest, uncompromised and high-quality evaluation".