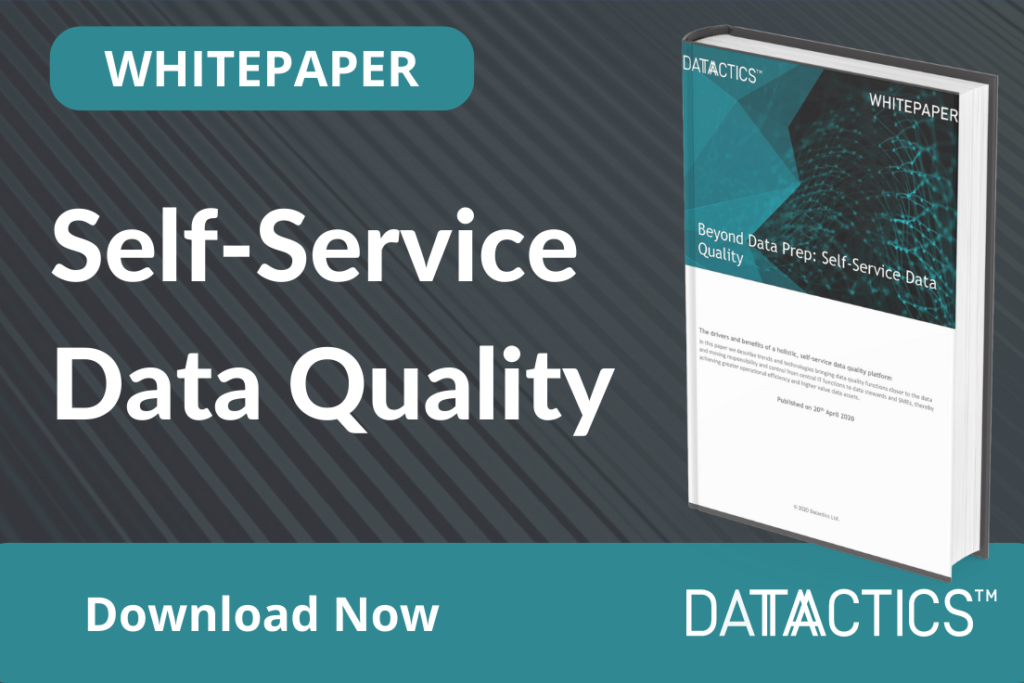 Go beyond simple data prep with AI-augmented self-service data quality from Datactics.
In this Self-Service Data Quality whitepaper, we describe trends and technologies bringing data quality functions closer to the data and moving responsibility and control from central IT functions to data stewards and subject matter experts, thereby achieving greater operational efficiency and higher value data assets. Find out the drivers and benefits of a holistic, self-service data quality platform, empowering those who know the data to fix the data, and eliminate roadblocks common in data management.
Discover:
The Changing Landscape of Data Quality

"With AI and Machine Learning becoming more of a commodity, and a level playing field, the differentiator is in the data and the quality of the data."

The Business Demand for Self-Service Solutions

"To enable the evolution towards actionable insight from data, D&A platforms and processes must evolve too. At the core of this evolution is the establishment of 'self-service' data quality…"

Become Audit-Ready with Access Controls and Permissioning

"In order to enable integration across teams and disparate silos of data, granular access controls are required – especially inside the data remediation technology where sensitive data may be displayed to users."
Alex Brown is Chief Technology Officer at Datactics and has over 15 years' experience in software development and product management, particularly in market data. 
Prior to joining Datactics, he was the Head of DART Development at Vela (previously known as SR Labs), and a Market Data Technical Consultant at NYSE Euronext. Alex began his career after completing a BSc (Hons) degree in Physics at Queens University Belfast, where he later added an MPhil in Astrophysics.