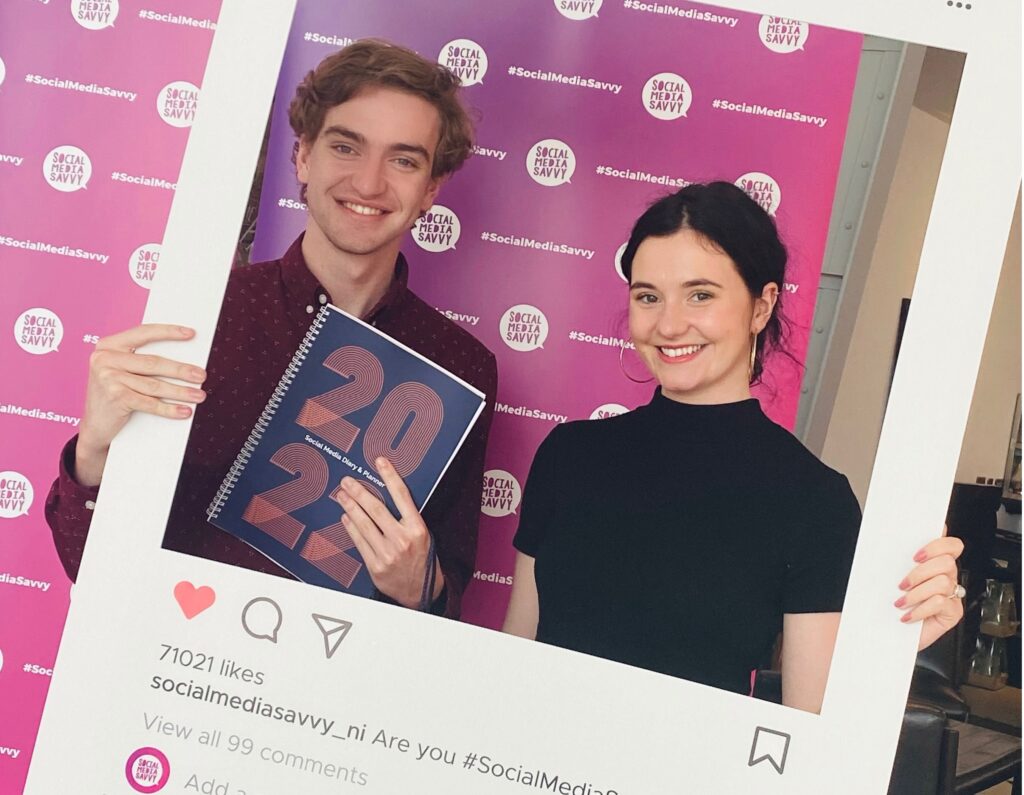 Yesterday, we were kindly invited to Social Media Savvy, a conference that happens yearly in the Titanic Hotel ran by the wonderful Ashleigh Watson of Copper Square Communications. This was the first time in a few years the event has been able to be held in-person and the majestic setting was perfect for the social media giants that took the stage throughout the day.
As social media is a function of our marketing output at Datactics that I am heavily involved with, I attended the conference alongside my teammate Roisin Floyd, who being a Researcher and Writer also was able to pick up many tips and tricks. At Datactics, we are a data quality vendor and as a B2B company we are continually challenging ourselves to understand our persona, what content they want to see and where do they want to see it. David Cochrane from the Irish Times summed this up perfectly as he advised the usage of key social media scheduling tools Sprout Social and Sendable. From working at the Irish Times, he informed us of the social media schedule they have in place to ensure that the most prominent features front and centre of their social media. They also use Facebook to ensure that some articles are only reached by centre individuals based on their age, gender, job.
Another key talk was delivered by Peter Maxwell, Heineken, who delivered a case study example to explain how the brand had to refocus its digital messaging particularly through the pandemic. His key tips were to remember the customer in all you do and take strategic action when required. Heineken navigated, like us all, a very strange time when suddenly consumer behaviour changed overnight. His advice was to keep communicating, take strategic actions that can be uncomfortable, and be ruthless in your choices. At Datactics, as well as meeting customer needs, we also strive to be innovative, to keep on top of the curve. Innovation must be customer-led, we understand that as otherwise, you are building something for the sake of building it. Despite our product offering being significantly different from Heineken, we can agree on the importance of being driven by customers and that innovation must start with the business model.
Another theme from the day was community building. At Datactics we are actively trying to build a community that will link in nicely with our partnership's developments. We recognise the importance of providing a space that can help us meet our client needs better and understand how to elevate our product offering. Community building will stem from adding value, as we navigate our way through developing Datactics Community, we will be keeping our ear to the ground to create a space that gives our clients a voice, allows us to build on our brand evangelism and ultimately allows to satisfy our customers more.
To round off this reflection, I have been thinking that whether your business is a B2B or a B2C, you must align your marketing strategy to your target audience. Both B2B and B2C companies have people behind them. Therefore, we need to strive to appeal to them. Both B2C and B2B organisations need excellent customer service and enhanced customer experience. Both require a customer-centric sales process. In both, you have to focus on solving clients' problems (BundleB2B, 2021).
As we are focusing on reaching our clients, we will continue to focus on understanding the client persona inside out and delivering the utmost value to them which will nurture them, educate them and convince them that our solution will deliver true, continuous data quality.
To be truly social media savvy, we need to make sure we are reaching our audience at the right time, with the right platform, with the right messaging and delivering them value our customers simply can't refuse. Is this easy? No, but will we continue to strive to achieve this, absolutely!
Thanks for a fantastic day, Ashleigh. 
And for more from Datactics, find us on Linkedin, Twitter or Facebook.