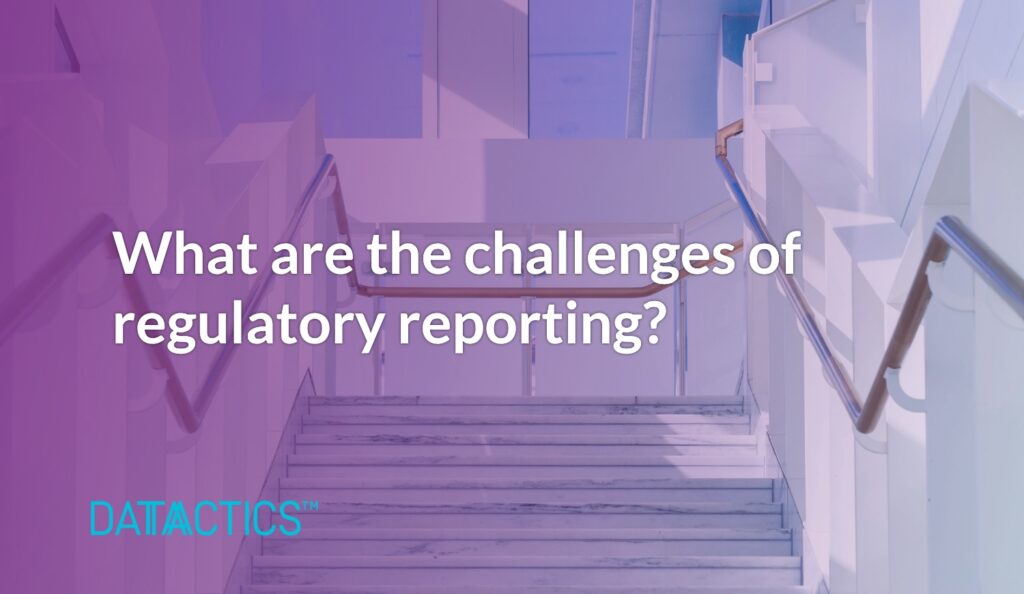 One thing I've always enjoyed about working at Datactics is that we're always on the lookout for how fellow tech firms are addressing the issue of how to enable better compliance in regulated industries. Banks, for example, are always seeking easier ways of onboarding technology, so if we find those synergies ourselves it definitely creates a shortcut to faster, simpler compliance built on better data. When I saw that Autorek was advertising a webinar on this topic I thought I should tune in and lift the lid on what they're doing, and where we fit into the overall picture.
Managing data effectively is vital to the success of any business according to Autorek for two key reasons. Firstly, due to the need to optimise operational performance and secondly there is a need to satisfy an increasingly stringent regulatory regime. Organisations that rely on dated technology and manual processes are struggling to keep up due to the explosion of data across many platforms and business units. There is now a need to take more accountability than ever before for their data in a time bound, efficient and structured manner.
"The way we record data has changed, but the associated challenges have endured and evolved"

Chad Giussani, Head, Transaction Reporting, FM Compliance, Standard Chartered Bank
Regulatory reporting can bring many challenges across different organisations within the financial services industry. In the past number of years, there have been unprecedented levels of complex regulatory change. These changes are being driven by the uncertain road ahead for both the UK and European Union, the fallout of trade wars specifically between the US and China, and sustained infringements by Russia and Iran using internet technologies. Furthering this, the economy has been impacted due to the Coronavirus crisis causing increased complexity for an already busy agenda for organisations.
What are the challenges of regulatory reporting?
Insufficient Governance
Often within large scale organisations there can be difficulty for an organisation to link their regulatory rules to their processes and their controls (Autorek, 2021). A robust governance framework is required to ensure ongoing compliance, but the process can be lengthy. Tough questions such as 'Are there clear lines of sight and delegation?' and 'Is compliance embedded in culture and behaviours?' are difficult to address particularly in siloed organisations. Despite this, operational resilience, sound governance will be mandatory at the most senior levels of organisation management (UKFinance, 2020).
Reduced Data Integrity
Within each data source, the validation of data should take place before any reconciliations are undertaken (A Team Insight, 2021). Time and effort can be saved if duplicates, errors and inconsistent content can be identified and rectified. The ability for organisations to rectify errors through exception reporting is paramount as this helps to achieve a 'golden source' of data. 'By reducing the 'noise' in reconciliations, focus can be directed straight to the important issues, being the interrogation and resolution of true exceptions and breaks' (Autorek, 2021).
Gaps in the Audit Trail
Comprehensive audit trails are not just for identification and rectifying errors but are for being able to demonstrate to external auditors and regulators that you have a robust control regime in place, that is operating effectively (Finextra, 2021). There needs to be the ability to attach and store documentary evidence, so that true audit evidence does exist, including the documentation of roles and responsibilities, and lists of critical procedures. This cannot be a one-off exercise as processes and controls need to be regularly reviewed and updated. There needs to be a centralised process to fully ensure that documentary evidence is maintained (Autorek, 2021).
Regulatory reporting is costing hundreds of millions of pounds to banks and this money could be used to better support their clients.
How can Datactics help?
One of the key things that we've learned along the way is that the best chance of success in delivering a data management programme involves the usage of a robust technology framework that is proven in its resilience and truly flexible in how it can fit into a complex deployment.
Our data quality software was configured for regulatory rules and pushing breaks into a regulatory reporting platform – we could see from the early days of 'RegMetrics' just how important a repeatable, modularised framework can bring huge advantages in speed of deployment and positive outcomes.
Overall, we have used our clients' experiences and demands of technology to ensure we have developed a deployed framework that enables rapid delivery of data quality measurement and remediation that ensures ongoing compliance, saves time/effort and provides results to senior management that can answer the most significant questions in data quality management. 
Datactics Self-Service Data Quality platform empowers business users to self-serve for high-quality data, saving time, reducing costs, and increasing profitability. To discuss further how we can help you tackle increased business demands on data using our solution, reach out to me.