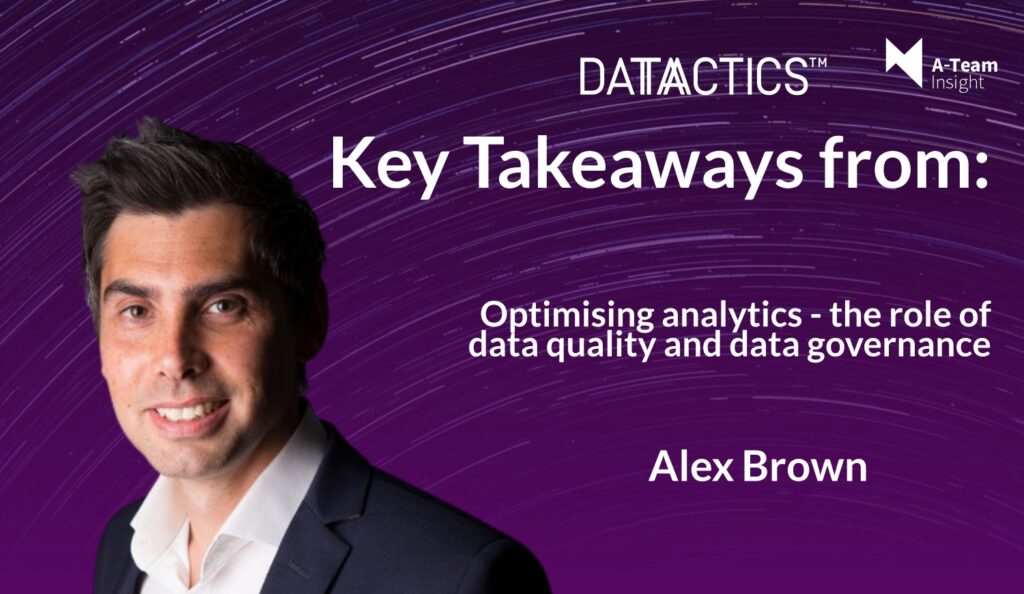 Yesterday, Alex Brown, CTO at Datactics discussed the role that data quality management and governance play in delivering well-structured and de-duplicated information into business analytics alongside Sarah Belsham, RSM; Suemee Shin, Northern Trust Corporation and Martijn Groot, Alveo Technology.
During the session there was one particular poll asking:
'What are the challenges of achieving accurate, timely, and meaningful data analytics in your organisation?'
The results of the poll reiterated that 72% of people claimed that legacy systems and data siloes were a key challenge behind achieving accurate, timely and, meaningful data analytics. 61% of people claimed poor data quality is one of the key challenges behind achieving accurate, timely, and meaningful data analytics.
The discussion saw agreement in the fact that organisations believe there is a danger that the 'Big Data Concept' can get you lost, and thus are adopting more strategic data approaches, leading to being more selective about what data they are bringing in. Overall, the panel agreed that there needs to be a bigger focus on aligning data to strategic objectives.
'Data driven strategic approach is what we are seeing organisations employing', Sarah Belsham, RSM.
Sarah unpacked that historically there have been a lot of IT led projects that are not always as successful as they should be, as there isn't business buy in. Increasingly in the last 12-24 months, however, there has been a trend that stakeholders are calling the shots and being much more involved. There now is a far more prominent emphasis on business stakeholders commenting and continually improving models and outputs.
The panel reiterated that there must be a focus on 3 aspects when seeking to optimising the role of data quality and data governance:
The technology –
Do you have have a data repository in place?
Does it include what you need?
How do you get the data out?
If you don't have a data warehouse what is your IT strategy?
The people required –
What tool is right for the organisation?
What is the internal data literacy like?
Is a centralised model the way forward?
The process in place –
How well governed is your business process?
How can you access your data?
Do you require more central coordination to ensure you set up the data in the right way to make sure people aren't making poorly informed decisions from your data?
Alex Brown, CTO at Datactics presented three major key takeaways:
Data Quality doesn't have one level. It is vital to understand that data governance and data quality are different but when you have them both together you have a very powerful tool.
Self-Service data quality is essential to a business & data aligned strategy – which, funnily enough, is what we at Datactics specialise in! Self-Service data quality empowers data stewards to measure the data themselves without the bottleneck of requiring IT function.
There will be tighter regulation across AI in the not-so-distant future. On a business level, you want to show a business user why a business decision has been made. (for more reading on this, please see Fiona Browne's commentary on the AI Public Private Forum).
If you want to discuss further how to optimise the role of data quality and data governance, reach out to Alex Brown.
Datactics adds rapid value to any data strategy programme. Our home-grown self-service software features many hundreds of thousands of person-hours of development in the fundamentals of data quality and matching. We provide fast results, full training, and guidance, empowering business users who understand the data to measure, fix, and fully leverage their data assets.
Our platform empowers business users to self-serve for high-quality data, saving time, reducing costs, and increasing profitability. Datactics solutions are customisable and built on our award-winning software platform. If you want to discover how we can accelerate your data quality journey, reach out to us.