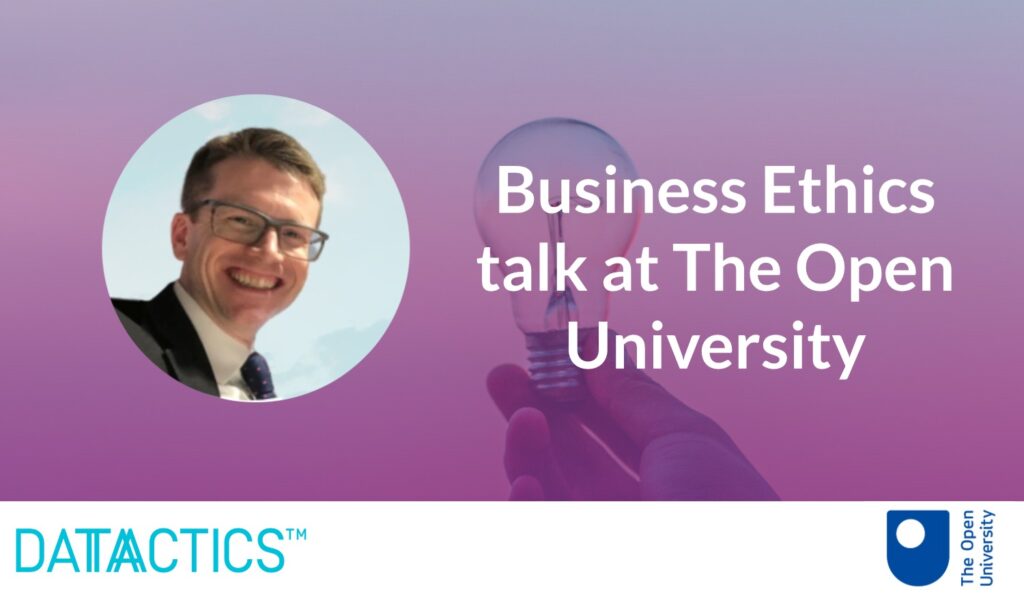 Matt Flenley, Marketing and Partnerships Manager at Datactics will be speaking this week at The Open University, delivering a talk on Business Ethics.
Prior to The Open University, we thought it would be a good idea to have a chat and find out why this topic, what other views he hopes to talk about, and the importance of business ethics, especially from a data perspective.
Hi Matt, what can you tell us about the talk you are giving at The Open University?
I am really excited to give this talk as this is an area I am passionate about. The talk is going to cover four things:
The impact of unintended and cultural bias in machine learning
What to do if your business loses or has no soul
Corporate Social Responsibility – Looking after people when the world is upside down
The benefits and pitfalls of big corporate machines and rapid growth start-ups when it comes to doing charitable work and being a force for good.
How important do you think ethics is within the data industry?
I think ethics are important. People very often think about algorithms and automated rules as being the critical part to measure, but before all of that, there's data. You must involve data in the process, to be able to understand whether the sample you are measuring is right. The quality of the information you use depends on whether the information is complete and whether you sought out the correct data, to begin with. 
Do you think that an understanding of ethics and data has increased in importance in recent years?
I do, due to the increased understanding of the importance of AI. For example, there are images on the internet, that some specific algorithms can learn from, to be able to generate people that don't actually exist. As a result of this, images are created that are recognisable to you or me, but these people don't exist – it's a clever piece of AI. A problem that has been increasingly recognised with the source material is that it doesn't contain enough images of older women. This has meant that as the algorithm generated people, the AI's conclusions were that as they age, everyone becomes an old man! Due to the fact that there is an absence of older women images, an inaccurate representation of society becomes prevalent. If you don't have the right data going into an algorithm, you won't have accurate data coming out of it. People are increasingly understanding the importance of data, and examples like this shine a light on bias and how damaging it can be to society.
How important it is to share this knowledge with the leaders of tomorrow at The Open University?
It is absolutely critical! I believe it's vital for business people as well as technologists to be ethicists. The more people there is that are ethicists in the discussion, the more you are going to end up with less bias in the room which will fundamentally lead to fairer outcomes.
How important is The Open University and Datactics partnership? When did it begin?
The relationship has been longstanding. We have a number of staff members that are studying at The Open University alongside working and indeed one working as a lecturer at the institution. One of the best parts of working with The Open University is the access to talent in unexpected places. There are a number of students that are pursuing careers in technology, who have not gone about it in a conventional way, like immediately heading to a red-brick university for a computer science degree. Some of them are further down the line in different careers and have decided to make a career change, and some have decided to retrain while working. It's a real mix and a really encouraging, affirming environment for people to pursue their education and career.
Thank you Matt! We will be sharing soundbites from this talk, so make sure to keep an eye out for those.
You can also read Matt's blogs here such as a piece on AI Ethics he has written about. Or find out about our people here, explore our open vacancies, or if you're curious about working at Datactics please drop Matt a line on LinkedIn for a chat.