We thought we would mark this week by involving our very own Systems Administration apprentices, Natalie Walsh and Victoria Wallace, who are completing their apprenticeship alongside studying at Belfast Met.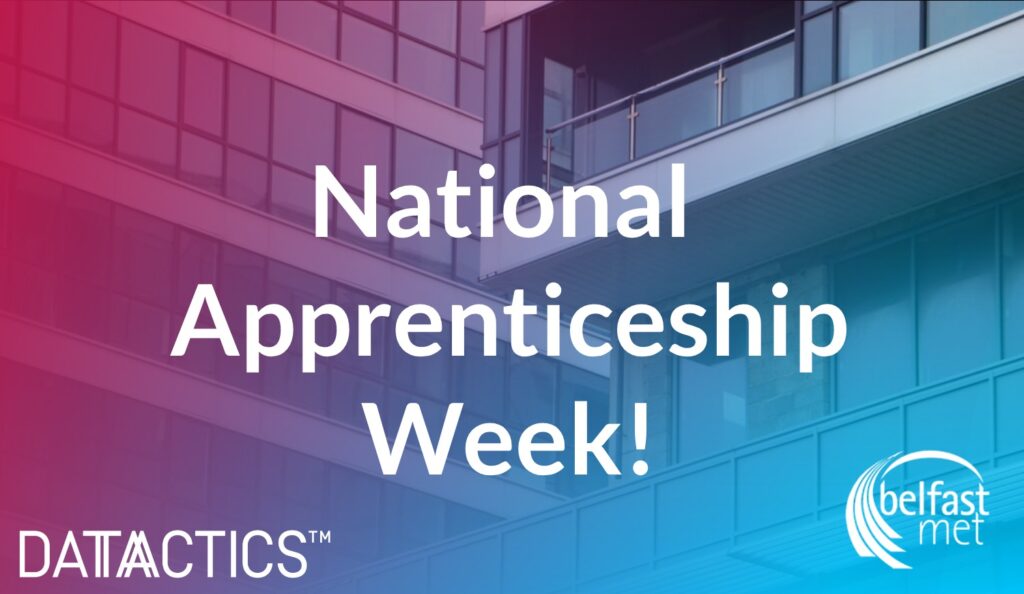 We sat down and chatted to them all about their experience in technology so far, their apprenticeship, the skills they have been acquiring and of course, their experience working within the team at Datactics.
We really enjoyed getting to know our apprentices more and we are thrilled they are with us!
Hi both, I'd be really keen to hear how you both found your feet in your course; how did you get into technology?
Natalie: I began in a completely different industry! I was working in Insurance and I decided that I wanted to change the direction of my career. Shortly after this, I saw an ad on social media for an IT Belfast Met apprenticeship split between Networking, Infrastructure and Software Development; I still wasn't sure which path I wanted to take but I knew that I had a passion for tech support, so I applied. Upon passing, I was then able to apply for various companies that were taking part in the Apprentice scheme; this led me to Datactics. I am now thrilled to be a part of the team!
Victoria: My story is similar to Natalie. I completed my degree in Counselling and was working in a call centre. I wanted to initially gain experience in my degree field with the intention of pursuing a career in Mental Health. Due to the pandemic, I decided to change my career direction as I wanted to pursue a career in technology. I then came across the application for the apprenticeship and the rest is history!
What excites you about a career in IT?
Natalie: I find technology a constantly evolving sector, I think now more than ever there is a strong need for vigilance within the sector. Game development has always sparked an interest for me, and I would love to pursue this on the side.
Victoria: I think Technology has always been so interesting and seeing the changes in past number of years has made it even more exciting. It has become a central part of life, as everybody runs some sort of operating system on a device! In school I wasn't as engaged with IT, but when I saw the apprenticeship that will equate to A Levels without having to sit through school, I jumped at the chance.
Could you tell me more about the course itself?
Victoria: Our course is Level 3 Networking and Infrastructure; it is an OCR qualification that is equivalent to two A Levels. At the minute we are focusing on the basics of networking, we have just completed a 6-week bootcamp and now we have started our course. We have had been getting great experience so far within Datactics in areas like user support and administration.
Natalie: I agree with Victoria, we have had the opportunity to do hands-on work here at Datactics, the theory is interesting but being able to put it into practice has helped me develop my skills a lot faster.
Brilliant! How have you guys found settling into Datactics so far?
Victoria: Datactics is a great company. The people really make it! The workload is also really fair and there are a lot of opportunities to ask questions which is vital for us as apprentices! I also think Datactics is great for allowing you to take the time to undertake your own learning and the management team is always on hand to answer any queries!
Natalie: During the hiring process I was told that Datactics goes out of its way to ensure they are hiring people from all walks of life. I too think Datactics really pushes women to the front, they have forward-thinking approaches to progression and they have created a very supportive working environment.
Amazing! So how long does the apprenticeship go on for? What's the timescale?
Natalie: The apprenticeship lasts for just over a year and a half. We do all our class units, then we have work-based learning units. Our assessor meets with us monthly to talk through progression, target deadlines and performance.
Would you both say that, prior to starting this apprenticeship, you didn't have any Tech experience?
Victoria: I had virtually zero real-life tech experience. It's been a real drop in the deep end, but I have been given great support, so I am not floundering! Dave (Brown) and Paddy (Donnelly) have been brilliant mentors.
Natalie: I have taken a few smaller courses in my own time in web design, HTML and Python but I had zero commercial experience in tech prior to entering this apprenticeship.
Apprenticeships really are for everyone! Aren't they?
Natalie: Our class would have a big age-range within it. Recently we had a remote call with our classmates, and upon being asked, 'Why have you opted for this apprenticeship?', the majority of people stated it was due to wanting a career change.
Victoria: There are so many apprenticeships available through Belfast Met, whatever age you are or whatever stage you are at in your career – it's never too late to consider a change!
That's great. So, what happens after the apprenticeship?
Natalie: Upon completion of the apprenticeship, the option is available for you to go on and complete a foundation degree, or else wrap up and take the qualification.
Victoria: My plans are to continue working away and building my skills, but I would consider doing another Level 6 qualification. There is also the option to do another apprenticeship in another subject area.
Thanks so much to both of our amazing apprentices for taking the time to sit down and discuss their apprenticeships to date and how they have been settling in! We hope you have enjoyed reading.
Read more about our people here, explore our open vacancies, or if you're curious about working at Datactics please drop me a line on LinkedIn for a chat.