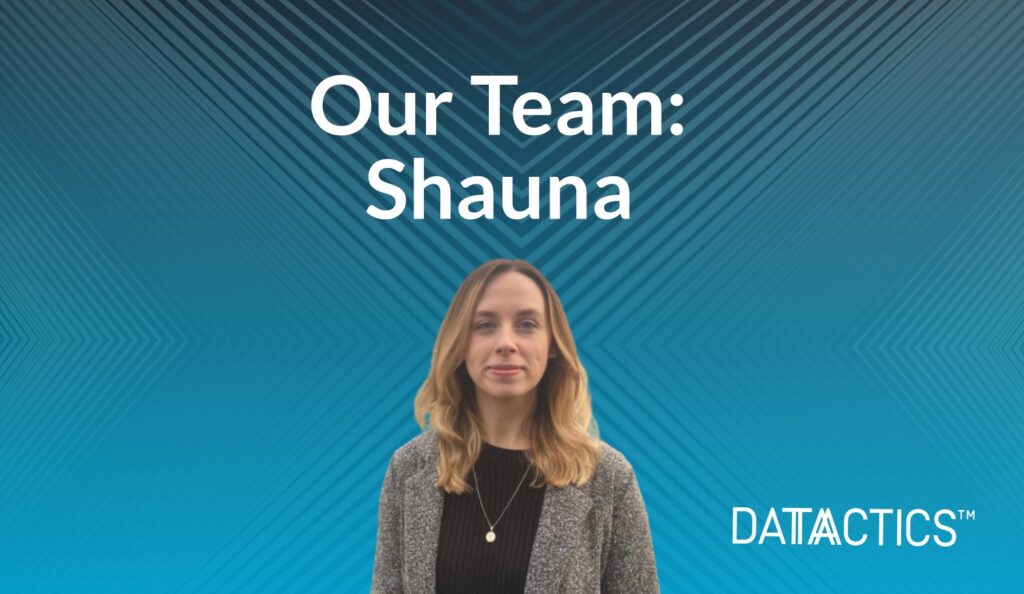 Hi Shauna! Perhaps as we begin, you could tell me a bit about how you got into your role, what was your educational background?
I studied at The Open University completing a Bachelor of Science in Computing and IT. I was focused on Web Development whilst I was University but upon becoming keen to undertake a student placement, I discovered Datactics. I had no idea what the company did, and data engineering was not familiar to me at all! I did, however, meet with Stuart Harvey (CEO) and Josh Piper (then Data Engineering Manager) to find out more about the role.
A month went past and then I got the call to say that I had secured the role and I was thrown into the crazy world of Data, a world I have been in ever since! One of the most attractive elements of the company was that it was only 20 people at the stage of me joining, with me being 15th on the payroll. This has allowed me very much to carve my own career path and grow with the company.
Prior to Datactics, I was working in admin for a pharmacy, I even began studying a Business-related degree, but I switched to Computing and IT – the best decision I ever made!
The Open University was an amazing place to study. It allowed me to study and work at the same time which allowed me to build practical skills as well as studying and gaining the knowledge. Datactics has a strong link with Open University which was how I uncovered the opportunity with Datactics. From the beginning of my placement, I knew it was a place I would be able to grow, develop and learn. If anybody would like to find out more about my experience with OU, I would be happy to chat with anyone.
What initially attracted you to the world of technology?
I knew that the Tech world was a great sphere to enter as it was full of opportunity. I remember when I joined, I was given a piece of advice that stuck with me: to find your niche and become a specialist within that niche. This was something I very much took on board. Moving across to the GovTech vertical of the business, working on public sector projects and programmes, has allowed me to focus on work that is challenging but has a far-reaching impact. I now have an area within our GovTech work that I am the specialist in, which has led me to being promoted to Senior Data Engineer, a role I am proud to take on, and am excited to see what I can do with it.
Shauna, as you have just reached your four-year anniversary at the company, could you tell me a bit about the biggest passions in your career and beyond?
I enjoy working in a company that has afforded me the opportunity to grow in my role and expand my remit. I have spent a lot of time working on-site over in England, which has helped me to get further into the weeds of client demands and expectations. Since I joined, I have had the opportunity to work on a variety of projects and most recently been exploring the idea of sharing some of my technical knowledge at local events, something which I wouldn't have done years ago but am ready and raring to try! The colleagues within my team and beyond are remarkably inspiring and I enjoy being able to work alongside and socialise with colleagues from a variety of teams. Being in a company of 60, the company still retains the small company feel with synergies forming naturally, but even so a sharper focus on different key areas is prevalent.
What are your passions outside of work?
I have always been someone who is naturally creative, and I am a visual person as well as a logical thinker. For this reason, I do enjoy quizzes and being a part of a team. I have also found a love for cycling this year which has been encouraged by my involvement with Runners and Riders. This club within Datactics has hosted many challenges which encourage physical exercise, with the most recent challenge being bike-related. In my spare time, I also enjoy bouldering and you may well find me up a Mourne Mountain on a Saturday (though I am not sure how many of them I have actually climbed). Finally, most recently I have taken up CrossFit, which has been a great way to build up physical strength and it has been great to join alongside other members of the Datactics team! This year I would like to get back into painting as it was something I loved to do particularly in my school days.
What would you like to achieve in the next 5 years? And for our recent recruits, what piece of advice would you give them?
From a career perspective I would love to continue to grow in my speciality. I would love to eventually lead a team within GovTech and expand my specialist knowledge into other government clients. I have never forgotten the advice I was given to find your niche and develop it and I am pleased to say that on my 4th anniversary in the company I have definitely found that! As the company grows, the solutions develop, the projects broaden I am excited to be able to grow with the company.
For anybody just beginning their career with Datactics, my advice would be to ask lots of questions, seek that niche, learn as much as you can, and enjoy working for such a great company. I have made some incredible friends at Datactics and have had some brilliant managers and mentors that have helped me to get to where I am today. Datactics is a great place to be, and I would encourage anybody with an excellent work ethic, positive attitude, and ambition to work for a company that really cares about its people, to apply.
Thanks, Shauna, for taking the time to chat with us. It was great to be able to hear about your passions and your career journey to date. We look forward to hearing more from you about all things GovTech very soon. 
And for more from Datactics, find us on Linkedin, Twitter, or Facebook.