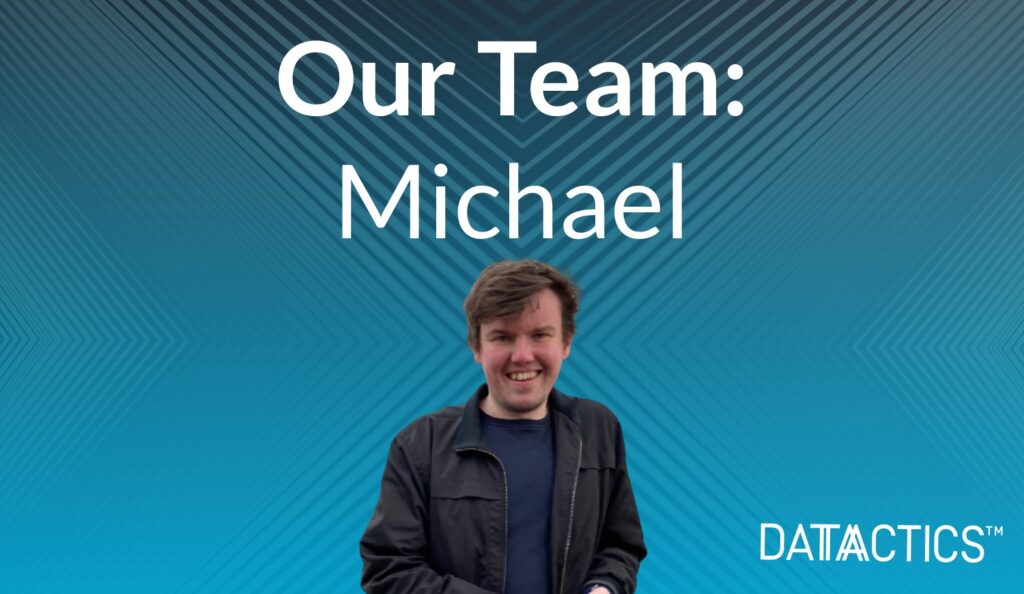 Michael Lynch is one of our brand new Business Development Executives, joining the team as part of Invest NI's Graduate to Export programme. As a recent PPE graduate, he is keen to get stuck into a career in the technology space and we are delighted that he has joined our growing team. We thought we would sit down and find out who he is, how he has come to Datactics, his goals and ambitions! We hope you enjoy getting to know him…
Hi Michael! It's great to have you on board. What can you tell me about this brand-new role you have taken up with Datactics?
I have just joined the sales team as an International Business Development Executive. The role is in conjunction with Invest NI's Graduate to Export programme and I will be primarily exploring what opportunities exist for the company to grow beyond these shores. I will have a particular focus on the Asia market starting with Japan. I am delighted to be joined by Brendan McCarthy – he will be going West as I will be going East to identify opportunities where Datactics can help clients outside of Northern Ireland.
You have 6 months with us in Belfast and then you will hopefully get to spend 12 months in Japan. For your first 6 months, what are your main goals?
I am really keen to get under the hood of the product to unpack the technicalities… i.e. how the product works and how the product can best serve client interests. I am also keen to integrate with the team to find out how the other functions of the business work together. From that, I am then keen to see how my role will shape into the bigger vision of the company. The key priority for me will be trying to understand the product and a better overall understanding of client needs in tandem with that.
Tell me more about your degree background and how that has led you into the role you are in today?
So I graduated a few years back in 2017 and studied PPE (Politics, Philosophy and Economics) which was a very diverse subject area and I loved how collaborative the course was. A career ambition was always been, in some capacity, to help the economic prosperity of Northern Ireland – I care about where I am from and want to make it better. I think this role is a great opportunity to put a spotlight on the innovation and ingenuity that comes out of Northern Ireland. Prior to joining Datactics, I worked in PwC for a number of years, primarily for clients within the financial services sector. I feel this new role at Datactics is a natural fit in two ways; firstly as Belfast has a rapidly growing tech hub which plays in strongly to the prosperity of our city which I have always strived to contribute to. And secondly, Datactics offers a very innovate solution of helping clients that have very messy data – I hope my previous experience serves me well in understanding some of the complexities and data challenges that clients in financial services experience.
Tell me a bit about the post graduate diploma you are undertaking as part of Graduate to Export?
I will be undertaking a Post Graduate Diploma in International Marketing in conjunction with Ulster University and the Institute of Export. I am quite daunted by the thought of academia again… it's a number of years since I had any textbooks open or had a student card! I have, however, always wanted to do a Post Grad and I am delighted that Datactics sees the value in further study and there are a number of colleagues who are in a similar boat studying and working at the same time.
What are you most looking forward to about your role?
I am looking forward to building relationships which is a big cross over between sales and marketing. Already I can see the various partnerships and relationships that Datactics has across industry and my role plays directly into building and growing that. In the company there is a great marketing and sales team, and I am looking forward to working in tandem with them both to help further align the teams.
So, with the move to Japan, it will be a big change of culture no doubt, how do you feel about the impending move?
I love being in and amongst a culture that is somewhat alien to me.. from the language spoken, the questionable food delicacies, the perplexing transport network… I can't wait to explore and try it all out. I am also very aware that the working structure in Japan is extremely different which will be one of the most interesting facets of the job.
Do you have any fears coming into the new role?
I think the nature of a scale-up is massively exciting, but it's all very new. With the speed that things change and evolve being able to be agile is key. Not knowing the technicalities of the product will be challenging but it's a fascinating product and a fascinating industry so I am very much looking forward to beginning to understand all the intricacies of how it works.
On a side note, my first impressions of the company have been great. It's been refreshing to grow a company scaling up with such ambitious plans, that also clearly prioritises diversity and inclusivity in the team and puts value on their people and what they are good at. From the offset, I have been provided a 'buddy' within the company, that I can speak to if I need anything over the course of my induction period – knowing there is such a supportive atmosphere makes you want to do your best. I have particularly appreciated getting to speak to different people from different functions in the company over the past week, this has allowed me to start to get a grasp of each function within the business and I can build a picture of how my role fits into the bigger picture.
Thanks, Michael, for taking the time to chat with us. It was great to be able to hear about your passions and your career journey to date. We look forward to hearing more from you soon!
Click here for more by the author, or find us on Linkedin, Twitter or Facebook for the latest news.