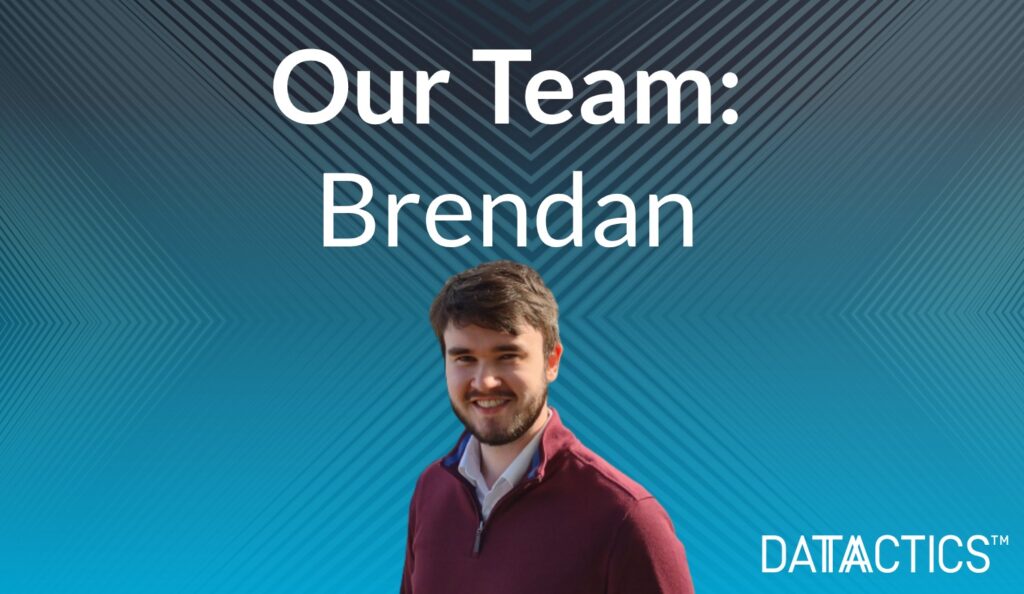 Brendan McCarthy is one of our brand new Business Development Executives, joining the team as part of Invest NI's Graduate to Export programme. As a recent Business graduate, he is keen to get stuck into a career in the technology space and we are delighted that he has joined our growing team. We thought we would sit down and find out who he is, how he has come to Datactics, his goals and ambitions! We hope you enjoy getting to know him…
Hi Brendan! It's great to have you on board. What can you tell me about this brand-new role you have taken up with Datactics?
Hi, I am really excited to get started. I applied for the role at the start of January upon completing a Data Analysis course with South Eastern Regional College (SERC). Previous to that I undertook an undergraduate degree in Business Management at Queens University Belfast. I saw the role on LinkedIn and thought it looked great, I was interviewed a few times and then I landed in the role. I am very much looking forward to working with international clients mostly, trying to develop the North America Market. Graduate to Export is a brilliant programme and one I am proud to be a part of.
You have 6 months with us in Belfast and then you will hopefully get to spend 12 months in New York. For your first 6 months, what are your main goals?
The main priority is to gain as great a grasp as possible on the industry because although my background is in Business Management, the data management industry is brand new to me! I want to learn as much as possible on the solutions and the market sector at large. Over the next 6 months I will engage in training, as well as studying for a post graduate diploma in global marketing with the Graduate to Export programme. I am hoping the knowledge I gained in my SERC course in Data Analysis comes in handy – I was able to also gain introductory qualifications in leadership & management, Python and SQL! I would highly recommend doing the course, it was online and the support offered was second to none.
Tell me more about the post graduate qualification you are completing alongside working, what will that entail?
It's with Ulster University and the Institute of Export and International Trade, all online with a much larger time scale to complete. There is the flexibility to complete it all whenever suits you best. Once we are out in market the time scale is even broader, with 3 months to do each module. I hope it will provide me with invaluable insight into the marketing globally, which I can use in practice over the course of the 18 months and beyond. The course will definitely keep me on my toes!
With your background being Business Management, do you prefer Marketing or Sales?
In my experience so far, it has been more marketing, but with the roles I had within the hospitality sector, sales comes quite naturally. Combining Business and Technology quite quickly became a priority of mine after completing my undergraduate in Business Management at QUB. I feel equiped to be able to combine my learnings and my passion for data in a way that will seek to build relationships and help scale Datactics further.
So, with the move to New York, it will be a big change of culture no doubt, how do you feel about the impending move?
I lived in New York last year, just before the COVID-19 pandemic hit. I didn't manage to get started back then but seeing this opportunity excited me! I have some experience working there and a few contacts already. I have always had a passion for travel and international markets, I enjoy the challenge of something new, that can push me out of my comfort zone. Having lived in New York already, I feel confident about moving there and I am intrigued to see how it will all unfold in due course.
Do you have any fears coming into the role?
I think there is always fears coming into a brand-new industry, particularly one which is more technical. I am keen to ensure that I have strong awareness of the business problem at hand, with a grasp of the capabilities of the solution but a focus on how we can solve data quality problems on an international scale. Datactics stood out to me amongst the other companies taking part in the Graduate to Export programme – I knew I really wanted to get involved with technology and I thought Datactics was the perfect way to do it! I am confident that I will be able to learn a lot from the highly skilled professionals around me. Having previously completed a placement as a Data Analyst, I am keen to use that knowledge within my efforts in Datactics!
On a side note, my first impressions of Datactics has been great! Throughout the interview process I instantly felt at ease. The company also seems to do a lot of social activity, which is something that highly appeals to me because I really enjoy getting to know others and it's great to know there is a social committee that facilitates it all. It has been apparent to me quite quickly that Datactics is a 'people first' company, that embraces talent and encourages initiative at all levels from graduate to senior team.
Thanks, Brendan, for taking the time to chat with us. It was great to be able to hear about your passions and your career journey to date. We look forward to hearing more from you soon!
Click here for more by the author, or find us on Linkedin, Twitter or Facebook for the latest news.