You may be used to seeing Dr Fiona Browne (Head of AI) across our social channels, so we thought we would sit down with her and discuss, how she got into AI; what motivates her and her passion for technology. Let's dive straight in…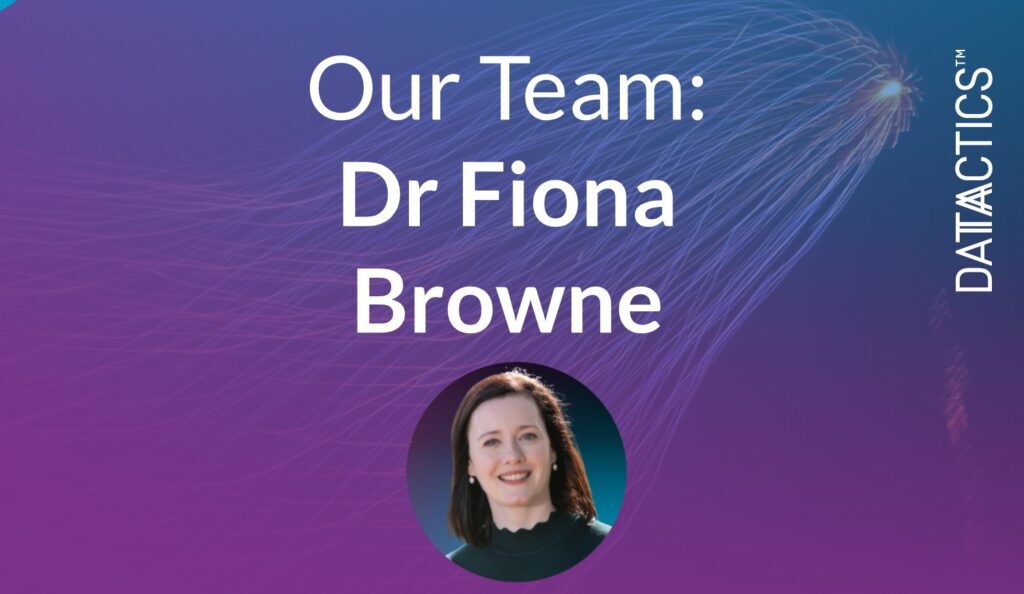 Fiona, just to begin with, tell us a bit about your background…
I started my career by studying a BSc (Hons) degree in Computing Science from Ulster University (UU) in Belfast back in 2004. I then proceeded to work towards achieving my Ph.D. in Artificial Intelligence in Bioinformatics also from UU which was developing integrative data analysis models and tools for the prediction of protein-protein interaction networks. Academia has always been a natural step for me, as I was always academic.
After I completed my undergraduate degree, I knew I wanted to take it a step further and put what I had learned into practice (we will be chatting to Fiona about what drove her as a young person and what drives her now in our next chat with her, so keep a lookout for that).
I am currently in the role of Head of Artificial Intelligence at Datactics. Prior to joining the team, I was a Lecturer of Computer Science at Ulster University teaching Data Analytics with a research focus on Applied Artificial Intelligence and Data Integration. Additionally, I was a research fellow at Queens University Belfast.
How did you get into the technology space?
It was not a straight road! In many ways, it was a leap of faith in the beginning. I undertook Computer Science at GCSE–level which kickstarted my love for the topic area. When selecting my subjects, I had the option of History or Computing. I knew at the time that Computing was a new subject, so being someone who's always intrigued by the new possibilities of technology that really encouraged me to select it.
When I opted to do my Ph.D., I knew that it was going to be a different way of thinking. When you get to Ph.D. level it becomes not only about having knowledge but filling gaps and contributing to knowledge. I found this to be a really exciting challenge but as I say it was a completely new way of thinking. It helped me to think of new ways to do things – suddenly I was expected to fill gaps in knowledge which allowed me to explore and develop my ideas.
Talk to us a bit about the work you do. What are your passions?
I would say I am rigorous about data. I have always had a love for technology, it's a strong passion for me. One of the elements of my job that I love is putting Machine Learning models into production. I thoroughly enjoy working in an exciting space with cutting edge technology.
Scaffolding cutting edge technology is what I enjoy being involved with the most, being Head of AI has enabled me to do this. Recently we have taken on 2 new placement students and a PhD student. Seeing talent thrive and mentoring excites me hugely.
What is your proudest achievement in your career so far?
I have to say I am very proud of the work we have done on Machine Learning within Datactics. The cross-disciplinary approach within rigorous software development has enabled the team to now have a stable model. I feel very proud of this breakthrough and I am excited about the progress that the team continues to make.
What is the biggest shift you've seen in the industry, Fiona?
One of the biggest shifts I noticed is with ethics and explainability in the ML domain. As models move into production it is essential for us to ask questions around the data that they are trained on through to the evaluation of the model and how it performs on new real-world data. For these reasons, I am particularly keen to see a high standard of ethical and rigorous behaviours become ingrained into the development and support of AI/ML systems. I am a definite advocate for diversity in teams and interdisciplinary collaboration and I have recently written a piece on AI Ethics for the Datactics blog. This blog explored what questions need to be answered to ensure the potentially negative ethical impacts of AI/ML do not outweigh the positives it can deliver across industry and academic sectors.
I am particularly keen to see a high standard of ethical behaviour become ingrained into AI. I am also a strong advocate for Women Who Code and Women in Tech here in Belfast and internationally.
I've seen the need for this more and more to ensure that computer science reflects society, gives opportunities equally and reduces the risk of bias in programming. In my past roles in technological leadership and in teaching at university, I've definitely tried to utilise my love for academia to help inspire and prepare the next generation of technological stars.
Thanks for the lovely chat, Fiona, we really enjoyed hearing about your Datactics journey thus far!
With a PhD in Artificial Intelligence in Bioinformatics from Ulster University, Fiona has over 15 years' experience in research and industrial experience in AI, data analytics, and software development, including specialism in network link analysis and explainable AI.
Click here for more by Datactics, or find us on Linkedin, Twitter or Facebook for the latest news.