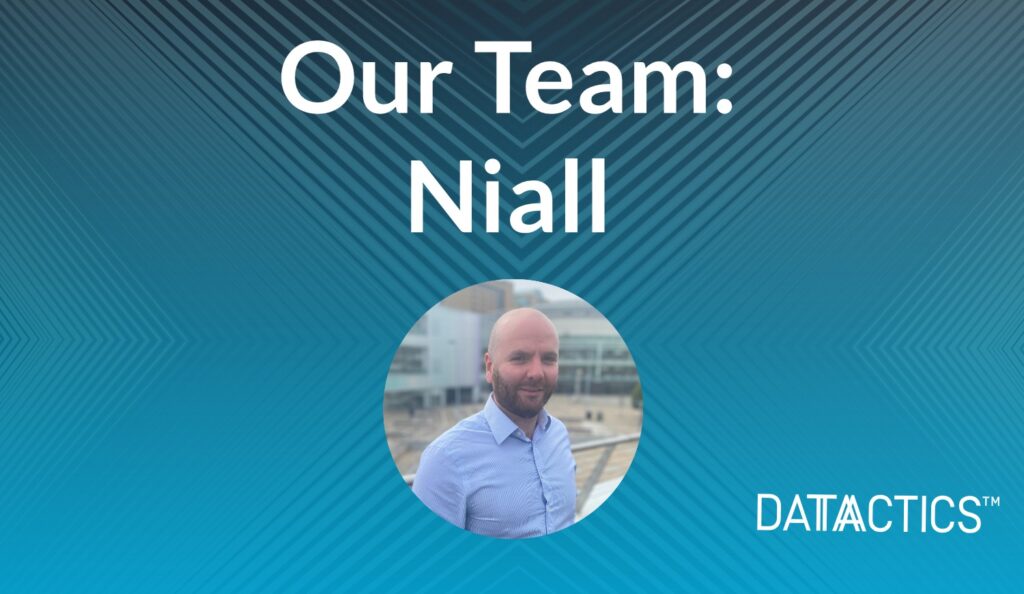 Niall is our Project Manager at Datactics, his primary focus is on stakeholder management and delivery; liaising between clients, technical leads and multiple interdisciplinary teams to ensure successful project delivery. He joined the company in April 2020 and in that time has undertaken the role with incredible diligence. We are excited that his team is now growing. We thought we would take the time to chat to him about his previous experience, how he got into the role he is in, and what he loves about Datactics.
Could you tell me a bit about how you got into your role and your background prior to Datactics?
It's not a role you dream about as a child and is more something that you evolve and develop into because of the skills required to do the job. I worked in operations management for a start-up company in London, Brussels, and Germany and was responsible for a supply chain that started in America and included five European countries and hundreds of people. My role was ensuring that the supply chain and everyone involved in it worked harmoniously to ensure delivery for clients and that is extremely transferable to my day-to-day role in Datactics today. I project managed the opening of retail spaces, restaurants, and food festivals and, from a business perspective, was responsible for implementing technology into the business which centralised processes, data, and communications. It was this part of my job that led me to enroll for a Masters in Software Development when I returned to Ireland and it was that job and the masters that led me to work for a tech company.
What led you to undertake the Masters initially?
I really enjoyed working with technologists and technology companies to manage the implementation of technology into the business in Brussels and London. I knew I didn't want to be a developer but I knew I had an interest in technology and business. I wanted this to form the basis of my career while combining the experiences from working in different countries across Europe when I was still only in my mid-20s.
What are your biggest passions?
People – I tell everyone the best part of this job is interacting with so many people. It is so collaborative and, compared to most Datactics staff, I get to interact with the widest variety of people, both internally and externally. Working with clients and multiple project stakeholders to solve problems and deliver results is both challenging and rewarding and it's what makes every day different and interesting in this role. My role is people-focused but technology is at the heart of it – the two are so intertwined with every stakeholder having their own perspective and opinions and it is my role to balance all of those perspectives and do what is best for the project and the company.
What are your goals within your role?
For 2022, it's to develop a project office in Datactics by expanding the team and our remit. We plan to work on internal and external projects as well as managing the office move. I take pride in seeing people develop in something they enjoy doing and I'm looking forward to contributing to that development in 2022. I recommended two people to the company as I knew they had the skills and personality to succeed at Datactics and I want to see the company thrive with the right people contributing to its success. Datactics is a company which expects you to work hard while developing yourself as a person, a professional, and trying to have some fun along the way. All of this is very reflective of my personality and work ethic.
What makes Datactics different to other companies you have worked at before?
Collaboration and an extremely positive working environment. I have been able to work on a variety of projects so far in my career at Datactics and I have interacted with the most junior members of staff and all of our senior leadership team. It is truly collaborative and, as the company grows and we work on more challenging projects, its imperative that we all continue to work together to deliver for our clients and contribute to the continued growth of the company.
Thanks for the great chat, Niall, we are excited to see the team grow… thanks for giving an insight into what life is like working at Datactics.
Click here for more by Datactics, or find us on Linkedin, Twitter or Facebook for the latest news.