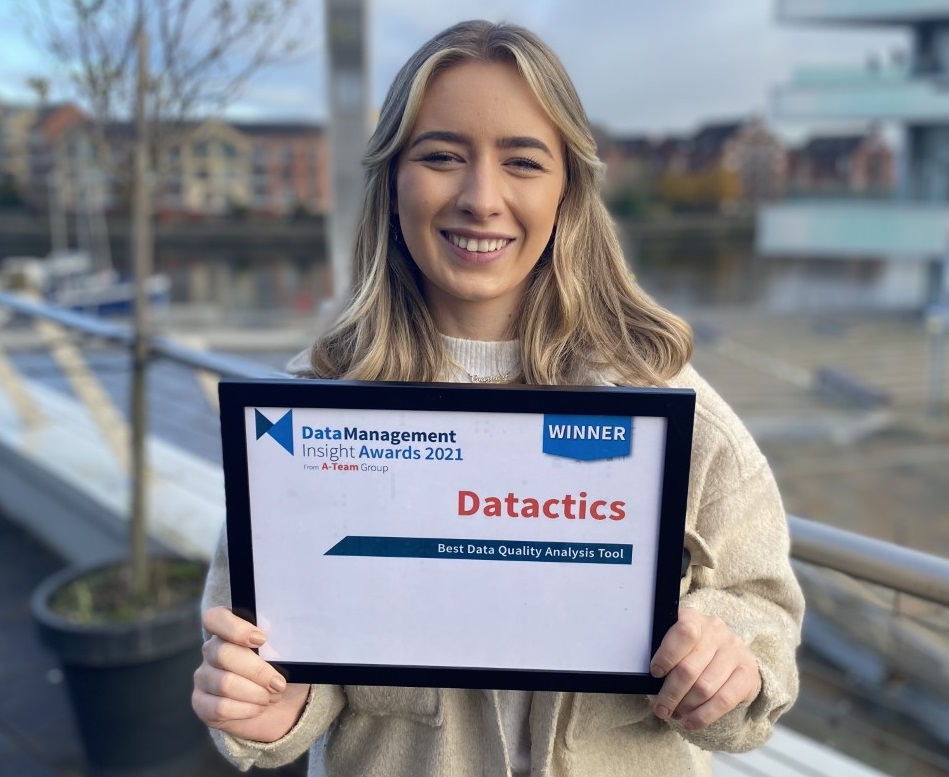 Datactics has won 'Best Data Quality Analysis Tool' at A-Team Group's Data Management Insight Awards 2021.
For the third year running, Datactics has been recognised for its business-user focused technology at the A-Team awards, which focuses on leading providers of data management solutions, services and consultancy to capital markets participants. Nominees for the awards were voted for by clients and financial users in the data management space, with the winners decided by the A-Team's Editorial Team and Advisory Board. The notable awards, now in their ninth year, celebrate industry-leading solutions across a number of data management categories, from best sell-side and buy-side enterprise data management platforms, to data governance, data quality, and KYC on-boarding solutions.
Datactics CEO Stuart Harvey said,
"Winning the award for Best Data Quality Analysis Tool is extremely valuable to us, as we continue to innovate and develop our data quality solutions to meet the demands of clients across financial services.
"We've seen significant growth within the Data Management market in the last year, with more organisations wanting to modernise their data infrastructure and embrace data quality solutions. This is where Datactics adds value to organisations, as our Self-Service Data Quality platform empowers subject matter experts to measure and fix their data themselves, without having to rely on IT departments.
"Having recently made it into Gartner's Magic Quadrant for the first time, we're delighted to be further recognised for our Self-Service Data Quality platform by the A-Team and would like to thank all those who voted for us."
Angela Wilbraham, CEO of A-Team Group, which hosts the Data Management Insight Awards said,
"It has been fantastic to see such a high calibre of entries in our Data Management Insight Awards 2021. There are some really deserving winners and we congratulate Datactics on winning Best Data Quality Analysis Tool and for their contribution to the financial data management industry."
About Datactics:
Datactics provides business user-focused, no-code data quality and matching tools helping financial firms gain value from their data and reduce regulatory risk. Its award-winning platform integrates with multiple data sources, governance, and lineage systems with intelligent automation. It allows Chief Data Officers and senior data leaders to measure, report and fix their data, and match across multiple internal and external sources and systems. Using AI, the platform significantly reduces the manual effort required to make decisions, with full transparency. For more information or to book a demo please contact us.
For more information on how Datactics' Self-Service Data Quality platform can add value to your business please contact Kieran Seaward. 
And for more from Datactics, find us on Linkedin, Twitter or Facebook.