Datactics continues its growth story, welcoming two new apprentices in partnership with Belfast Met. The firm has now grown by 25% since March 2020 and approaching 130% over the past two years, in response to rapidly growing customer demand.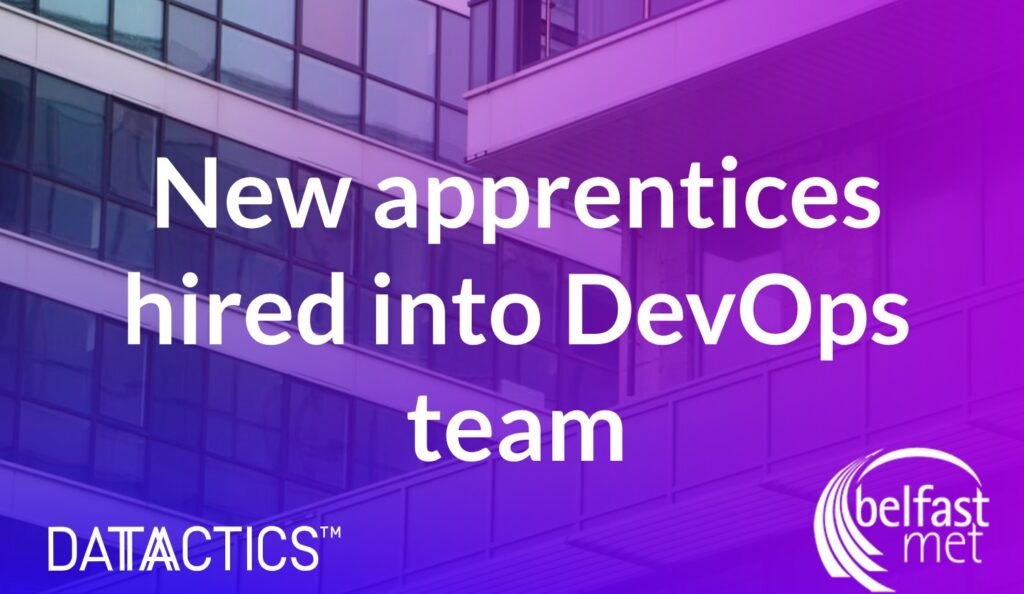 New apprentices into the DevOps team
Belfast, London, New York, 2nd November 2020
The new recruits , Natalia Walsh and Victoria Wallace, will be joining the firm's DevOps team, balancing their four days a week at Datactics with one day spent studying for the Level 3 "Networking Infrastructure with Cyber Security" course at Belfast Met.
Dave Brown, Head of DevOps & Security at Datactics, was delighted to gain two new team-members:
We were originally looking for one apprentice, but then these two candidates were so impressive that we decided to appoint both! They will work mainly on Systems Administration, and the dynamic nature of the team means we'll also give them plenty of opportunities to learn the ropes of Cyber Sec, DevOps and QA.
Their recruitment echoes a trend seen in IT firms who have seen a surge in demand despite extremely challenging circumstances caused by the Coronavirus pandemic. Stuart Harvey, CEO at Datactics, is delighted that the firm can offer opportunities to train and develop.
They will earn while they learn and hopefully take a permanent job with us at the end of the scheme.
The final word goes to Dave Brown:
Having come through the same process years ago when I started in IT, I look forward to being able to share my experience and knowledge with the new apprentices. Hopefully, the Datactics team and I can make the IT world as exciting as it appears, and that this is the start of a long career for them both.
Belfast Met is the largest further and Higher Education College in Northern Ireland and one of the largest in the UK. Find out more information about this and other courses on offer at Belfast Metropolitan College.
A career with Datactics is like no other; a genuinely collaborative, encouraging and challenging space to maximise your potential working on real-world projects from day one. You can find career vacancies open at the moment by visiting this page.