Belfast, London, New York, 12th October 2020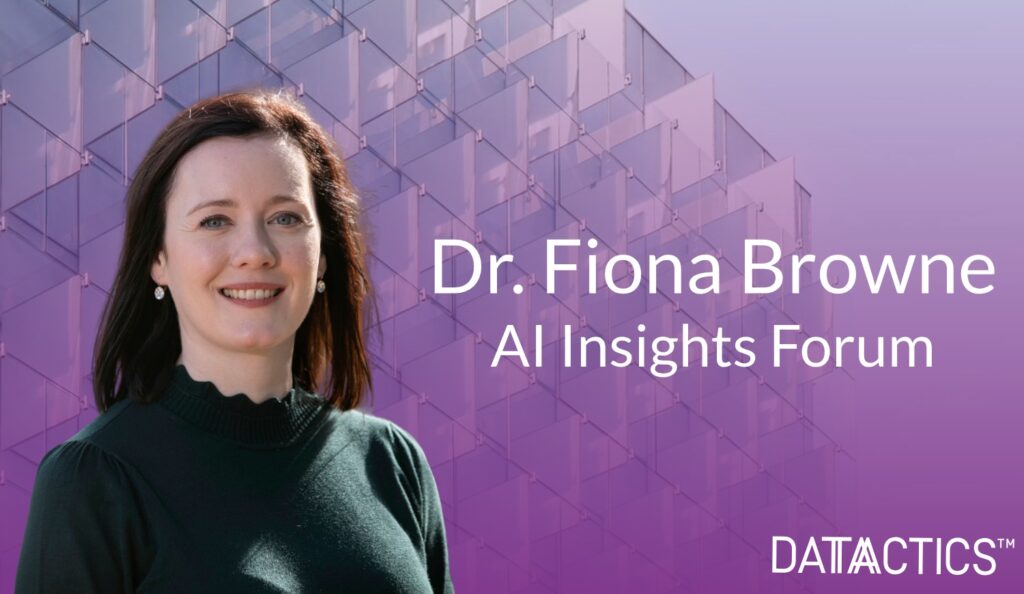 Datactics is pleased to announce that its Head of AI, Dr Fiona Browne, has been invited to participate in the Artificial Intelligence Public-Private Forum, joining 20 other experts from across the financial technology sectors as well as academia, along with the observers from the Information Commissioner's Office and the Centre for Data Ethics and Innovation.
The purpose of the Forum, launched by the Bank of England and the Financial Conduct Authority, is to facilitate dialogue between the public and private sectors to better understand the use and impact of AI in financial services, which will help further the Bank's objective of promoting the safe adoption of this technology.
The AI Public-Private Forum, with an intended duration of one year, will consist of a series of quarterly meetings and workshops structured around three topics: data, model risk management, and governance.
Commenting on the initiative's launch, the deputy governor for markets and banking at the BofE, David Ramsden said:
The existing regulatory landscape is somewhat fragmented when it comes to AI, with different pieces of regulation applying to different aspects of the AI pipeline, from data through model risk to governance. The policy must strike a balance between high-level principles and a more rules-based approach. We also need to future-proof our policy initiatives in a fast-changing field.

The specific aims of the Forum are: firstly, to share information and understand the practical challenges of using AI in financial services, identify existing or potential barriers to deployment, and consider any potential risks or trade-offs; secondly, to gather views on areas where principles, guidance, or regulation could support safe adoption of these technologies; and finally, to consider whether once the forum has completed its work ongoing industry input could be useful and if so, what form this could take.

The knowledge, experience, and expertise of the Forum's members and observers will be invaluable in helping us to contextualise and frame the Bank's thinking on AI, its benefits, its risk and challenges, and any possible future policy initiatives.
Fiona Browne, Head of AI at Datactics, said:
I'm really excited and honoured to be part of such a timely forum. AI/ML services touch our everyday lives from recommending what we watch to groceries that we buy.

Within financial services, ML can offer efficiency benefits reducing manual time-consuming tasks, to saving customers money in suggesting best financial products to bespoke customer service solutions and fraud detection. These solutions need to sit within a legal and regulatory environment in the financial sector and are not without their risks and challenges.

I hope to offer the forum insights and experience of the practical implementation of ML-based on the areas of data quality and fairness through to transparency and explainability in the process and model predictions through to the monitoring of models in production. Excited to focus and tease out potential guidance and best practice on how to safely adopt and deploy such solutions.
What is the AI Public-Private Forum?
The BOE working with FCA have established the AIPPF (AI Public-Private Forum). This forum launched in October 2020 and consists of members reflecting a variety of views who applied to be on the forum bringing with them their expertise in the area of AI/ML. The AIPPF will:
Share information and understand the practical challenges of using AI/ML within financial services, as well as the barriers to deployment and potential risks.
Gather views on potential areas where principles, guidance or good practice examples could be useful in supporting safe adoption of these technologies.
Consider whether ongoing industry input could be useful and what form this could take (e.g. considering an FMSB-type structure or industry codes of conduct).
More information about the Forum can be found here.