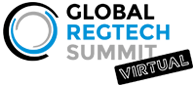 We took part in this year's Global RegTech Summit, hosted by  RegTech Analyst and FinTech Global.
This year's event is bringing valuable presentations to the table with the calibre of the speakers and the presenters.
Bad data can't wait for IT. Business demands on data are increasing and traditional tools and processes can't keep up.
Datactics Self-Service Data Quality platform empowers business users to self-serve for high-quality data, saving time, reducing costs and increasing profitability.
At the Global Regtech Summit, you can learn about the latest innovations in regulatory technology from the comfort of your home. Hear debates and presentations from RegTech leaders and innovators leading the shift to digital.
Understand how the compliance and risk management industries are responding to the challenges caused by the pandemic
Find out how to deal with the regulatory challenges caused by remote communication. At the Global Regtech Summit, you can see the latest innovation in customer onboarding and communications monitoring. Identify new commercial opportunities for your organisation
Network with over 1,500 execs from financial institutions, entrepreneurs and investors. Engage with senior-level leaders working in innovation, compliance, risk management, technology, digital and customer experience. Join an international gathering without breaking social distancing rules. Ask your questions via interactive Q&As, polls and chats during all sessions. Arrange video and conference meetings via our interactive event app available for 30 days after the event
For more details about the Summit, click here.
Click here for the latest news from Datactics, or find us on Linkedin, Twitter or Facebook