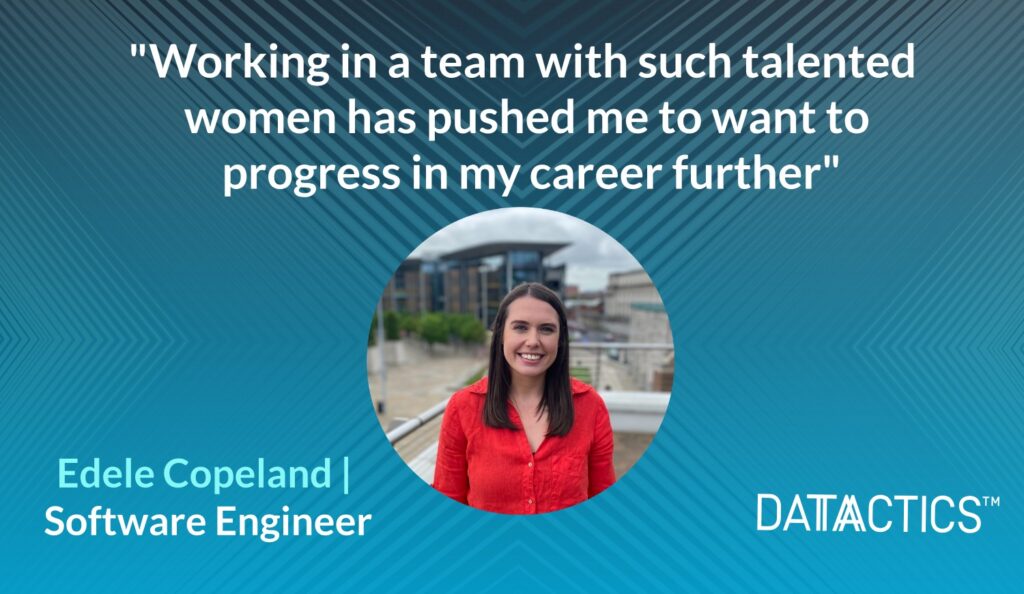 Edele Copeland joined Datactics just under 6 months ago to work in our Software Development team. We have loved getting to know her and wanted to take the time to ask her about how she is settling in; what her favourite part of being in the team is; and how she sees her role developing into the future.
Hi Edele, how are you settling into the role?
Brilliantly! I was delighted to immediately feel part of the team. From the first day, I was able to take the time to get my head around the job and am now proud to be working on really meaningful, exciting, and challenging projects. One of the great things about Datactics is the team. I have a brilliant manager in Martin Downey and my colleagues I work with day in/day out with are massively supportive, knowledgeable, and talented. Another aspect I enjoy is the flexibility; being in a development role, we ensure that the parameters of the project are set and then we can go work on the project at our own pace.
What sort of workplace is Datactics?
Datactics is the epitome of diversity, the team has a strong mix of genders and nationalities which is an important aspect to the company. Working in a team with such talented females has pushed me to want to progress in my career further. As a woman in technology, I am proud to see the trajectory of females in technology increase. Datactics is a wonderful place to work and from the first day, I remember thinking this – from the support, the social aspects, the career progression, the friendly team, and the growth of the company – it really is an exciting place to be!
What are your goals?
I am focusing on developing my skills as much as possible right now. In the past, I have had the opportunity to work with many different coding languages which has helped me to grasp the skills needed to do this job. I would hope to utilise the mentors around me to help me grow in both skill, acumen and professionalism. I am proud to be in a company that is going from strength to strength in terms of the talent and the technology. As time goes on, I want to be able to become even more confident in my ability, continually challenge myself to always be learning. I would love to go back to my old school and speak to the young girls about what a career in STEM can look like and to encourage them to pursue it as a career.
We are currently advertising for the role of Senior Software Engineer. As you are 6 months into your own role at Datactics, what would you say to anyone considering applying for the post?
You will be working closely with me! I would say that for anyone wishing to apply that you are guaranteed to learn huge amounts in a very short space of time, and I think if you are willing to work hard and buy into the company ethos here you will thrive. For any females thinking of applying, the company is keen to continually give women an opportunity in the technology field and are huge advocates of diversity and inclusion. All in all, 6-ish months in, I am very happy with my choice to come and join the amazing team here. I am looking forward to progressing in my career and I hope I will be able to always add value to the amazing work the company is doing!
Thanks, Edele! If you would like to speak further with Edele about what it is like working in such a fast-paced, exciting team – you can reach out to her here. If you would like more information about the role itself, that information can be found here on our website.