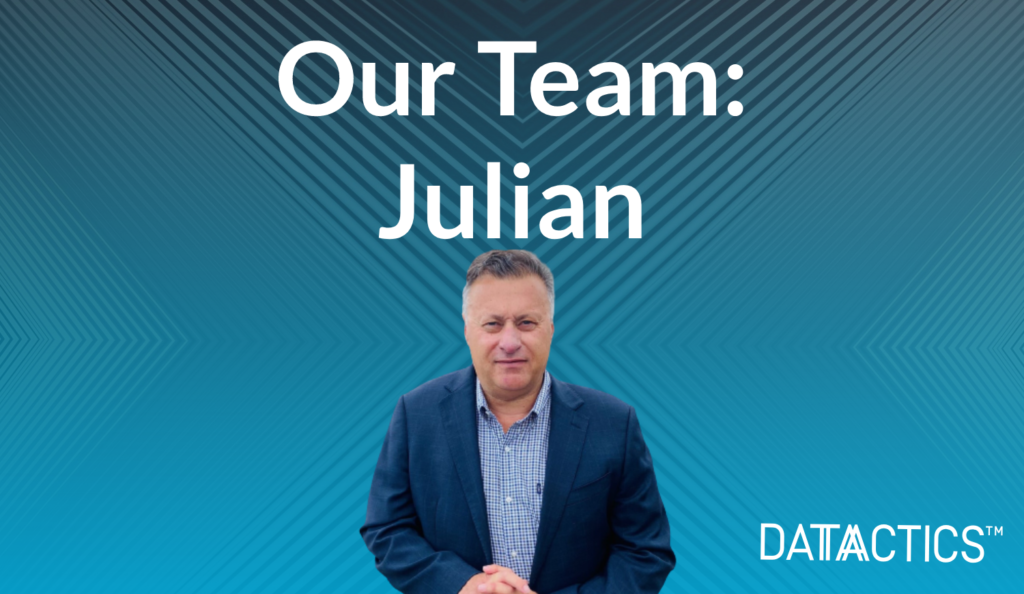 Julian Wavell kickstarted his role as Head of Business Development UK at Datactics a few weeks ago. We thought it would be a good idea to sit down with him and chat about his role and what he is hoping to achieve within it.
Hi Julian! It's great to have you join us, could you tell us a bit about your background before Datactics?
My original background was in Accountancy, I have always had an interest in numbers, having played an early part in the transition from an analogue to a digital world (ask me later). Data has now become the new oil. My first real venture into the software market was in 2000, having joined a start-up company selling early versions of an online Customer Service Agent technology. I then spent a number of years working for large US software companies which enabled me to gain a solid understanding of the Data Management space. In 2010, I opened the UK office for Ataccama and really sought to get to the bottom of why people would buy the software, what problems are they trying to solve and how can we solve the problem. I have always said if you can understand the business challenge and priority from a customer perspective you have a greater chance of finding a solution to meet their needs, the cornerstone of any business!
My strategy has been two-fold. Firstly, building trusted relationships with customers directly to solve their problems; whether that be data quality, data governance or mastering data. Secondly, working with Partners – as they can have greater visibility and insight into the bigger picture regarding customer projects and initiatives and can bring more value through domain expertise and their ability to scale solutions.
Taking it back further, what was your background before work?
I didn't attend University – I went to college for a few years and studied Business Management. My first job was working for a Chartered Accountant and spent the following number of years working for Sainsbury's and Digital (DEC) in Management Accounts. I soon came to the conclusion that Accountancy wasn't going to be my future and decided to look for a different challenge. I made my move into Sales and I have never looked back. I have a genuine interest in technology and the value it can bring to businesses, but at the heart is an entrepreneurial spirit that runs through everything I do. I think my role at Datactics has come at the perfect time, I was ready for a new challenge, and I could see a really exciting opportunity with Datactics to take the business to the next level.
What would your proudest achievement be in your career so far?
I have had some great successes working on Financial Services, Pharma, and Telco projects over the years, but my proudest moments have been working with two high profile charities; RNLI and Cancer Research. Both of which came at different stages in my career. Whilst different in nature, the projects sought out to improve the customer experience, drive down costs and facilitate better decision making through improved data quality. For me, projects like those are important as they are the ones that make the biggest difference. The outcome of what I do is the most important thing – setting what you are going to do and always learning is vital and I have been privileged to always be able to learn.
If you had to summarise what you most looking forward to about the role, what would you say?
Companies have got their eye on AI; they want to know how they can use it from a business value perspective and I am interested to understand how we can help them solve their problems using AI. I really enjoy the challenge of a scale-up, we either do nothing or everything, it's up to us to make it happen. Datactics is at a really exciting stage with the recent investment, growth, and differentiators making it a brilliant solution, and I can't wait to get it in front of more people.
Julian's appointment means Datactics has now grown to nearly 60, securing international clients in New York and Amsterdam during the past 12 months, alongside a £2m investment round. "We've seen many market consolidation moves in data management from large technology, consultancy and Private Equity firms, particularly as companies are seeking to make up for lost ground over the past year" commented Matt Flenley, Head of Marketing at Datactics. "The demand is especially strong in some of our strongest growth sectors such as wealth and asset management, and insurance, where ongoing challenges over digital transformation and the need to truly master the single customer view have never been more relevant."
Thanks for the great chat, Julian, we are delighted you have joined us!
Click here for more by Datactics, or find us on Linkedin, Twitter, or Facebook for the latest news.