The first stop on the AI for Services UK Tour will be Northern Ireland curated by the fantastic team at Invest Northern Ireland and Innovate UK!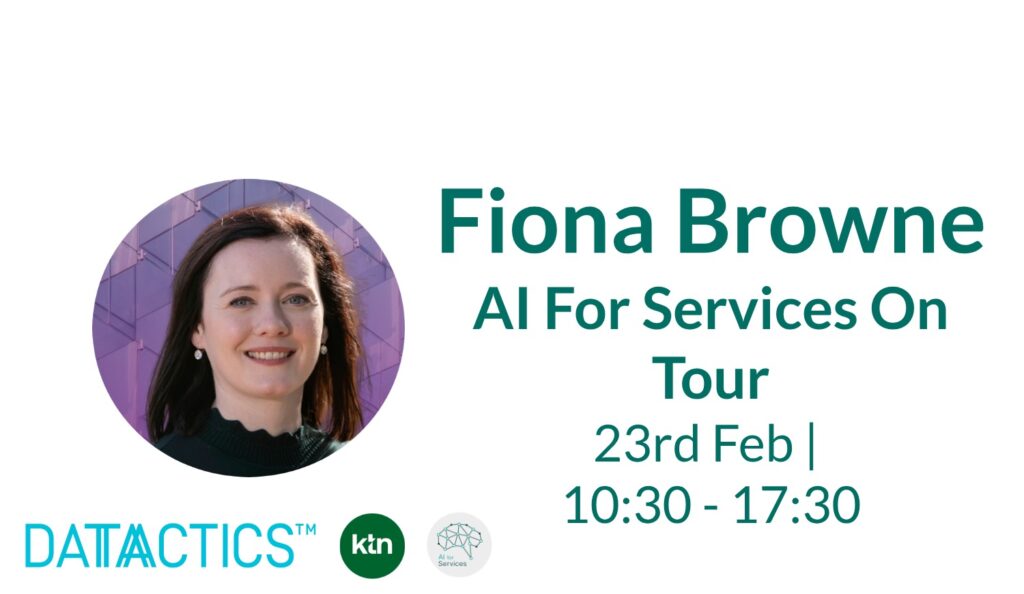 We are delighted that Datactics will be one of the companies involved, the aim of the event is to discover the innovation taking place across the UK in the professional and financial, insurance, accountancy and law sectors.
Kainos, Adoreboard and Analytics Engines are in amongst the few other companies also representing Northern Ireland in the AI for Services Tour. Datactics Head of AI, Dr Fiona Browne will be pitching at the event. We thought it would be a good idea to catch up with Dr Browne ahead of the event to find out what it's all about!
Hi Fiona! Could you tell me more about the event and why Datactics is involved?
The AI for Services event is a UK-wide event hosted by KTN Innovate UK and we are part of the NI cohort. The event is a roadshow, which will provide the opportunity for companies from all the different regions to highlight what they are doing in terms of innovation and AI and how these can address areas within the various sectors. The roadshow will also allow each of the companies to pitch to organisations in different sectors including Accountancy, Insurance and Financial Services.
Fiona, you will be giving one of these pitches at the event. What can you tell us about it?
All the regions have a chance to provide a 7-minute pitch. We will be describing who Datactics are and what we specialise in (Data Quality and Matching). We will be focusing on a particular use case, which is related to Onboarding and the role of entity matching within this process, highlighting the recent work we have done in this area. We will be highlighting the data quality required before the matching process occurs, but also how we have augmented our matching process with machine learning.
If you could pick one key takeaway that you would want people to get from the pitch, what would it be?
I think the key message to takeaway is that Machine Learning (ML) has a role to play in addressing manual time-consuming task and when applied to the correct applications, it can make efficiencies savings. However, good ML is built on quality data and effort is needed to ensure that you have a reproducible data quality pipeline in place. At Datactics we pride ourselves on our data quality and matching technology and have innovated in these areas. We are really excited about the developments we are making, and we can't wait to tell you more!
Datactics will be representing NI. Do you think that the talent here locally and the technological developments are matching up to the rest of the UK?
Yes! There's a real focus on Artificial Intelligence and FinTech within NI. The country may be small in size but in terms of capabilities it offers great solutions.
What do you hope to be the biggest takeaway for attendees on the whole event?
The idea of this event is for companies within sectors such as finance, insurance, law and accountancy who are embarking or on their way to their digital transformation journey to connect with companies that offer innovative solutions. At Datactics we want to better understand the bottlenecks and pain points that these companies in these sectors are facing and offer a solution that addresses these. We hope to deepen our specialist knowledge in understanding the current challenges in the industry so that we can tailor our technology to solve real business problems. We will showcase our self-service data quality and matching solutions highlighting the continual developments we have made with machine learning to augment the matching process.
It is also a great opportunity to leverage our presence in these sectors as we are primarily linked to financial and governmental. Accountancy, Law and Insurance are sectors that we haven't traditionally marketed to but have similar areas to address such as compliance to regulation and common data management challenges.
What would you like the audience to share?
We will highlight what our solution is and what we do, but we want to understand better the pain points. Where do the difficulties lie? Is it extracting knowledge from textual sources of information? Or is it issues with integrating different data sources? Or is it issues with adhering to regulations? It will be good to hear first-hand from these organisations.
Are you looking forward to hearing any particular pitch on the day?
I am looking forward to hearing them all. Particularly because all the companies are very different, it'll be interesting to hear more about their solutions and the innovations that they are offering.
How can attendees be able to get in touch with you?
You can register as a delegate to hear the presentations here. Then, Innovate UK is using a platform called Meeting Mojo where 1:1 meeting can be booked between 12:30-2 pm with companies.
The event is sure to be a good one, we are excited to be involved. We are most excited to learn more about the different sectors! Keep an eye on the KTN social media pages for updates on the event. KTN also has an events archive where you can listen to past events if you have missed them, check it out here.
Visit here for more by Datactics, or find us on Linkedin, Twitter or Facebook for the latest news.