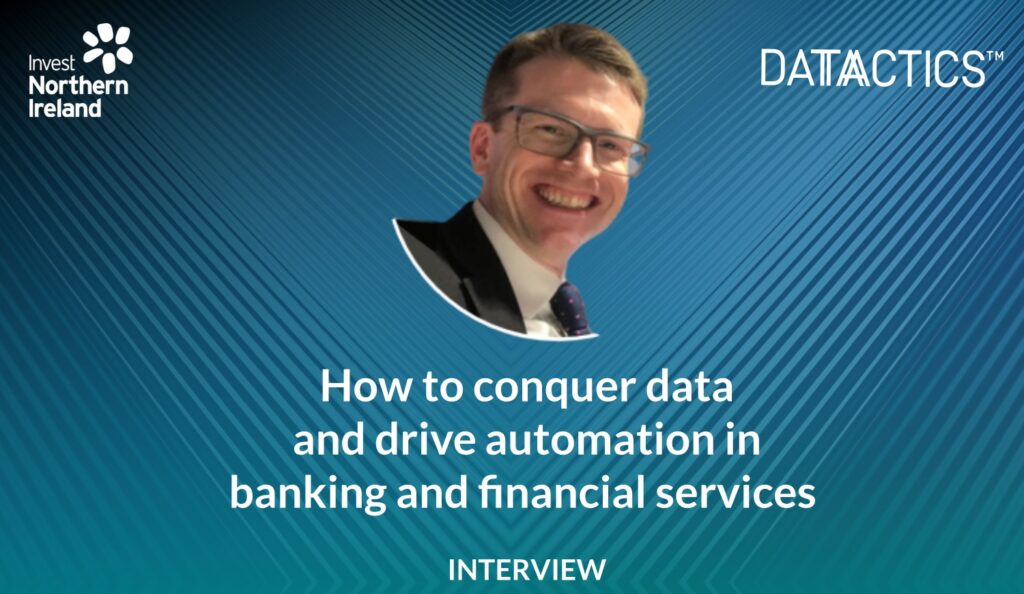 As we know FinTech is changing the way people bank and the way of course banks wish to operate. Our very own, Marketing and Partnerships Manager Matt Flenley contributed to a webinar discussing how to conquer data and drive automation in banking and financial services. The session sought to unpack the best practices for using technology and optimising technology to break new ground in banking. 
Matt was joined by Karen Bradbury of Invest NI, Brendan McCarthy of Analytics Engines and Andy Wallace, The Robot Exchange.
We sat down with Matt to explore the rising employment of FinTech employment in the UK, why FinTech is rapidly changing people's approach to banking, how organisations can combat messy data and what makes Datactics different.
To kickstart, why do you think FinTech is changing people's approach to banking?
For an awfully long time, strength has been in established institutions having all the customers and that providing economies of scale for transactions. Back in the day, transactions made using your cash card would go over the link network and there are fees paid between the bank you have your card with to the bank that operates the ATM – meaning a massive amount of interchange. All of this money going between banks and card issuers creates a big market for the banks to make money. What has happened recently with open banking and PSD2 is that those services have been able to be offered by Revolut, TransferWise and Starling, who challenge the need for cash. They believe that digital payments are the way forward, previously they were slow but now due to internet technology and privacy standards being improved, there is now the ability to manage all digital payment activity through an application. These customer-led innovations are in effect disintermediating what the banks used to be able to only offer themselves, which has led a big drive towards FinTech solutions. For example, Loyalbe has created a means to pull all of your loyalty cards and accrue loyalty benefits at local shops in a way that beforehand would've been at the sole reserve of the bank or the card issuer.
Why NI? Why has NI become such a prevalent FinTech hub?
I think NI has the benefit of being a small, concentrated community. There is much lower cost of employment and cost of living but an extremely high standard of education. There is a perfect combination of an educated population with a low cost of living, and all the work that Invest Northern Ireland and others have done by way of FDI that has brought the likes of Citi, Allstate and Liberty to the area has allowed people to think they can train to be a software and have the option to work for a huge multi-national corporation right on the doorstep. There has been a sizeable amount of government money invested to secure those overseas firms but they haven't just invested and ran away, they have invested and stayed. Which has given rise to a highly literate and highly capable financial services technology workforce based here.
Just to bring Datactics into the mix. Messy data is everywhere – how can organisations combat this?
Messy data is everywhere. Being able to fix it is a challenge that faces every institution. We focus on Financial Services because they are the ones with typically the most data literacy, they understand the criticality of data and how having better data quality data can help them to outflank competition. In many institutions there are many problems with errors of capture and out of date information creating negative customer experiences and regulatory fines.
Where can they start and where can they fix it?
We have led the way with business unit led data quality software, this doesn't involve amassing all of your coders and programmers and asking them to hard code rules into their central IT systems. Your business teams know what the data should be, and they should be able to interact with that data and fix it as necessary. Then downstream be able to report it, use it and analyse it. We would suggest working with a company like us to be able to deploy that on a specific business problem, we work with commercial organisations that have business goals to hit, it's now time to put the capability in those business teams too.
Data formats, entries and elements often present different versions of the truth, some of these are important distinctions but others are issues of quality, including typos and outdated records – tell me more about this…
There is a valid distinction. For example, it's important to understand that different records need to be reflective of different time periods. I may want to write to one Jamie Gordon, but I may have 5 on my systems due to having multiple different banking systems. You don't want to be constantly pestering Jamie, it's also massively inefficient to have to send a high volume of data automatically as it is expensive. At a corporate level, it's hard to understand who the beneficial owner of institutions that are similarly named. It's really important for anti-money laundering and KYC. Being able to interpret those differences, understanding common elements is critical to eradicating the manual effort and ambiguity around KYC and AML.
What would you say is Datactics' biggest differentiator in the market?
Business user focus is imperative – we are seeking to serve the business teams allowing them to self-serve for analytics and quality all at once. Our clients don't want a year long process over their heads before any results are visible. We are keen to make our clients as literate of the platform as possible because we want them to be able to use the platform fully as soon as possible, we also support them initially and offer them 24/7 assistance if they so need it. We are all about self-service.
We thoroughly enjoyed being involved with this webinar. We love the fact that Invest NI has sought to connect the dots between vendors and markets. We have had many opportunities to pitch ourselves to new markets and work with huge brands. They have been a strong advocate for native Northern Irish companies and have built on the legacy as we move into an increasingly technologically driven future.
If you would like to discuss the FinTech market in NI, how Datactics can help with messy data or how the world of banking is changing, please reach out to Matt Flenley today. You can also book a one-to-one consultation with him, if you'd like to explore our solution further.
For other news about Datactics please visit this page. Alternatively, you can contact us by clicking here.