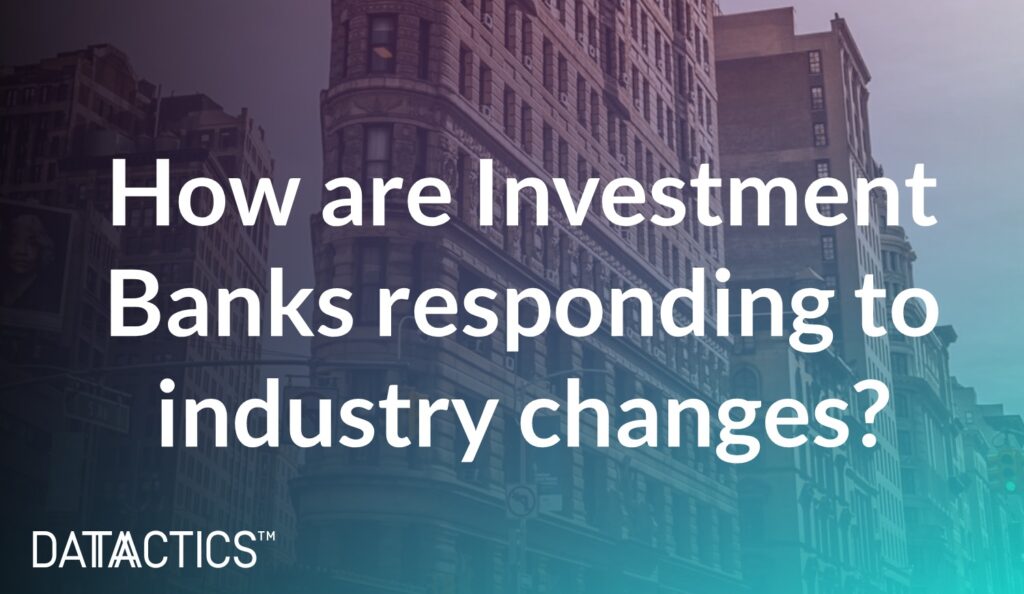 Even with the recent positive news of vaccine trials, COVID-19 is impacting the financial services industry and causing investment banking firms to act.
Some banks are seeking to sell off failing operations and are changing their focus to business areas that are recording strong profits, such as asset management.
Goldman Sachs has been investing in new technology to keep up with the changing demands of the industry; JPMorgan in contrast has sought to embrace blockchain technology.
In our recent panel at the Virtual Data Management Summit, Kieran Seaward unpacked how the most successful firms were building their "new normal" strategies on clean data, including those who had started to work with us on our dedicated solutions in Financial Services Data Quality & Matching.
We've built this solution with banks, wealth, and asset managers in mind. The platform allows you to easily measure data to regulatory and industry standards, fix breaches and push into reporting tools, with full visibility and audit trail for Chief Risk Officers.
Features:
DEPLOY PRE-BUILT RULES & LOGIC
Featuring rules for BCBS 239, FSCS, AnaCredit, IFRS 9 and more in a highly-customisable front-end for rapid deployment in financial services.
VISUALISE & FIX YOUR DATA
Native Data Quality Clinic application empowers those who know the data to fix the data through integrations with off-the-shelf visualisation dashboarding software.
POWERFUL DATA MATCHING
Map instruments, people and entities at scale to streamline KYC and onboarding. Consolidate & enhance reference data from multiple sources including Companies House, Bloomberg, Refinitiv, Dun & Bradstreet.
MEASURE TO INDUSTRY STANDARDS
Configurable data quality metrics enable compliance with industry leading standards such as DCAM from the Enterprise Data Management Council.
INTEGRATE WITH ANY DATA STORE
In-built connectivity to data lakes, silos and cloud sources, including Azure, Google Cloud Platform and AWS.
AUTOMATE, SCHEDULE AND MONITOR WORKFLOWS
Power automations enable rapid access to data systems and stores. Monitor AI algorithms and detail decisions reached with full in-built explainability.
Contact Us
To speak to us about your next step on your data management journey, please get in touch.