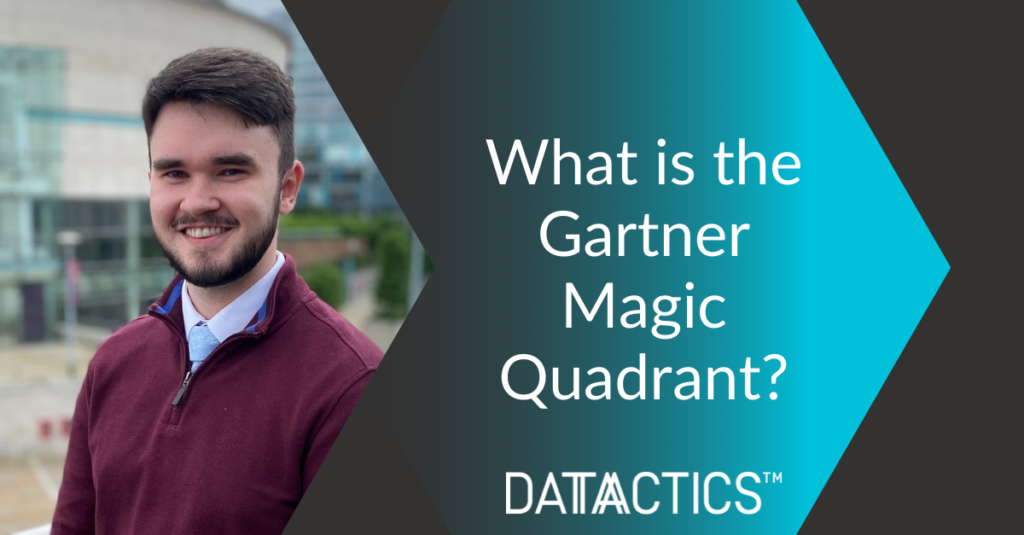 Last month, we at Datactics were delighted to announce that we had been recognised in this year's edition of the Gartner Magic Quadrant for 'Data Quality Solutions'.
This is a remarkable achievement for everyone associated with the company, as we make our first appearance on the quadrant, gaining industry recognition for our sophisticated technology and acknowledgement for the people who have helped drive Datactics to the fore of the market. Datactics continues to punch above its weight and thrive in the role of the underdog, challenging industry giants and displacing them in certain environments.
But what really is 'The Magic Quadrant'?
To answer this question, we turned to Brendan McCarthy, to give a view of someone relatively new to the data management ecosystem and the part that technology analysts such as Gartner plays in influencing buying decisions and technology development.
For those who are unfamiliar, the Gartner Magic Quadrant provides a graphical depiction of different types of technology providers and their position in fast-growing markets. Gartner research identifies and analyses the most relevant providers based on specific criteria that analysts believe to be crucial for inclusion.
For 'Data Quality Solutions', Gartner has highlighted the importance of features such as; the delivery of core data quality functions for profiling, cleansing and matching data, supporting multiple data domains and use cases and owning a geographically diverse customer base.
Between ten to fifteen of the most prominent vendors in each given market are then selected and judged on product capabilities, diversification of services and market presence. Based on this criteria, selected firms are then allocated into four distinct categories: Leaders, Visionaries, Niche Players and Challengers.
Datactics represented one of the 'Niche Players' in this edition of the quadrant, due to our specialism in pure-play data quality and matching, and the value we add to clients in specific industries and verticals. As we continue to innovate our product and scale internationally, we expect Datactics to appear in the 'Challenger' and 'Leader' segments of the quadrant over the coming years.
The next installment in this series will focus on specific feedback that we received from Gartner, showcasing the core competencies of the Datactics platform and the key strengths that our users have highlighted.
Follow up with Brendan on LinkedIn here.