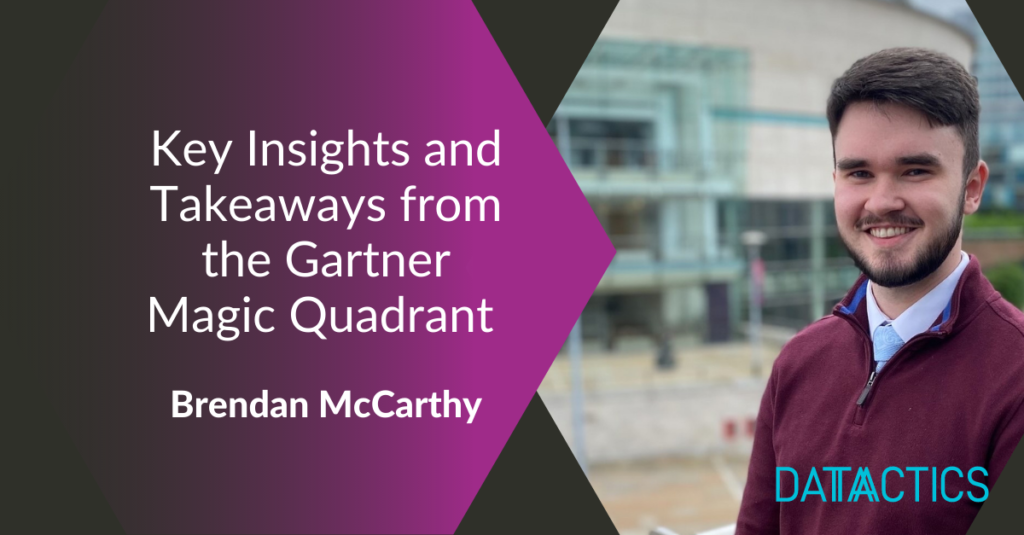 The previous two editions of this blog series provided an overview of the Gartner Magic Quadrant from the perspective of someone relatively new to the world of data management, defining what it really means for a scaling business like Datactics to be recognised by Gartner, as well as drawing attention to the core strengths of the Datactics product, as highlighted by Gartner analysts. With this knowledge, this blog will focus on the key insights we derived from this research, also highlighting market trends from the buyer and seller side. 
The data quality solutions market continues to mature at a rapid pace, with vendors from across the space innovating their offerings by making more impactful use of metadata and AI to solve customer problems and cater for increasingly complex use cases.
Data Quality had traditionally been mandated to adhere to regulatory compliance and governance requirements and reduce operational risks and costs. However, as referenced in Gartner's research, senior executives in businesses across the globe are recognising the necessity for Data Quality when amplifying analytics for more accurate insights and data driven decision-making.
As per Gartner surveys, by the year 2023 it is estimated that over 60% of organisations will leverage machine-learning enabled data quality technology to increase automation of tasks and provide accurate recommendations, significantly reducing bottlenecks and manual effort often associated with tasks for Data Quality improvement. Additionally, by 2024, over 50% of businesses will implement modern Data Quality solutions to better support enterprise-wide digital transformation and business initiatives. Firms are engaging with vendors from the Magic Quadrant to gain competitive advantage and ultimately achieve their goals.
One of the key trends taken from this year's Magic Quadrant is the shift towards Self-Service Data Quality. The era of requiring heavy programming and IT resources to perform Data Quality tasks is changing, and no-code platforms will continue to rise due to their accessibility and usability. Datactics were the only vendor in this year's Magic Quadrant accredited with this feature as a key strength, as they continue to champion the movement of no-code functionality in Data Quality. Additionally, firms are seeking to centralise Data Quality controls and improve interoperability by simplifying the ease of integration with adjacent software tools such as MDM, metadata and data governance.
This research indicates that to fulfil the market demand for simplified data quality management, despite the increasingly complicated data landscape, vendors must offer a product that goes beyond simply fixing data errors, to helps clients actively manage their data right across the enterprise.
If you would like to open a conversation about any of the topics discussed in the previous three blog articles, feel free to reach out to me on LinkedIn or send me an email at [email protected].