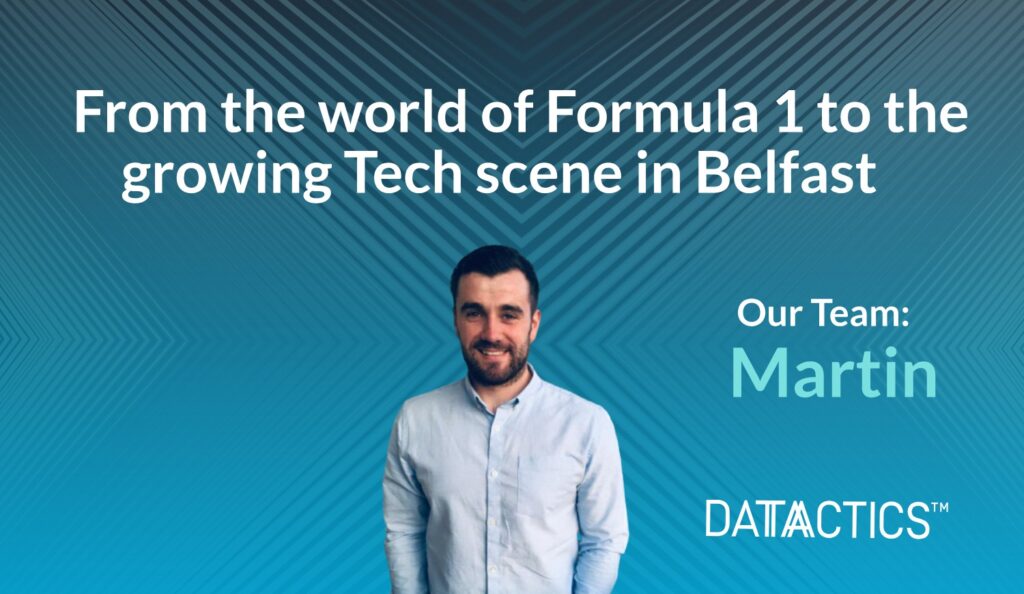 "One of the main things I want to put across is that I was willing to move from a big company and a sport I was passionate about to come to work in Belfast"
Martin Vance joined our team 15 months ago as a Data Management Consultant, helping our clients solve real-world data management problems. As someone who is passionate about data, he enjoys applying his analytical mind to solving problems and curating innovative solutions; in this interview, we took some time to find out why he relocated to Belfast from the fast-paced world of F1, and see what he's planning to do next
How did you come across Datactics?
I can't remember what the event was, but I remember a listed Data Management event that included Datactics. If it hadn't been for that event, I don't think I would've heard of the company. I then applied for the role and got it! Datactics instantly stood out to me as a company that has reputation, one which had experience within it, and ultimately one that was leading discussions within the technology space.
How did you get into Data?
When I was 18, I went to America on a Soccer Scholarship as a student athlete. I quickly realised that I wanted to study further, which led me to study human performance (Sports Science) at university in England. I then did a Master's in Clinical Exercise Physiology at Northumbria.
Straight after University, my first role was within data with F1, and although my degrees were not directly related to technology, I was able to demonstrate my scientific and analytical mindset to land the role.
How have you found the transition into a scale up company from a larger organisation?
For me, I have loved getting to understand the different functions of the business. In larger organisations you tend to know your team and that's it. At Datactics, being able to work with others from a wide range of backgrounds with a vast array of skills has been enlightening. On another note, it's been brilliant to work in a gender diverse environment. Datactics is doing a great job of encouraging women to enter the technology sphere. Also, there is great age diversity within the company – I enjoy working with experienced eyes and working with those that are fresh into their career in equal measure.
You are planning to undertake another master's, could you tell me a bit about that?
For me, it's about gaining a more holistic view of data. I have done the data analysis role and then the data management role. I now feel like the gap in my knowledge base is understanding machine learning and artificial intelligence. Working closely with the Head of AI, Fiona Browne has been very inspiring to me, so I felt I would look into a Masters in Data Science in Ulster. I think this Masters will help me improve my knowledge and allow me to give more to my role at Datactics. I start the master's time from September and am delighted to be able to study alongside working. The goal would be that my dissertation would tie well into something we are working on within the company, making it mutually beneficial for both myself and the company.
You previously worked in England; how did you find coming over to Northern Ireland?
One of the main things I want to put across is that I was willing to move from a big company and a sport I was passionate about to come to work in Belfast. The move was 100% worth it. Moving back to Northern Ireland has given me great work life balance and I feel particularly excited to be working for a company that is growing hugely. In the next 10-15 years I think Northern Ireland will continue to go from strength to strength as a hub for technology and opportunity.
Thanks, Martin, for taking the time to chat with us. It was great to be able to hear about your passions and your career journey to date. We look forward to hearing more from you soon and good luck with the master's!
Click here for more by the author, or find us on Linkedin, Twitter or Facebook for the latest news.