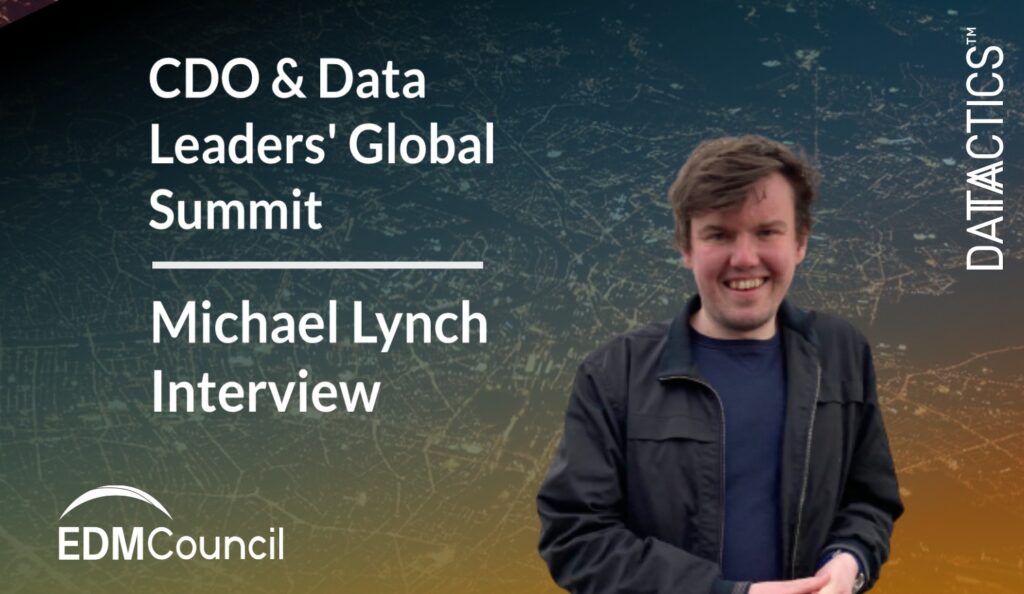 Last week we attended the CDO and Data Leaders' Global Summit 2021 hosted by CDO Magazine and EDM council.
The goal of the event is to spotlight innovative thought leaders and to provide an opportunity to share and exchange new ideas, technology trends and networking. Throughout the virtual summit, there were many discussions that took place on the theme of Leadership, Data and Analytics for Digital Transformation. The summit was conducted with 90+ leaders in 30+ sessions – designed specifically for senior and C-level data and analytics executives.
Michael Lynch, Business Development Executive, attended on behalf of Datactics. As one of our two Graduate to Export Business Development Executives who joined the team only a few short months ago, Michael has already been throwing himself into learning the business, the data landscape and understanding the market. He will hopefully be jetting off to Japan in September to undertake a 12-position based out in the market, with the aim to drive more business in the Japanese market.
We caught up with him to see what he thought about the event, and what main themes stuck out to him.
Michael, what were your biggest takeaways from the event itself, especially around the role of a CDO and the importance of ROI?
Role of the CDO
The nature of having a 'Chief Data Officer' (and even a Chief Data Office) has been very novel to organisations and its evolution is quite compelling. There is an importance of collaboration and multi-disciplinary relationships between other business operations i.e., Chief Information Officer to ensure that the organisation can measure, quantify and analyse their data. This is with the objective to trust their data and utilise it as an asset. The evolution of data being solely operational (i.e., do we have the address?) to analytical (i.e., what does where this person lives tell us about them?) has played out in firms over the past number of decades, and now organisations are thinking more strategically about the importance of strategically investing in utilising the data assets that they hold internally.
Return on Investment
This is a measurement that business continues to be asked for from Boards and CDOs can struggle to find the metrics to quantify investment. It's a niche measurement that is often particular to the business challenge that any data solution is attempting to resolve i.e., quality, lineage or even good data culture. It's a twofold solution where they need to quantify the fix on resources and efficiency, as well as cost.
What talks did you most enjoy?
I particularly enjoyed the "How to teach the next generation to become successful CDO's", which included some great insights from John Bottega, Laura Train and Michael Cornwell. I thought it was interesting to see how the role is projected to change and from a market perspective, what their job role will look like, responsibilities and what success looks like to them. It will help us to be able to speak their language, continue to understand and address their pain points, and explore new trends within the industry. I also really enjoyed 'The Journey to Data Leadership' talk which included Tracy Eiler, Deval Motka, Donna Rudnicki and Poonam Soans. It was enlightening to hear the different challenges and opportunities for women within Data – I particularly enjoyed hearing how the data industry has changed, how flexible working has increased, and the career journeys that each of these inspirational women in data have.
Thanks, Michael, for taking the time to share your insights. To chat further about our event plans, you can reach out to Jamie directly. If you'd like to continue this conversation, reach out to Michael for more insights and perspective sharing!
Check the EDM Council's website for more information on the event, especially other agenda items including:
CDO 2030 
Data Management and Analytics Best Practices 
Data Innovations 
The Data Governance Imperative 
Generating ROI from Data and Analytics 
Accelerating Cloud Adoption (challenges and benefits) 
Regulatory Data Management 
The ESG Data Challenge 
For other news about Datactics please visit this page. Alternatively, you can contact us by clicking here.