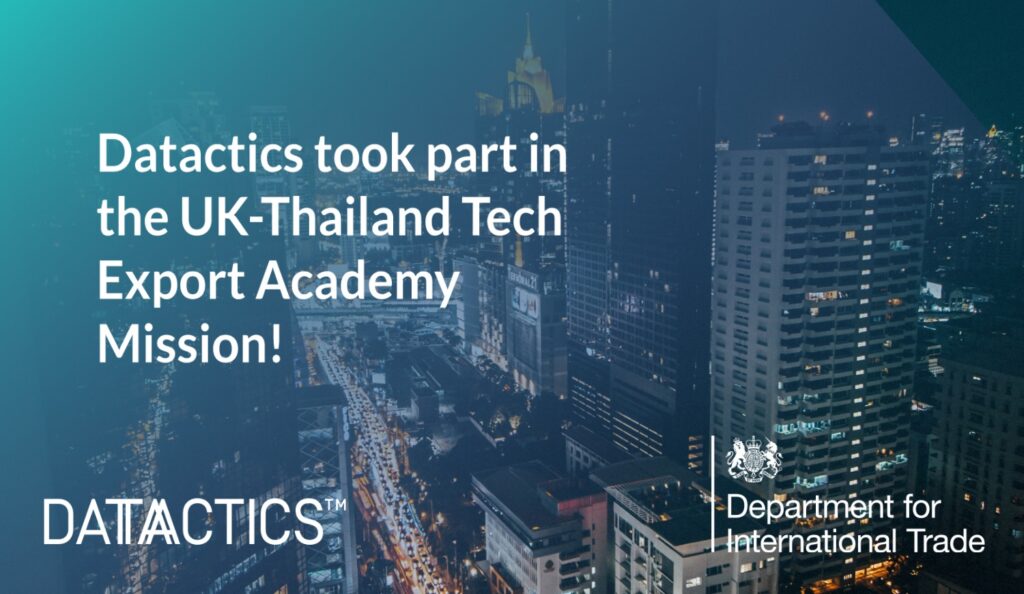 A month ago today, marked the final day of the Department for International Trade (DIT)'s UK-Thailand Tech Export Academy Mission. Thank you (or should we day ขอขอบคุณ) for superb introductory calls! 
 
One major focal point of the Smart City agenda is galvanising the effective use of data to make the communities we live in a safer and more prosperous place to be. Discussions emerged on how we can all play our part to enhance the #Envision2030 Sustainable Development goals, from reducing air and traffic pollution to implementing economic measures that push down the unemployment rate and develop skills for the future of work. We uncovered that the Smart City agenda is so much more than just implementing technology — it's about solving societal problems and making home a better place to live. 
 
In 'normal times', Datactics would have been very excited to travel to Bangkok and meet the various stakeholders in person. As well as discussing all things data, we would have equally been excited to explore some of the 35,000-odd temples, 1,500 orchid species, and the vast forests and jungles which is home to thousands of native bird species. We hear that Thailand has more birds than Europe and America combined! 
Michael Lynch, International Business Development Executive was front and centre of these introductory calls. Here, we took some time to ask him a bit about the drive behind our international export strategy.
Tech Mission: Data Focus
Engaging with economic and trade development agencies, such as the Department of International Trade, is an excellent way for us to understand the landscape of countries like Thailand. Hence why Datactics was very pleased to be invited to the UK-Thailand Tech Export Academy Mission that took place between the 10-14 May. Datactics is proud to be a 'best of breed' data quality and matching solution, meaning that we are often a key part of a wider data management programme. Therefore, working with relevant technical and servicing partners is a key delivery strategy for Datactics. Our attendance at the Tech Academy allowed us to engage with not only potential clients, but also viable partners who can help deliver the Datactics solution in-market.
It became apparent in our initial discussions that some financial services providers were at a very early stage of their data governance journey. This meant that the implementation of common data principles and standards (like the EDMC's "DCAM" model) were also in their infancy. Some of these financial services institutions had a team of programmers coding with Python to help them solve data quality issues. That's a classic situation for us to encounter, so in circumstances like that, we were able to articulate the Datactics value proposition of being genuinely no-code and scalable, especially compared with home-grown programming approaches, leading to significant added value to their business functions. This no-code functionality really caters for the business user and the data stewards who know this data best. Our next-generation platform is built with the business user in mind, allowing business subject matter experts to easily measure data to regulatory & industry standards, fix breaches singularly or in bulk and push into reporting tools, with full visibility and audit trail for Chief Risk and Chief Data Officers. 
Smart Cities
In nearly every conversation we were involved in, the trajectory of the debate moved towards forwarding the Smart City agenda. There was a continuous backdrop of innovation and all contributors we spoke too really had their finger on the pulse when it came to talking about AI, Machine Learning, Robotics and Automation.
In October 2020, the UK Government announced that it was partnering with Thailand on 'Creating Smart Cities' and they launched the 'Smart City Handbook'. The UK Ambassador to Thailand stated: "I hope the launch of the Smart City Handbook and the on-ground expertise as part of the Digital Trade Network will provide the foundations for future cooperation, sharing of experience and expertise between the UK and Thailand in areas of smart city development."
A real crucial point is that Smart City development is not solely focused on implementing the latest technology. Smart City development is about understanding societal issues and using innovation to solve them.
For a city to be accredited as a 'Smart', it needs to be able to prove its data-driven capabilities to make informed policy decisions for the betterment of the community. This could be measuring data around pollution, consumer trends, weather, or methods of commuting. For this data to go forward and be used to influence key policymakers in government, the data gathered needs to be profiled, measured, matched and fixed as appropriate. This is where Datactics can really add value. Our solution has the capability to plug into a data lake or data warehouse, cleanse and reengineer the information to ensure its accuracy and validly.
On top of this, Datactics has a strong track record of public sector delivery in the UK as a Government G-Cloud supplier, and approximately half of our current live installations are within the UK Public Sector.
If you want to know more about our virtual trade mission to Thailand and how Datactics fits into the picture when it comes to financial services and public sector data quality, then please reach out. You can connect with Michael here.