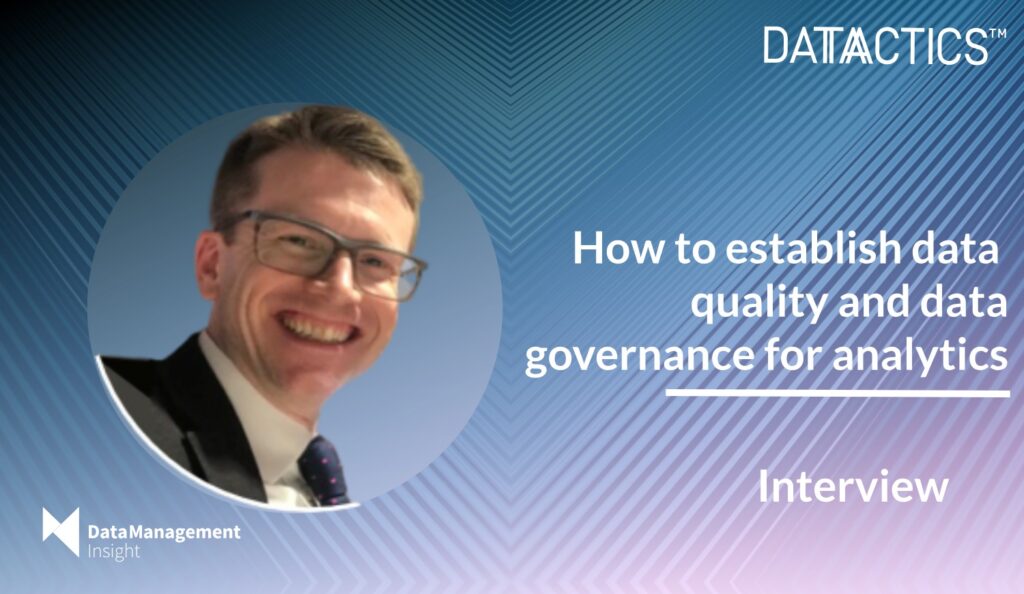 Matt Flenley, Marketing and Partnerships Manager at Datactics shared yesterday (22nd April 2021) on a Data Management Insight webinar on the topic of 'How to establish data quality and data governance for analytics'. He spoke alongside Viral Vyas of HSBC, Ellen Gentile of SMBC, Semarchy's Nick Jepson, and Bloomberg's David Tabit. Moderation was ably provided as ever, by A-Team's Sarah Underwood.
The webinar allowed the speakers to unpack the key challenges of data quality and governance and how data quality and data governance can be used to improve analytics. We took some time to catch up with Matt about the webinar and delve deeper into the underlying, yet all-important, essentials of data quality and governance.
To kick off, Matt, how important is it to share alongside the other data leaders at events such as these?
I think everyone can get a bit lost in their own bubbles sometimes. As a bank or financial institution, you often talk to other bank or financial institutions which is helpful, but sometimes you need to break out of that and speak to other parts of the value chain. It is the same thing with vendors, the risk can always be that they rely on talking to other vendors about potential partnerships or trying to figure out how to maximise differentiation against other people in the same space, but not be able to talk openly with a range of people at different parts of that same data management journey. I think that being brought together gives all sides an opportunity to debate.
What are the key challenges of data quality and governance?
A really interesting part of the webinar was that people kept continually coming back to culture. As we are all businesses, revenue, growth and commercial strategy will always be core activities, and none of us can pretend we are artisans just doing this for the purity of technology! All of that is going to be delivered by people, therefore overcoming that challenge of people knowing how they do something in a particular way is one of the most important challenges. Trying to win internal business links really made me think that as a vendor, we are often thinking of selling to banks, but a lot of the time we're supporting someone on the bank's side who also must sell the idea of what they are doing internally. As was said on the webinar, that often involves navigating complex issues, like people feeling like they are going to be automated out of a job, or a senior manager saying, "it has worked well so far, why would I change what I am doing?"
The webinar posed a really good question which I think is worth repeating. To what extent has your organisation combined data quality and governance to improve analytics?
Ever since Datactics has focused on financial services/ regulatory compliance, the main benefit for customers has been the automation of manual tasks around data quality checks and measurement. We have known that unless you have a governance strategy, there is the risk you will have a whole load of different people within the enterprise doing different things without any dots joined together. I would say if you haven't started, to start with data quality because you will notice the biggest differences. In the past few years, we have put a bigger focus on how well we work with data governance providers, because unless you do it together, you will never be able to reach the standards required to make a difference to your organisation – especially in analytics.
For organisations that have cultural problems around data, how best can they address these?
Firstly, the removal of fear. A lot of people associate owning data or being a data steward with being responsible or held to account in a negative way. The banking and financial services sector is driven by risk, one of the problems is that if you focus too much on it you can be trouble. Sometimes only negative connotations are associated with being responsible for something. A culture shift needs to happen to ensure that people focus on better delivery, rather than being afraid of responsibility. One of our wealth management clients, based in London, has gone about this in the best way because they have a senior leadership team that really understands the criticality of data to the business. They understand it is about empowering those responsible to invest in the quality of data. For example, being able to say "If the data was 30% better on client information, I would expect to see a 5% increase in revenue or in margin." Linking the information to business outcomes can help people understand the importance of driving up the quality of information relied upon, and how it can help to drive a long-term revenue strategy.
Many of the businesses being built today that don't have 'bad data debt' are in a great position to benefit from modern techniques from the word go; this starting point is what many banks aspire to replicate. If you don't address cultural issues, there is a risk that the business will end up totally disintermediated and losing what made them great to begin with.
Achieving data quality and combining it with governance is costly, how can firms manage down the costs?
Yes, software licences and professional services can sometimes be expensive, but one of the biggest overlooked costs is operational losses. These operational costs can be huge, through errors, re-work, manual workarounds and so on. It's the same with the data at the heart of it. If customer data is incorrect, you have a risk of duplication which will lead to physical costs. To illustrate the frustration of incorrect data, if you think of a bank having your details from when you were a student and then you get married and change your account name, but one system still retains your old details, being written to twice, one in married name and once in your maiden name, will cause irritation eventually – which will lose customers. You annoy more people with poor data quality which will lead to poor overall customer experience. This is a simple example, but it's replicated many thousands of times over across all data types and systems – in just one bank.
How can Datactics help with this?
Datactics sets out to not disrupt all the other technologies that the bank is running. We coexist with those technologies, so it means anything being working on through our platform can be published into other platforms easily. I like to say that we want to play nicely with other children! That includes whether it is lineage, or governance or metadata, or whatever part of the value chain. Datactics works well to provide an independent validation of the quality of the data as it flows through an organisation and seeks to empower data stewards in driving up standards of data quality.
To have further conversations about establishing data quality and data governance for analytics, reach out to Matt Flenley, Marketing and Partnerships Manager, or Kieran Seaward, Head of Sales. If you wish to find out more about how Datactics is using Artificial Intelligence to achieve faster and more accurate analytics, you can reach out directly to Dr Fiona Browne, Head of Artificial Intelligence.
Click here for more by Matt, or find us on Linkedin, Twitter or Facebook for the latest news.