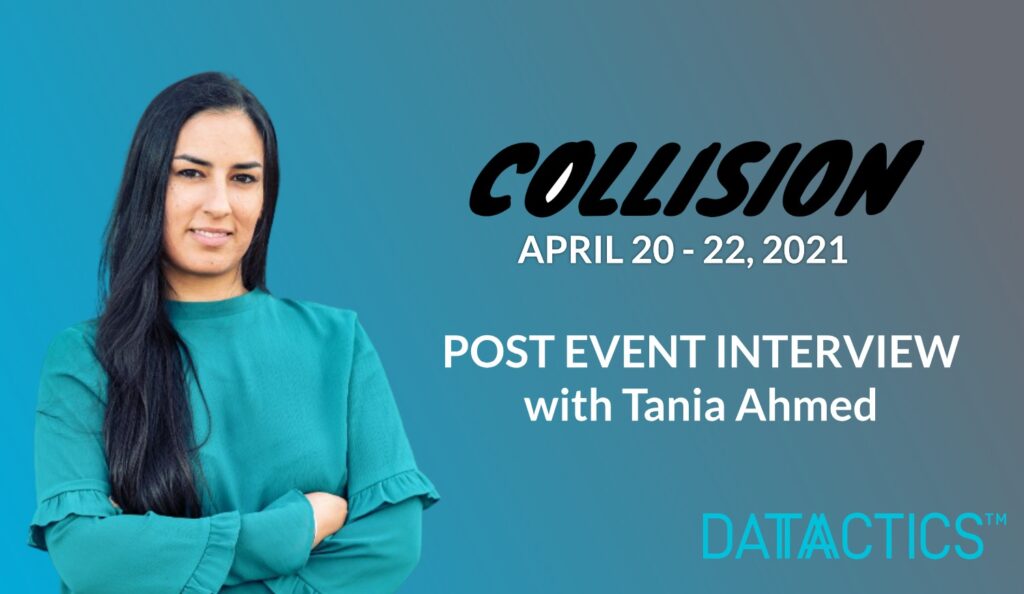 Tania Ahmed, Digital Marketing Specialist at Datactics attended Collision, the Toronto based tech conference that took place from 20-22nd April.
Collision is one of the biggest tech conferences in the world, and we were delighted to be in attendance. We caught up with Tania to hear all about the event and hear about the key takeaways and learnings as well as unpacking the importance of developmental opportunities.
This was your first time at Collision, how did you get involved?
This was my first time at Collision that happens yearly in Toronto. I got involved with the event due to my participation in Web Summit through the Women in Tech community. This event is a big tech event, but it does not just stop there. There is a wide range of topics covered including social good and environment. Then you also have more technical topics such as media, artificial intelligence and FinTech. The event itself reminded me a lot of Web Summit, which I am a regular attendee of. The fact that the event is online felt different but it meant I was able to attend, as Toronto is not exactly around the corner and travelling at this time is quite restricted.
The main aspects that the event offers to participants is the ability to network, establish lead generation activity, learn and gain exposure – What aspect did you benefit from the most?
That might be the case if you are exhibiting but as an attendee, it was great learning and networking opportunity. Events like this enrich your cultural awareness, showcases new industry trends in the market, and allows you to explore new and exciting innovations. I particularly enjoyed the variety of speakers, showcasing what they are involved with. There is a great opportunity to "mingle" at the end of each day, you get to engage with a variety of speakers, attendees and thought leaders. Plus, being part of the Women in Tech community has also opened the door to participate in round tables focused on topics relevant to its audience.
What was your favourite presentation at Collision?
There were many talks over the three days and it is hard to pin down a favourite! I would say the "Pledge 1%" and UNESCO were probably the marking ones, it is always an interesting angle to see how the bigger companies are leveraging assets to support communities.
But I also enjoyed the sessions around being a force for good in business and tech for good as well as initiatives regarding climate change, something I am passionate about.
What would you say were some of the biggest takeaways from Collision?
One of the takeaways would always be related to the latest industry updates and trends in the market. You also hear inspiring stories that motivate you to want to take action within your community. Especially during the COVID-19 pandemic, it is good for a chance to hear stories of success and finding out what other companies are doing to bounce back, I have found it inspirational and empowering.
Moving forward, what events are next on your agenda?
Datactics has a full calendar for the rest of the year so that is always exciting! Later on this year I am hoping that Web Summit returns this year to a live event in Lisbon, which would be a great sign with the return of some sort of normality.
To chat further about our event plans or Women in Tech, you can reach out to Tania directly.