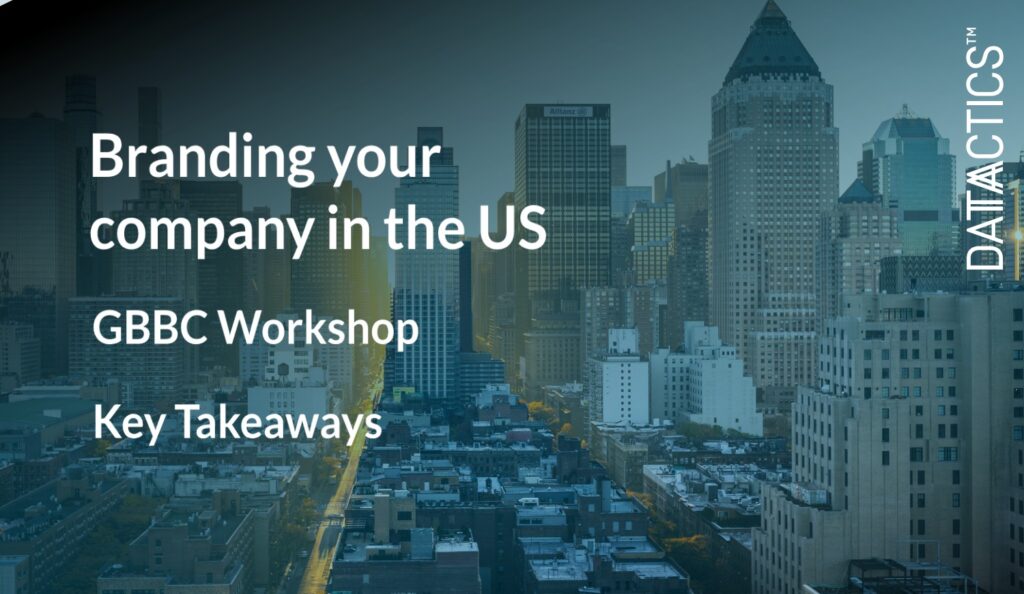 Last week we had the pleasure of joining a GBBC Workshop on the topic of 'Branding your company in the US'. The session was led by Theobald Fox and centered around key tips for companies to consider in terms of branding and clarifying value proposition in relation to the US market.
For Datactics, this event was particularly relevant as Datactics is seeking to further expand into the US Market. As part of Invest Northern Ireland's 'Graduate to Export' programme, Brendan McCarthy will travel to the United States later this year to represent Datactics in the region. We attended this workshop to gain insight into US branding trends, 'Marketing Must Do's', creating a US value proposition and messaging, and common pitfalls to avoid.
We caught up with Jenna Lloyd, US Partner at Theobald Fox and we asked her what she thinks are the biggest roadblocks that UK-based companies face coming over to the US…
"Often the assumption is that the UK–based proposition of a company is presumed as being perfect for a new market. We found quickly that in the US there are very different consumer segments. Researching into the competitor landscape is imperative – the landscape will be very different in the US market over the UK market. It makes it vital to seek out the 'white space', to show where you bring difference. The beauty about the US is that it is vast; there is cultural and economic diversity which creates opportunity for whatever niche you want to operate in".
We asked Jenna what her overarching piece of advice would be for establishing ourselves in the US market and she advised us to be open minded in pursuit of refining that value proposition.
In terms of developing the US proposition, Jenna advised to break it down into 4 elements:
Who is my US customer? Jenna reaffirmed that the persona used in the UK market will vary in the US – there will be different pain points, needs, motivations and bottlenecks for the customer.
What is the benefit that we are offering? The US audience far prefer succinct, direct messaging – to clarify what the overarching benefit of the product is will help to give customer a clear message.
How does benefit differ from US competitors? UK competitors are operating with a completely different mindset. There is a big opportunity to listen to feedback offered within market, agility in the US is part of product development.
What are the best ways to reach the audience? From a Marketing perspective Jenna highlighted that the colour palette is bolder in the US and the communications need to be more focused. For example, Richard Branson's book 'The Virgin Way,' when released in the US, had one overarching theme and that was leadership. Whereas in the UK the themes were more centred around learning, laughter and love. You could find your own interpretation with the English expression in the UK; in the US there was a far clearer key message.
Expansion into US markets can often pose a variety of potential challenges for UK businesses. This session offered advice on the most common pitfalls to avoid when attempting to grow in the States:
Adjust your positioning, not just the spelling. In most industries, your typical UK communications and marketing material and pitch delivery style may not directly translate to the US market. It makes it important to create personas and content specifically tailored for the US market.   
Don't waffle.US companies value time and efficiency so ensure your point is clear and your delivery is succinct.   
Don't spread yourself too thinly. Focus your preliminary work on a small number of specific areas and fully immerse yourself so you can develop a thorough understanding into each region.   
Major on the research. Campaign launches are significantly costly and time consuming, therefore ensure you offer your company the best opportunity by conducting enough research on the market and area.   
Ensure you understand the diversity of the US market. Each city and state has varied cultures, rules and standards, therefore you must be agile and adaptable. 
In terms of the event landscape, we are excited to hear that New York is far more open now with conversations happening towards returning to normality – something we are all looking forward to!
For Datactics, Brendan is planning on being based in New York from September this year (or as soon as possible afterwards) to showcase how Self-Service Data Quality by Datactics is revolutionising the data quality landscape in financial services.
You can connect with Brendan here. 
About Datactics
Our next gen, no-code toolbox is built with the business user in mind, allowing business subject matter experts to easily measure data to regulatory & industry standards, fix breaches in bulk and push into reporting tools, with full visibility and audit trail for Chief Risk and Data Officers. 
If you want to find out more about how the Datactics solution can help you to automate the highly manual issue of data matching for customer onboarding, then please reach out to us!