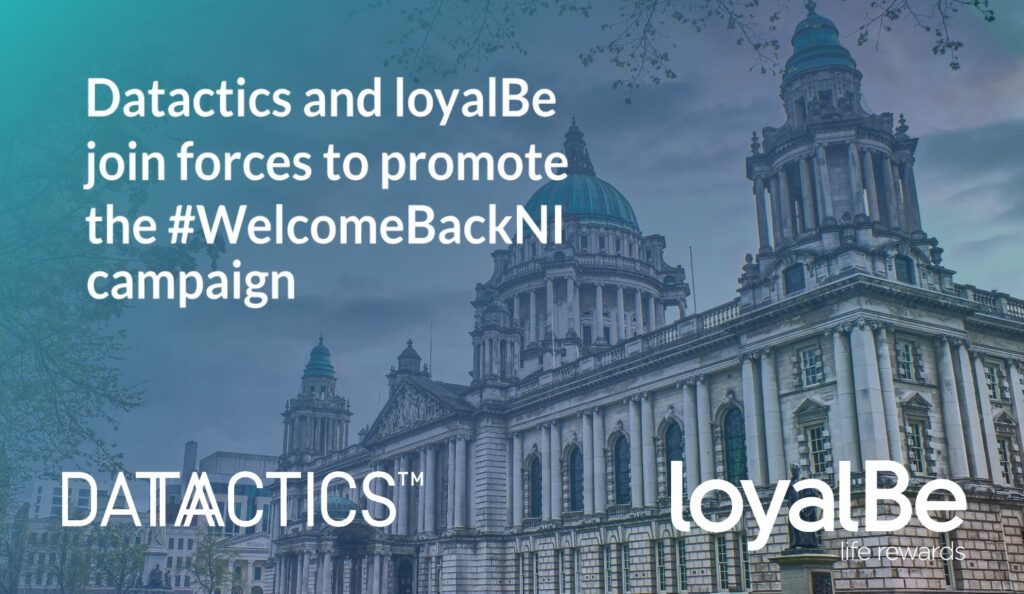 Last week we noticed the "WelcomeBackNI" promotion being run by fellow NI Fintech firm loyalBe and, as we're passionate about a thriving tech ecosystem and local economy, thought we'd dig a little deeper!
If you've not come across them before, loyalBe works with local businesses to replace their paper loyalty cards with a super-modern, Open Banking-driven mobile app. Now that Datactics has more than 50 people based in Belfast, many of whom can often to be found collecting a takeaway coffee from these local retailers, it felt like the perfect time to find out what the campaign was all about.
Matt Flenley, Marketing and Partnerships Manager at Datactics sat down with Cormac Quinn, Founder of loyalBe to discuss the excitement around the reopening of Belfast and the growing FinTech ecosystem in Northern Ireland.
Hi both, firstly congratulations to Cormac and the team on the #WelcomeBackNI campaign with loyalBe – as Belfast opens again, what are you both most looking forward to?
Cormac: I am really excited to get out and enjoy a meal again. Belfast has some really great restaurants and there have been a few that I still haven't managed to get around to. There are a lot of favourites that I'm eager to get back to so that's definitely one of the main things for me – a meal and a drink with some friends!
Matt: For me and my family I am looking forward to getting back to museums. We would've often enjoyed a family trip to Ulster Museum completed with a fry from Café Conor over the road. Being able to engage with public art and history that teaches you all about who we are and where we've come from is something that has been greatly missed!
Just following that, both businesses are big networkers. In the last year, how have you felt that networking has changed?
Matt: For us, it has been a combination of pipeline and delivery. In a normal year we would've travelled constantly to engage in conversations around data management but in the past year that has become extremely difficult and, in some cases, impossible. On the flip side, the world became digitally native overnight – digital demonstrations used to be far less favoured whereas now it has become far more normal to jump on a Zoom/Teams call to deliver a demo. There is no longer the stigma attached to online demonstrations. We also have undertaken remote deliveries which has ushered some of our clients towards doing remote delivery, something that has been good in many respects for us.
Cormac: I agree – it has saved a lot of time for us. I would say that a lot of networking does happen in person. Online events don't allow for the same amount of casual chat afterwards. As things start to open up, we intend to hold a networking event as part of the #WelcomeBackNI campaign to bring local business owners together. More details on this are to come!

Both loyalBe and Datactics are FinTechs within the NI FinTech Ecosytem. How do you both envisage Northern Ireland growing as a FinTech Hub in the next number of years?
Matt: There has been a great level of Foreign Direct Investment, providing more job opportunities here. The level of investment has definitely created many reasons to stay in NI. People are starting to realise they can achieve a great work life balance living in Northern Ireland, with affordable living costs, short commutes and the ability to work internationally and locally.
Cormac: I think it is a hugely exciting time! I am seeing more and more people returning to Northern Ireland after gaining experience in other Tier 1 cities which is brilliant. There is also some brilliant reinvestment from some larger indigenous companies into the space, creating the FinTech scene that is poised for take-off in my opinion.
What do you both believe is the driving force behind the growing FinTech scene here in Northern Ireland?
Cormac: I believe that the core driving force is ambitious and talented people who are trying to build future products in terms of today. They see a bright future and they want to run with their ideas!
Matt: I agree. I think there are also fewer barriers to entry here. There are great places such as HubFlow and the Ormeau Baths which are built for collaborative working and they actively support new businesses. The NI FinTech community is strong and well run – Cormac and I have already met many times despite being from very different firms, which stands testament to the ideology here that a rising tide lifts all boats, and we are keen to support each other's vision.
How can we at Datactics support your #WelcomeBackNI campaign at loyalBe?
Cormac: It is extremely important to support local businesses and people can get involved to help spread the message by using the hashtag #WelcomeBackNI to bring awareness to the campaign. Overall, the point of the campaign is to support local businesses, and if we can all go out there and buy coffee for staff in local businesses, even if a bunch of businesses can do that all together, we'd be in a great position to start supporting local businesses.

As part of the campaign, we are offering a significant discount of the loyalBe platform just for local businesses in Northern Ireland, that is 60% off the plan for three months. This is to allow them to create a data-driven, tailored loyalty scheme for their business at the cost of paper cards – and they get so much more! Businesses can book a demo with us through our website.

And as well, if any businesses want to get in touch with us to collaborate in any way, such as events or blogs such as this, they can reach out to us or join our campaign efforts.
Thanks to both Cormac and Matt for chatting about the reopening of Belfast and sharing the importance of the NI FinTech scene. We are excited to see the local Belfast scene continue to thrive and for people to really support the fantastic local traders and business owners that Belfast is home to!
Don't forget to use the hashtag #WelcomeBackNI the next time you are enjoying a coffee! 
To keep up to date with Datactics, follow us across our social media channels or check out our Datablog, where we post all round-ups and events we are attending or contributing to.