Belfast, London, New York, 23rd June 2019
Datactics is delighted to announce that is the winner of the 2019 Bobsguide Award for 'Best Regulatory Reporting implementation' with its partner Danske Bank.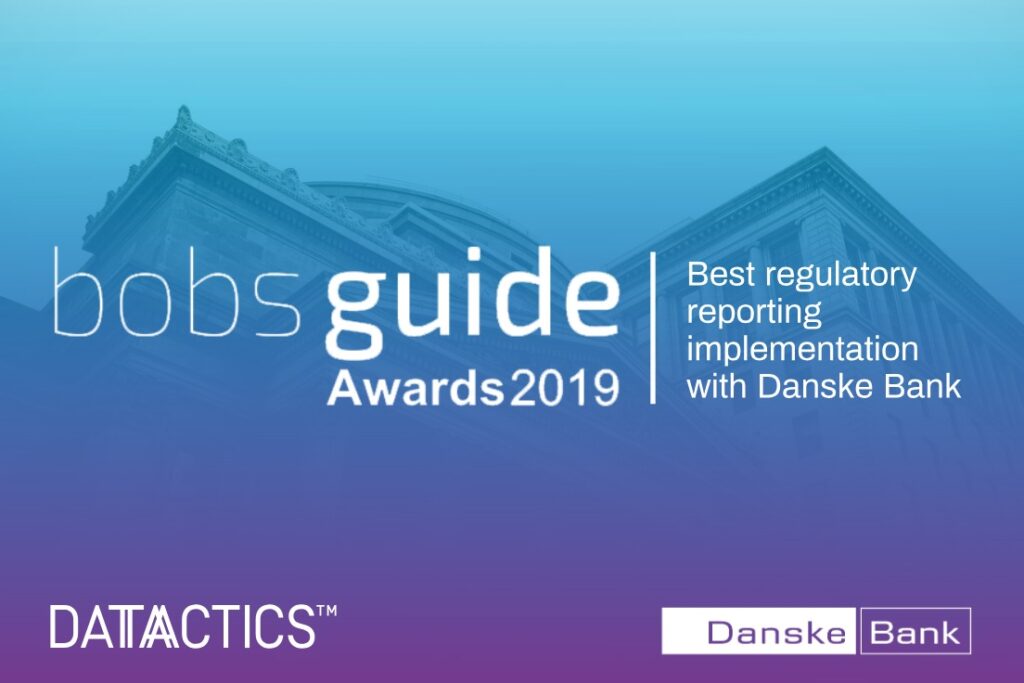 The Bobsguide awards have been assessed based on the strength of tech updates, the overall impact on the client experience, and how much the systems stand out in the marketplace. To decide on the winners, several rounds of assessment were carried out by the judging panel including user and market engagement.
This year's awards were highly competitive with a substantial volume of nominations coming through for each category. Congratulations to all the companies nominated and the fellow winners.
It's a great achievement to have won this award, as Bobsguide seeks to showcase the best of the various streams of the FinTech market and to celebrate the successful partnerships within the industry.
Commeting on the how the regulatory implementation unfolded, Marion Rybnikar, Head of Data at Danske Bank, said:
Stuart Harvey, CEO at Datactics, commented on the partnership:
We are delighted to have this partnership with Danske Bank recognised at Bobsguide awards. Our Self-Service Data Quality software tool has been specifically designed to help financial organisations to ensure their business is able to meet existing regulations such as FSCS, as well as future ones.

We know from our existing customers that it enables them to build deeper insights through the use of optimised data and clear, fine-level graphic dashboards employing the Enterprise Data Management Council's DCAM standard for data quality dimensions, such as completeness, accuracy, timeliness and duplication.

This award is a clear demonstration of the value and efficiency of what our powerful data solutions can bring to financial institutions, reducing the risk of financial penalties to banks by enabling compliance across the spectrum of regulation, from FSCS and Section 17 to MiFID II, BCBS 239 and beyond.
A full list of the winners in the various categories can be found here. For more information about Bobsguide, click here.
For more details on the regulatory implementation, you can visit this page, read the Data Management Insight interview with Stuart and Marion or read the story behind the deal at FinTech Futures. You can also find out how this partnership is benefiting Danske's customer experiences via this Sync NI story.
Click here for more from Datactics, or find us on Linkedin, Twitter or Facebook for the latest news.