Belfast, London, New York, 18th December 2020
We are pleased to announce that we have ranked at number 17 in this year's Deloitte Technology Fast 50, 13 positions higher than the last year's edition.
The Deloitte Technology Fast 50 Awards is one of Ireland's foremost technology award programmes. It is a ranking of the country's 50 fastest-growing technology companies based on revenue growth over the last four years, and this year marks 21 years of the programme celebrating innovation and entrepreneurship in Ireland's indigenous technology sector.
Commenting on the company's achievement, Stuart Harvey, Datactics CEO, said,
We are pleased to have improved our ranking in the Deloitte Fast 50. From our base in Belfast, the team has won new clients in London, Amsterdam and New York during 2020 and we've maintained our reputation for great customer service and technology innovation.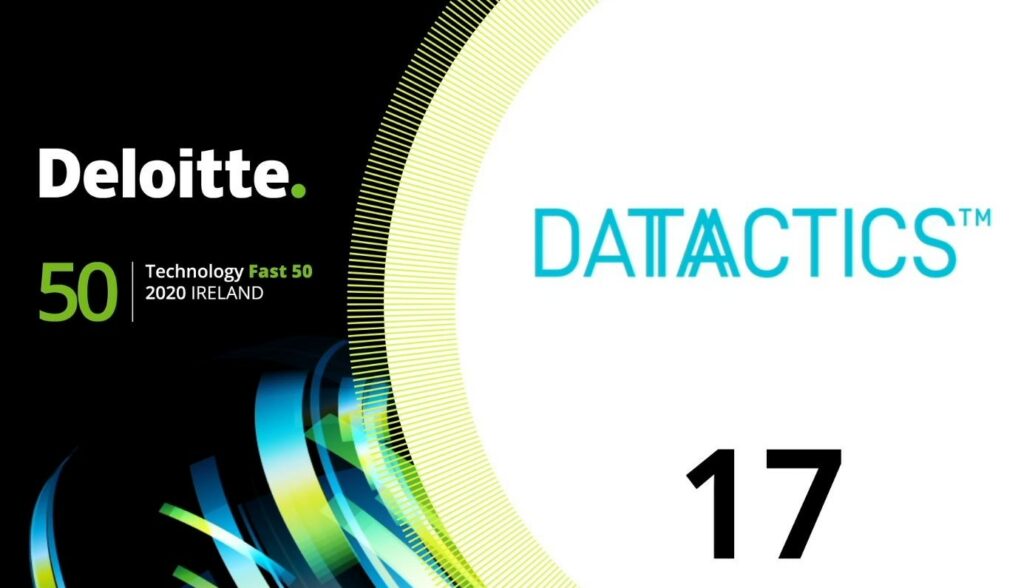 Cumulatively, the 2020 Fast 50 winners generated approximately €3.3 billion in total annual revenues and employed over 4,600 people in 2019. The average revenue of companies featured in the ranking was approximately €90 million, while the average growth rate of the companies over the last four years was over 400%. Compared with last year, there are 13 new companies on the ranking.
Announcing the winners of the Deloitte Technology Fast 50 programme, David Shanahan, Partner, Deloitte said:
Every year at the Fast 50 Awards, we celebrate the incredible innovation and entrepreneurship displayed by Irish tech companies and the immense contribution they make to our economy. It is inspiring to see the countless examples of companies who, over the last year, have demonstrated resilience, innovated, adapted and thrived in the face of uncertainty and new challenges. We're delighted to be supporting and recognising these companies through the Fast 50 Technology Awards programme. Over the last 21 years, the Fast 50 has become the benchmark of success for Irish tech companies.
Datactics specialises in self-service data quality and matching software designed for non-technical business users in financial services firms.
The platform helps to eliminate roadblocks common in data management where firms are typically heavily reliant on IT to interpret and hard-code rules into core systems. Solutions ensure compliance with data-driven financial regulations; deliver a true "single customer view"; and increase the accuracy, and reduce the cost, of AML & KYC functions.
Datactics is one of 11 firms from Northern Ireland ranked in the top 50 by Deloitte.