Earlier this month, our Head of AI, Dr. Fiona Browne took part in the IRMAC webinar 'Detective Data Work' and explored the AML and emergent AI practices.
Missed it? Watch the recording below:
In this webinar, the expert panellists questioned what anti-money laundering (AML) efforts look like, and the complexities in sifting through vast data volumes, data quality and identification in an effort to make their findings 'explainable'.
Reducing the money flow in criminal activities had a major boast after the events of 9/11/2001.

Now Artificial Intelligence (AI) and Machine Learning (ML) techniques are beginning to revolutionize practices in this field. – IRMAC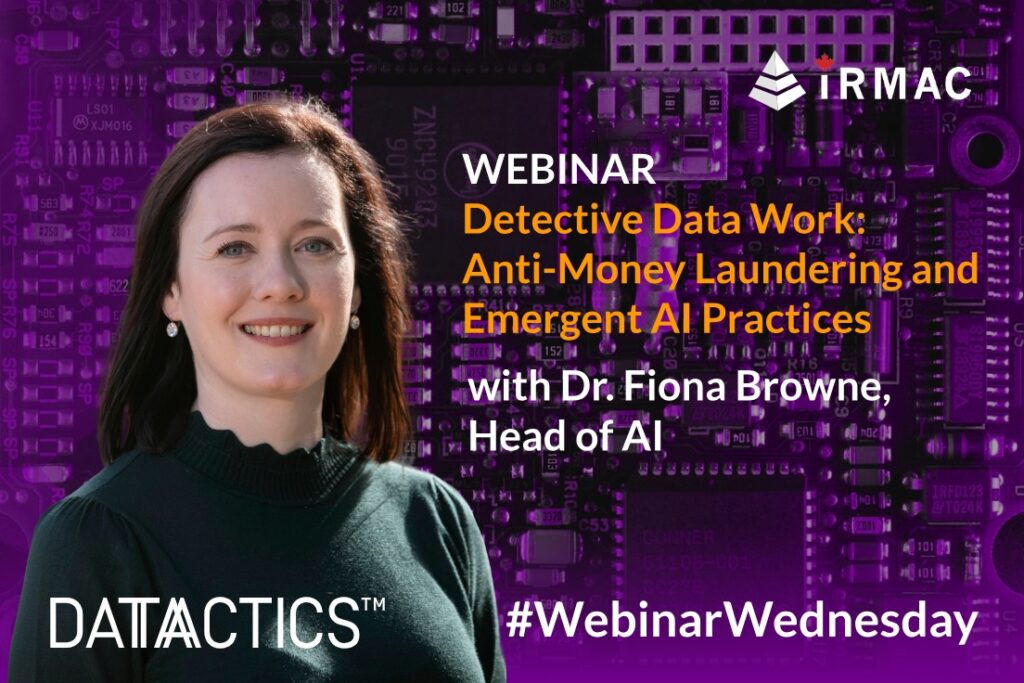 About Fiona:
Fiona Browne is Head of Artificial Intelligence at Datactics with over 15 years' research and industrial experience. Prior to joining Datactics, Fiona lectured in Computing Science at Ulster University teaching Data Analytics and undertaking research on applied artificial intelligence and data integration. She was a Research Fellow at Queen's University Belfast and a Senior Software Developer at PathXL. Fiona received a BSc (Hons.) degree in Computing Science and a PhD on Artificial Intelligence in Bioinformatics from Ulster University.
About IRMAC:
The Information Resource Management Association of Canada is a non-profit, vendor-independent association of information management and business professionals.
Our primary objective is to provide a forum for members to exchange information, experiences and promote the understanding, development and practice of managing information and data as a key enterprise asset.