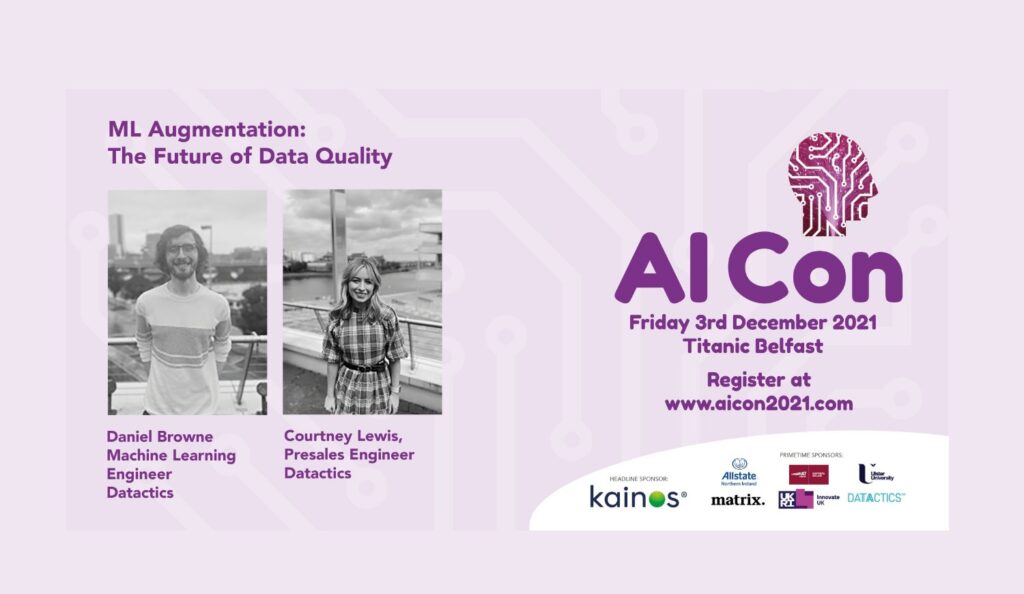 We are delighted to be involved with AI Con this year again. This year, Courtney Lewis, Presales Engineer, and Daniel Browne, Machine Learning Engineer will be discussing Machine Learning Augmentation.
The north's premier conference on artificial intelligence, AI Con returns to face-to-face business this year with a hybrid event on Friday 3 December.
As the adoption of AI expands into all areas of our lives, and the business and societal opportunities and challenges become ever more apparent, this ground-breaking conference addresses core issues of the technology for a range of audiences: general, business and specialist.
The event, which is now in its third year, brings together world-leading technology professionals and business leaders to examine how AI is changing our world and the opportunities and challenges that presents.
In-person attendance will take place at Titanic Belfast and will feature some of the top figures in the field, with other leading professionals streaming in from across the globe.
The themes from this year's event, which hosted 450 attendees in its first year and 800 at the virtual event last year, include:
– Applied AI: Targeted primarily at a general audience, Applied AI looks at existing, mature technology that can be deployed today and examines case studies on where these are adding value and inspiration for people and their organisations to start their own AI investigations.
Chaired by Kathryn Harkin of Allstate NI, Rachael Bland of Kainos, and Sam Beni of Tech Nation
– Business of AI: Designed for a business audience, Business of AI looks at how AI can challenge existing business models, create entirely new ones and debates what "AI Startups" need to know in this burgeoning space.
Chaired by Alexandra Mousavizadeh of Tortoise Media and Tom Gray of Kainos.
Attendees are asked to note that strict Covid precautions will be in operation at the in-person event which will be limited to 200 people. Attendees must be double vaccinated and proof of vaccination will be required for entry.
The full programme is available online here.