Mary Clare is working within the AI Team, she joined us in July and already has been contributing to projects and making her stamp within the AI Team.
We thought we would grab her for a chat to find out how she has found her working in the team so far; what she has been working on; what she has enjoyed so far; her background; how she has found working remotely and any tips she would give to interns seeking to find that golden internship for their CV.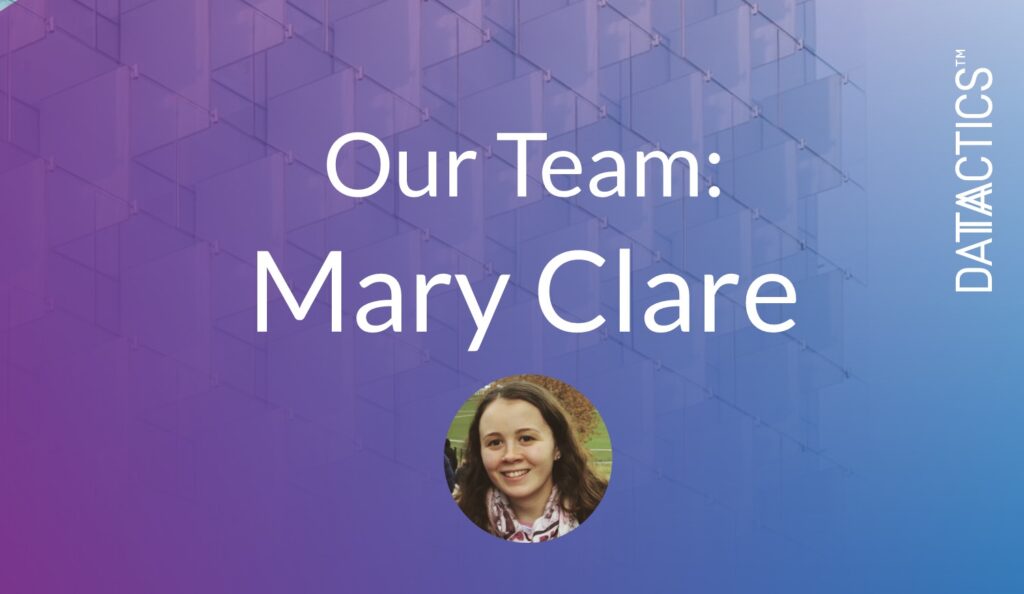 Hi Mary Claire, great to (virtually) meet you. Could you tell us a little bit about how you got involved with Datactics?
During college time, I asked Dr Fiona Browne for help with my Python programming, she noticed the standard of my coding and made the suggestion about Datactics' internship programme and how I could consider joining as she knew I wanted to build on my experience (and practice, practice, practice).
What is your background? What University course do you attend?
I am going into the third year studying Chemistry with Molecular Physics over at Imperial College in London. It is a very tough course, but I wouldn't have much exposure to data engineering, so this placement has given me a great insight into what it is like to work in a data company.
So, having not directly having studied Computer Science or Data, what got you into coding and the glorious world of data?
We do computer programming (Python) for our various experiments at University and I enjoy Python. At present within the team, I am using and experimenting with FlowDesigner. I am still learning on-the-go all the time! I did some coding with Arduino kits when I was 16, but I found that very difficult to get into initially. As there is computer programming in our course, I developed as I continually learned. I particularly enjoy looking at the different applications – I find it interesting.
What motivated you to look for an internship? Was it to give you a taster of the workplace?
I was looking around for internships to learn different skills and find out what direction I want to go in with my career. Dr. Browne had been helping me with my coding for my college work and she suggested considering an internship from there. I have enjoyed the experience so far, being part of an experimental team. When I began Dr. Browne gave me the time to do research around machine learning and undertake an online course in FlowDesigner which helped me find my feet initially.
Have you enjoyed the experience?
Working within the AI team has helped me enhance my communication skills. It also has enabled me to work with large data sets, focusing on recognising errors. Before joining Datactics I never would've thought about data quality and the size of data sets. It has broadened my horizons.
Did you work on any particular projects that you enjoyed?
I was able to contribute to the main team project centred around data quality augmented with machine learning. I got a great experience in cleansing data and I am glad to help in any way I can. The team is very collaborative in the approach which meant that there were endless learning opportunities. Keaton, a Ph.D. student, has recently joined so we have been working closely with him.
The last number of months have felt different due to COVID-19 restrictions. How have you found working from home? Do you have any tips you could pass onto team members navigating working from home?
For me, I like to have a dedicated room specifically for work. This helps separating work from my own free time. I also make sure I have a clear desk and a 'To Do' list prepared. One thing I really enjoy when working from home is the flexibility of being able to start earlier and finish earlier, particularly if I have plans in the evening. Remote working does require a certain level of discipline, I like to have my dedicated space, so I know when I need to focus, and it helps me to have a greater distinction between working and downtime.
Do you recommend internships to others?
A lot of my friends went down the route of research placements, however with COVID-19, several of them had opportunities, which they had lined up, cancelled. I have found it invaluable to be able to work within the industry and be able to build on my skills ahead of returning to university. The taster has been perfect for me – giving me a real motivation to complete my studies.
You mention you have built up a lot of skills at Datactics. What is the best skill you have learned? Do you have any areas that you have found challenging?
I would say, working with Flow Designer, data cleansing, and a focus on data quality. Being able to work closely with the platform has been amazing. I have had my eyes opened to the level of data cleansing and data quality required. In terms of what I have found challenging, I would say keeping track of what I am doing with the data. It is not only helpful for organisation but helps when you need to find a piece of information. Tracking is very important within the team and this an area that I have worked on over my internship.
Have you enjoyed interacting with your team and beyond?
The 'Teams' calls have been great, and Dr. Browne is always available if a chat is required or help is needed. Additionally, I enjoyed being an intern at the same time as Matt Neill. Being interns together has allowed us to support each other and learn from each other.
What's next for you? What are your goals for the future?
I have a real interest in Entrepreneurship, more specifically in creating solutions for environmental problems. I am currently working on a project with a friend from University with this subject at the forefront so hopefully, that could come to fruition.
Goals would be to first graduate from University and start up my own business one day. In terms of more short-term goals, I would love to run a half marathon at some stage. I have also entered a competition with the project I have been working on and the awards ceremonies are very soon, so I hope to do well in that!
We wish Mary Clare all the best with her project and as she recommences her University journey. Thanks for taking the time to chat with us!
Click here for more by the author, or find us on Linkedin, Twitter or Facebook for the latest news.