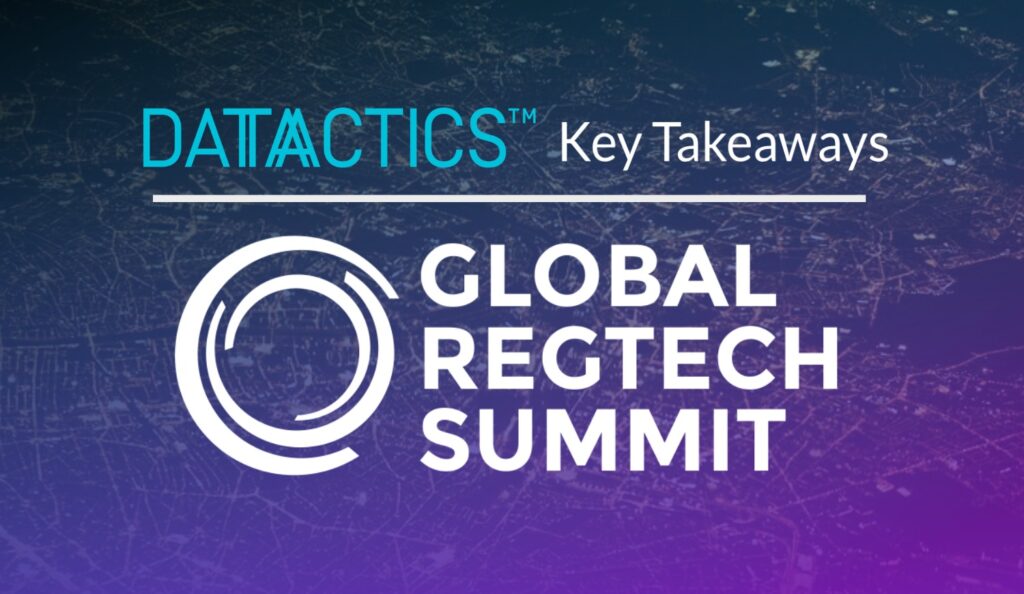 The fourth annual Global RegTech Summit was hosted between 11-13th May 2021, as a virtual event to connect the global RegTech community. We attended the event which allowed us to hear debates and presentations from key RegTech leaders and innovators leading the shift to digital.
As the recent report by Erwin and FIMA demonstrated, one of the biggest headaches for data leaders in financial services is the sheer amount of manual work involved in Anti-Money Laundering (AML) and Know Your Customer (KYC). We took some time to put together our thoughts from the highly relevant panel discussion: Enhancing customer experience by automating KYC and onboarding.
One of the strongest statements we heard was that "Bureaucracy is not tolerated in the same way in this day and age, especially with more advanced technological solutions". Panellists agreed that if your business is caught up with outdated, laborious, and lengthy processes, in any context within financial services, customers will leave you. Getting that competitive edge in terms of speed and efficiency helps not only in cost saving but also with customer recruitment and retention.
However, banks are reluctant to implement radical change in these often-outdated processes due to heavy consequences if things go wrong. It was striking that the commentators noted that tight regulations globally on compliance with AML to prevent terrorist financing and other money laundering activities mean that banks consider the risk "just not worth taking yet".
All involved agreed that there needs to be more of a synergy between regulators and the financial services industry to facilitate a discussion around what best practice looks like to help improve compliance, reduce rework and – most importantly – reduce crime.
Something that was quite surprising was to hear that it is more and more apparent that the regulators, often looked upon as being the guardians of all things virtuous and 'error-free', face the exact same problems as those entities they regulate: having access to good quality, standardised internal and external data. As the custodians of 'good practice', starting from first principles and ensuring they have accuracy, completeness, consistency, and validity associated with their data is foundational to maintaining the respect and authority in their respective industry.
The panel ended concluding that AI and Machine Learning are a vital component in the tool to resolve the quandary. A certain level of scepticism and hesitancy certainly exists in deploying AI with sensitive data and data that is being reported to the regulator. This is why there needs to be a concentrated effort in working with the sector to ensure that Machine Learning practices are deployed in the right way, maximising accuracy and efficiency, deriving a better customer journey and having data that is accurate and reliable.
This agrees with the findings being worked through by the AI Public Private Forum, run jointly by the Bank of England and industry, and of which our Head of AI, Fiona Browne, is a founder member.
If you want to know more about how the Datactics solution can help resolve a lot of the issues with internal and external data matching for customer onboarding, then please reach out.
For more news about Datactics you can visit us here. Or find us on Linkedin, Twitter or Facebook.