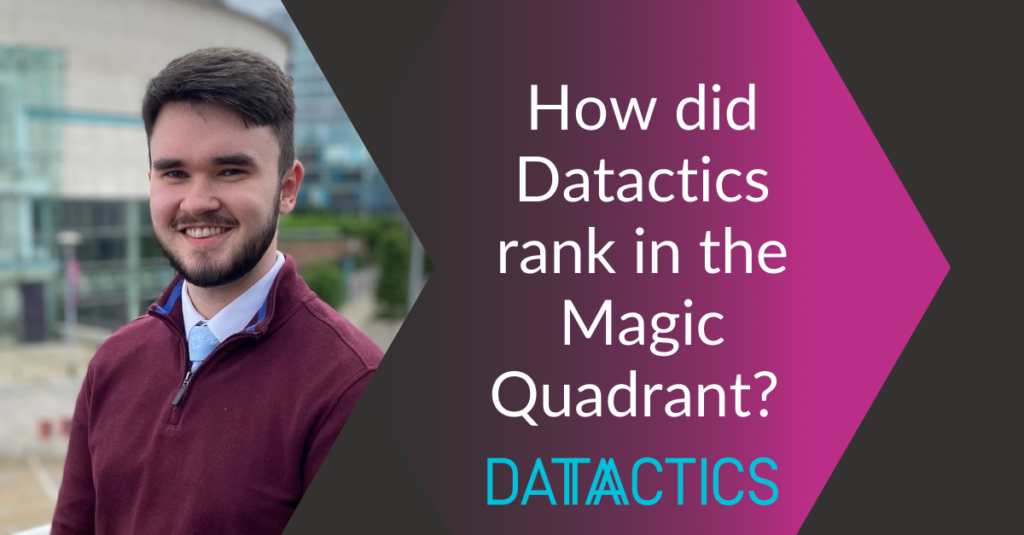 In the previous edition of this series, we explored the Gartner Magic Quadrant from the perspective of a newcomer to the data management industry. We defined what the Magic Quadrant really is, what it means for an aspiring scale-up like Datactics to be recognised by Gartner, as well as highlighting the critical capabilities and criteria that analysts use to qualify and position vendors in the quadrant. This blog will examine the specific feedback that Gartner analysts provided for Datactics, highlighting the core strengths of the platform and the reasons why we were recognised as a Niche Player in the Data Quality Solutions market.
Gartner assert that augmented data quality powered by metadata and AI, is a key dynamic driving the data quality solutions market. This was recognised as one of the key strengths of the Datactics platform; our AI Server contains a diverse range of AI functionalities, including prebuilt models for entity resolution, ML-based matching and outlier detection. These innovations significantly reduce manual effort and increase accuracy of results, whilst maintaining transparency and some degree of human intervention.
One of the compelling differences between Datactics and other vendors in the quadrant, as detailed in the Gartner Peer Insights forum, is our platform's ease of use and implementation. Reviewers praised Datactics for their sophisticated and user-friendly workflow which requires minimal consulting services to implement and configure. It is a no-code platform that requires no programming experience to become proficient in rule development and management, reducing reliance on IT resources. Analysts also noted the ability of the Datactics platform to seamlessly integrate with third-party services for quick and easy connection.
In conjunction with this, Gartner analysts noted Datactics' Self-Service approach to data quality. Our platform addresses the increasing industry demand for business-led data management initiatives, accommodating non-technical users to become skilled and accomplished with the tool. Datactics was the only vendor in the quadrant recognised for this attribute, exemplifying why we are displacing industry giants in some environments.
Additionally, Gartner also commented on Datactics' current rate of market visibility, growth and vertical focus. Datactics is scaling rapidly, having reached 60 staff in 2021 and with a long-term goal to be the data quality tool of choice across a range of industries and geographical locations. In 2022, we expect to have feet on the ground in the APAC and North American markets and continue to have conversations with sectors outside of financial services and government.
The final instalment of this series will focus on some of the key findings and insights that we took from the Magic Quadrant, as well as highlighting key trends that Gartner have predicted for the future of the data quality solutions market.
Follow up with Brendan on LinkedIn here.