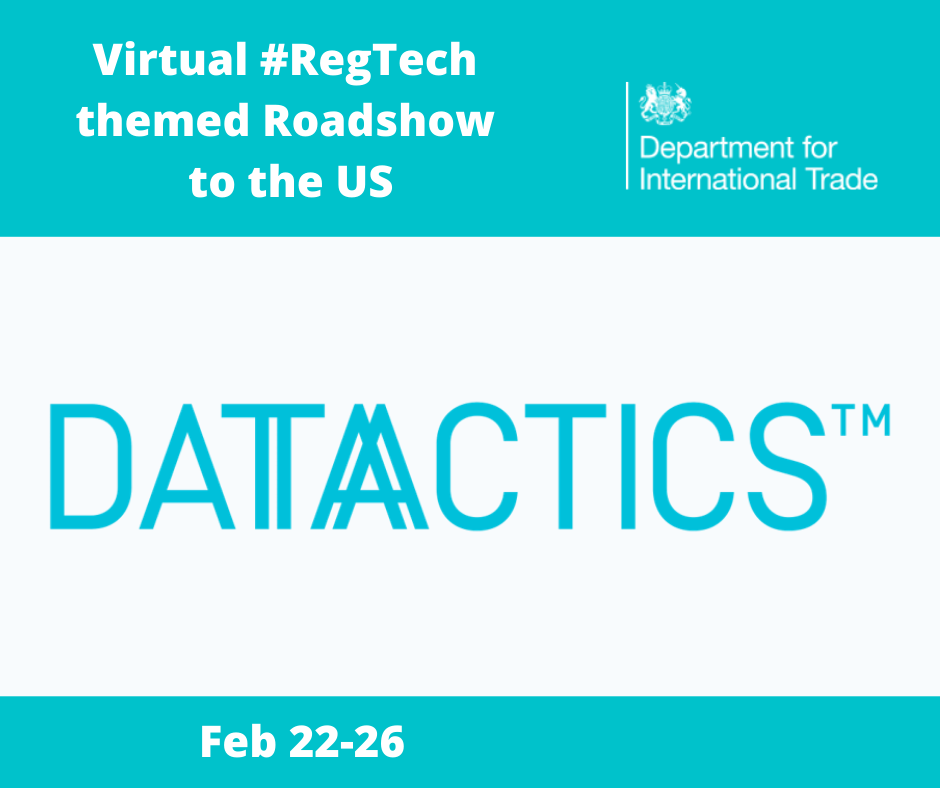 Datactics is a part of the cohort of companies joining the DIT Virtual RegTech themed roadshow this week.
The DIT's RegTech Roadshow takes place virtually with the aim of providing ten innovative UK-based RegTech companies with the opportunity to meet industry stakeholders, regulators and potential partners.
Datactics will be visiting New York virtually alongside Acin AMPLYFI, AutoRek, ComplyAdvantage, Finreg-E, FNA, Solidatus, Suade Labs, and TAINA Technology Limited. The delegation this year is one of the most diverse ever, with representation from every region across the UK, including three female-founded companies! On top of this, the delegation has serviced nearly every Tier 1-2 financial institution and raised a staggering $100 million in funding combined. Finally, each of the 10 companies offers a unique solution built to help firms conduct their business safer, easier, and more equitably.
We thought we would sit down with Kieran Buchanan, Business Development Executive at Datactics, to find out more about the roadshow and why Datactics is delighted to be involved.
This event being a US RegTech roadshow will have US-based industry stakeholders, regulators and potential partners – this is a market Datactics is keen to establish themselves even further in, isn't it?
It is most certainly; I have seen some large banking organisations have a presence at this roadshow so it's our prerogative to introduce our services as we already have some use cases in the US market. This will allow them to know what we provide in the space of data quality and the data management infrastructure as a whole. US is a significant market bursting with opportunities to invest time and effort into.
What conversations do you hope to have with the industry stakeholders, regulators, and potential partners?
There are a lot of innovation-based attendees so I think there will be a natural introduction to who Datactics is and how we can bring value. We're particularly looking forward to demonstrate how our solution will help organisations that are keen to develop a good data quality culture. Our Self-Service Data Quality (SSDQ) platform will be fantastic for those organisations that want to get ahead of the curve by ensuring they have the proper building blocks in place when it comes to the quality of their valuable data assets.
Throughout the week, what would be the best way for attendees to get in touch with you?
I have a meeting set up on the platform, Meetaway, so I'll be contactable via video call using that platform. My profile is on there, fully populated! You can also get in touch with me via email: [email protected] and of course, via LinkedIn.
There are some great panel talks happening this week! Are there any talks you are keen to go to?
There's a talk on the topic of the future of financial services, Regtech and Compliance which I am keen to attend. Another interesting talk would be 'How US regulators are adapting to new technologies' as it reflects the work we do with SSDQ. We are currently helping business users at financial services organisations get their data right for a wide range of regulatory reports, whether that be BCBS 239 or MiFID II, or country-specific deposit guarantee scheme reporting.
If you are attending the event, feel free to reach out Kieran at any time, via email, LinkedIn or Meetaway.