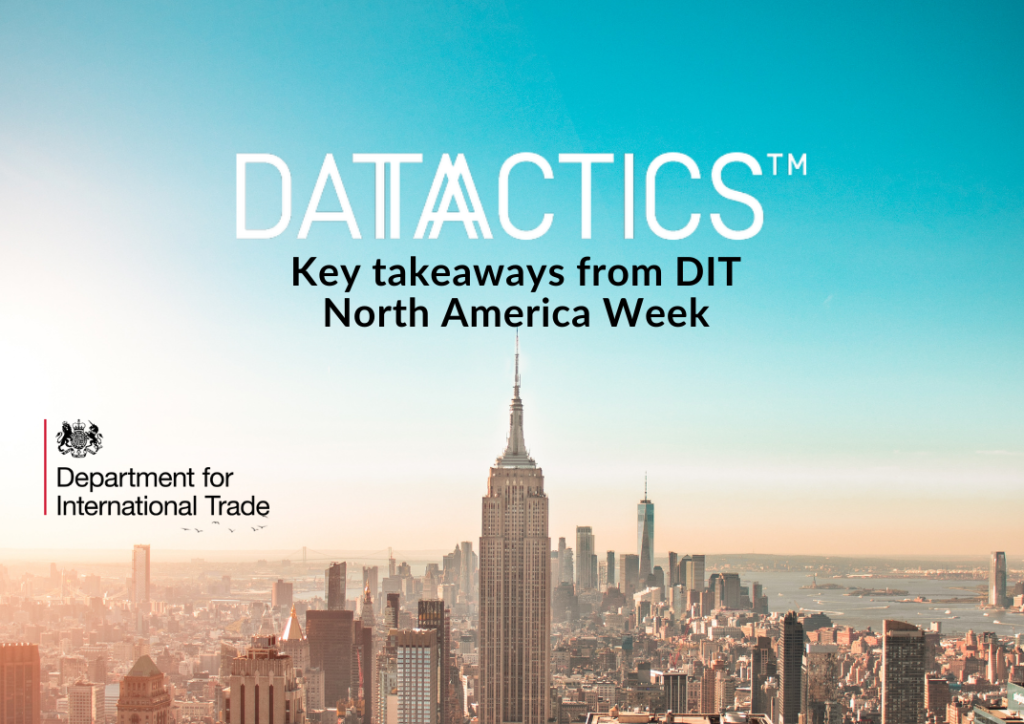 Last week we attended the Department for International Trade (DIT) 'North America Week' which took place from the 21st-25th June. The event allowed us to hear from companies who have worked with DIT to grow their businesses in North America, as they share both their successes and challenges.   
This event week was firmly on our calendar as Brendan McCarthy, Business Development Executive at Datactics, will be heading to North America as part of Invest Northern Ireland's 'Graduate to Export' programme. His role will help Datactics drive international expansion plans by sourcing new business and potential partnerships within North America.   
This event offered a wide variety of sessions, with speakers commenting on topics ranging from business strategy, immigration status and international travel restrictions. The speakers provided insights and anecdotes on the difference of doing business in the US in comparison to the UK, mainly due to the significant social and cultural differences between the two regions. These issues were addressed in a session moderated by Carlo Cavagna, which posed the question: 'Is your Business ready for the US market?'. The most frequently asked questions were surrounding the complexity of US visa categories, blanket restrictions, and when travel corridors to the US are expected to reopen. These issues were highlighted in the 'Barriers to Entering the US Market and Pathways to Success' session with Asma Bashir, Thomas Thorelli, Teresa Gordon, and Eric Fox.  
We asked Brendan a few questions after the event. Here is what he had to say: 
How do you feel the event has prepared you for entering the North American market?  
"I feel this week, along with other DIT events, has been a tremendous help in educating me about the complexities of exporting to the American market. These sessions offered insights into the variety of successes and challenges that each respective Expat has faced in their export missions and subsequently helped us at Datactics to develop our strategy for entering the market.  
"We were particularly interested in the session hosted by Marc Topoleski and Arvinder Ubhi from Ellis Porter Immigration, as they provided details around legal complications and appropriate visa categories for our situation. It was also great to hear from other FinTechs about their export experiences of how business in America is vastly different than the UK and Europe. I am looking forward to future sessions with DIT and am hopeful that when I travel out into market there will be an opportunity to attend in-person events with the organisation." 
What are you most looking forward to about bring the product to the market?  
"North America is a market that Datactics has investigated for many years. While we have successfully worked with a number of clients in the region in the past, we are excited at the prospect of having a full-time presence in New York this year. The team's recent growth and support from Invest Northern Ireland has enabled this opportunity and I am looking forward to entering the market. 
"The need for RegTech solutions across the Northern American financial market has significantly increased over the last number of years due to higher regulatory pressures and greater scrutiny from governing institutions. Datactics Self-Service Data Quality (DQ) platform has powerful matching capabilities and is able to effectively identify quality issues and remediate large datasets, alleviating any of these regulatory concerns. I am excited to get into the American market and showcase our DQ solution."
What were your three key takeaways from 'North America Week'? 
"For me, they were:
Acknowledge social and cultural differences: Each US state is individual and vastly different from others. Communications strategies must be tailored to adhere to these cultural differences. 
Legal and tax implications must be considered: UK-based companies should engage with US lawyers and financial advisors to fully understand the complications associated with US state laws. 
Networking is like a currency: Be open to any opportunities that come your way and do not be bashful about asking for connections. "
You can connect with Brendan here to find out more about how Datactics is planning on sourcing new business and potential partnerships within North America.  
About Datactics  
Our next gen, no-code toolbox is built with the business user in mind, allowing business subject matter experts to easily measure data to regulatory & industry standards, fix breaches in bulk and push into reporting tools, with full visibility and audit trail for Chief Risk and Data Officers.    
If you want to find out more about how the Datactics solution can help you to automate the highly manual issue of data matching for customer onboarding, then please reach out to us!