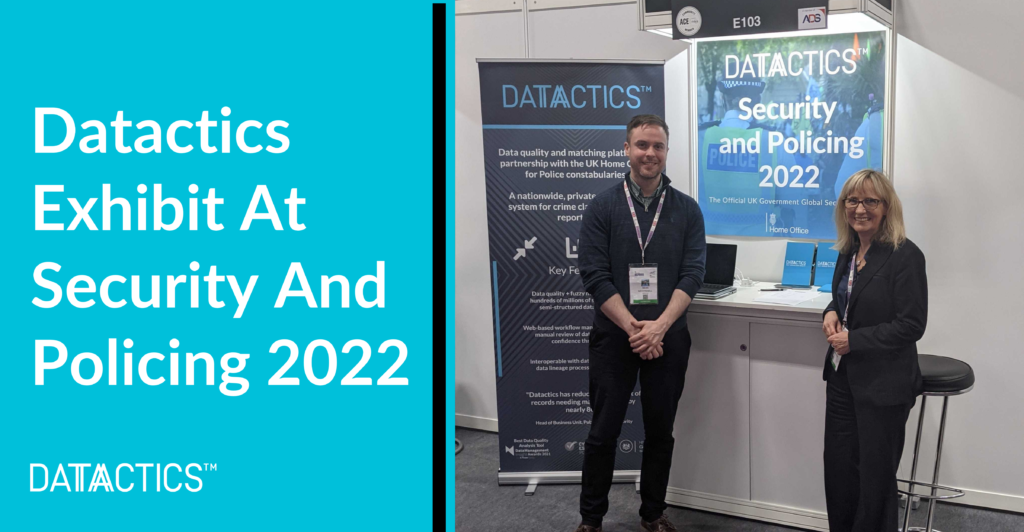 Earlier this month we exhibited at Security and Policing 2022. The week began with our stand being led by Jackie Devine and Sean McConnell who were engaging in conversation around what our nationwide, private cloud-based system can do to help with crime classification and reporting. The week then concluded with representation from other members of the team Shauna Leonard, Alexandra Collins, and Paul Burns who chatted with attendees about our data quality and matching capabilities and the work we have done with the UK Police Forces over the past number of years.

It was great to be present in person, especially after the past number of years. The event overall proved to be very productive, and we have spent the time since the event catching up with all the contacts we made there, exploring how we can work to support their data quality, data governance, and data management journey.
We took some time to catch up with the team who attended to hear what they had to say about the event.
"The S&P show was a super event – we met so many organisations with Data Quality problems who were interested in our offering and wanted to know more. Meeting in person was so much more worthwhile and there was a great buzz of activity at the venue."

Jackie Devine, Public Sector Account Management
"As the official UK Government global security event, Security & Policing 2022 provided an insightful view into the steps that the Home Office and third-parties are taking towards improving our national security, supported by regional and local authorities.

To successfully achieve the most appropriate deployment of resources and implementation of services, the highest levels of data quality are essential in order to provide reports and statistics which are accurate, timely and relevant.

This is why the National Data Quality Improvement Service (NDQIS) plays a key role in providing police forces with the tools that they need to monitor key crime metrics and to identify potential areas of concern within their respective constabularies."

Paul Burns, Senior Data Engineer
"It was interesting to talk with many different suppliers and to see the variety of products and services available to our preserve our national security. I found it fascinating to meet with other teams within the Home Office to identify ways the National Data Quality Improvement Service (NDQIS) can assist with data quality issues."

Shauna Leonard, Senior Data Engineer
"It was interesting to see all of the different vendors I didn't know existed and I enjoyed engaging with other vendors to understand how our product could fit their requirements/benefit their business needs."

Alexandra Collins, Product Owner
"I am delighted to have been able to attend in person the 2022 Security & Policing event where it was great to engage with representatives from a wide spectrum of industries and government departments. The success that we and our policing colleagues have had with addressing data quality issues in crime data using the NDQIS resonated with attendees and we look forward to working closely with them to understand how Datactics can help achieve their data quality driven goals"

Sean McConnell, GovTech Client Success Lead
The event provided us with the opportunity to share our data quality tooling designed with people, entity and asset data automation in mind. With fresh collateral we were more than ready to articulate the key features of our nation-wide, private cloud-based system for crime classification and reporting. We are proud to announce that our work has also recently seen us recognised in the Gartner Magic Quadrant for Data Quality Solutions. We always appreciate an opportunity to showcase the capabilities of the product and how we differentiate from the traditional solutions in the market, particularly how we focus the solution to the business user.
If you missed our stand and would like to know more about how Datactics has reduced the number of records needing manual review by nearly 80%, please reach out to Jackie Devine or Sean McConnell. They would be more than happy to engage with you further. 
And for more from Datactics, find us on Linkedin, Twitter, or Facebook.