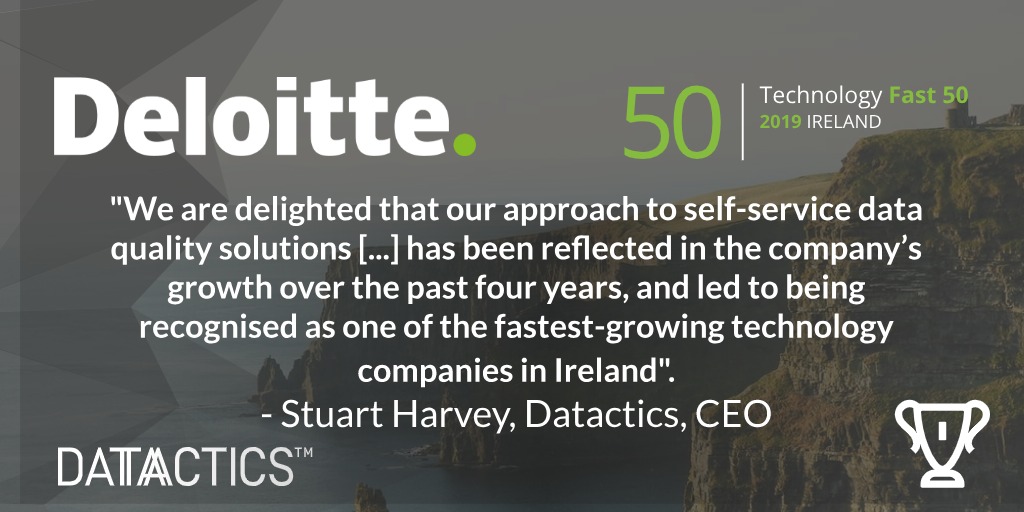 Following a major expansion, we are pleased to announce that we have ranked at number 30 in the Deloitte Technology Fast 50, a ranking of the a ranking of the 50 fastest growing technology companies in Ireland. Rankings are based on average percentage revenue growth over four years.
The Deloitte Technology Fast 50 Awards is one of Ireland's foremost technology award programmes.
This year marks 20 years of the programme celebrating innovation and entrepreneurship in Ireland's indigenous technology sector.
Commenting on the company's achievement, Stuart Harvey, Datactics CEO, said,
"This is a great tribute to everyone's hard work at Datactics. We are delighted that our approach to self-service data quality solutions to day-to-day problems in banking and finance has been reflected in the company's growth over the past four years, and led to being recognised as one of the fastest-growing technology companies in Ireland. We would especially like to thank our clients and partners for their willingness to engage and support us in our journey".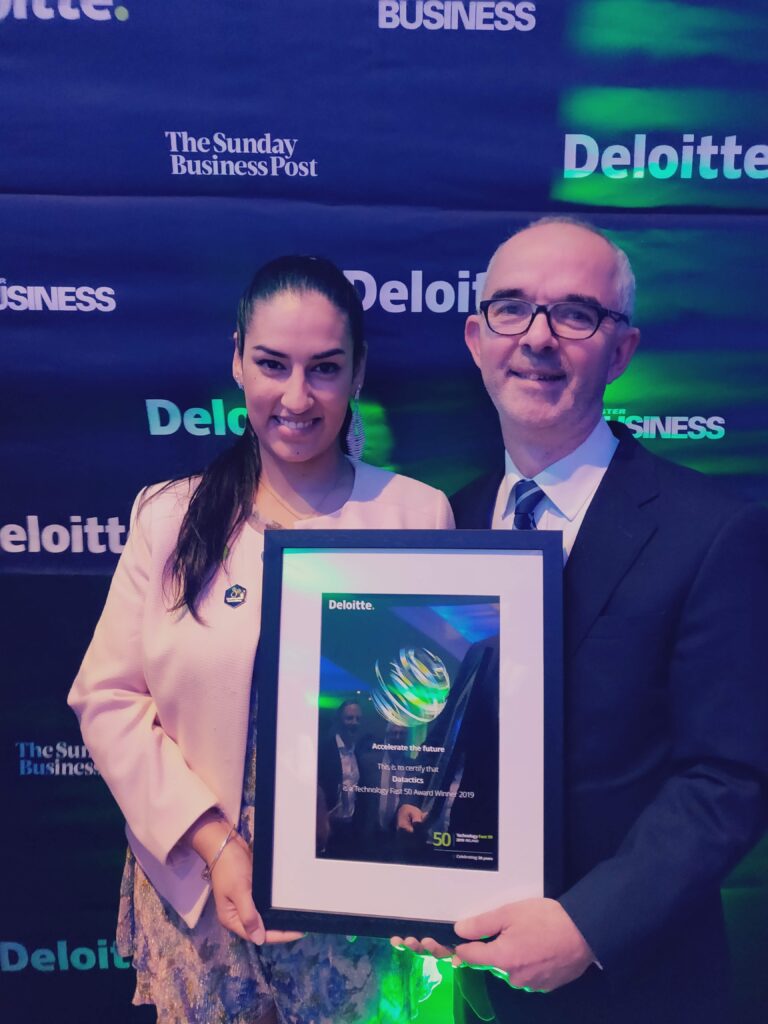 Datactics specialises in class-leading, self-service data quality and matching software to ensure compliance with financial regulation, eliminate roadblocks in data management, and add value to enterprise data.
Datactics is one of 13 firms from Northern Ireland ranked in the top 50 by Deloitte.
Cumulatively, the 2019 Fast 50 winners generated approximately €3.6 billion in total annual revenues in 2018.
The average revenue of companies featured in the ranking was approximately €70 million, while the average growth rate of the companies over the last four years was 347%.
There are 18 new companies listed on the ranking.
Announcing the winners of the Deloitte Technology Fast 50 programme, Peter Allen, Partner, Deloitte, said:
"Since 2000, the awards have showcased an innovative and diverse range of technology companies, and this year is no different. Over this time, we have seen local technology companies capitalise on the opportunities presented by global changes. We're delighted to be supporting these companies and recognising them with these awards. Over the last 20 years, the Fast 50 has become the benchmark of success for Irish tech companies."
The Deloitte Technology Fast 50 Awards took place in Dublin on 25 October 2019. Keynote speaker on the night was Mark Casey, Global Leader of Telecoms, Media & Entertainment at Deloitte.
Press contact: Tania Ahmed
Click here for the latest news from Datactics, or find us on Linkedin, Twitter or Facebook