Belfast, London, New York, 8th February 2021
Belfast-based Regtech company Datactics, a leading data quality software provider to global financial services firms, has been selected by the UK Government's Department for International Trade (DIT) to showcase the best in British innovation during a US roadshow.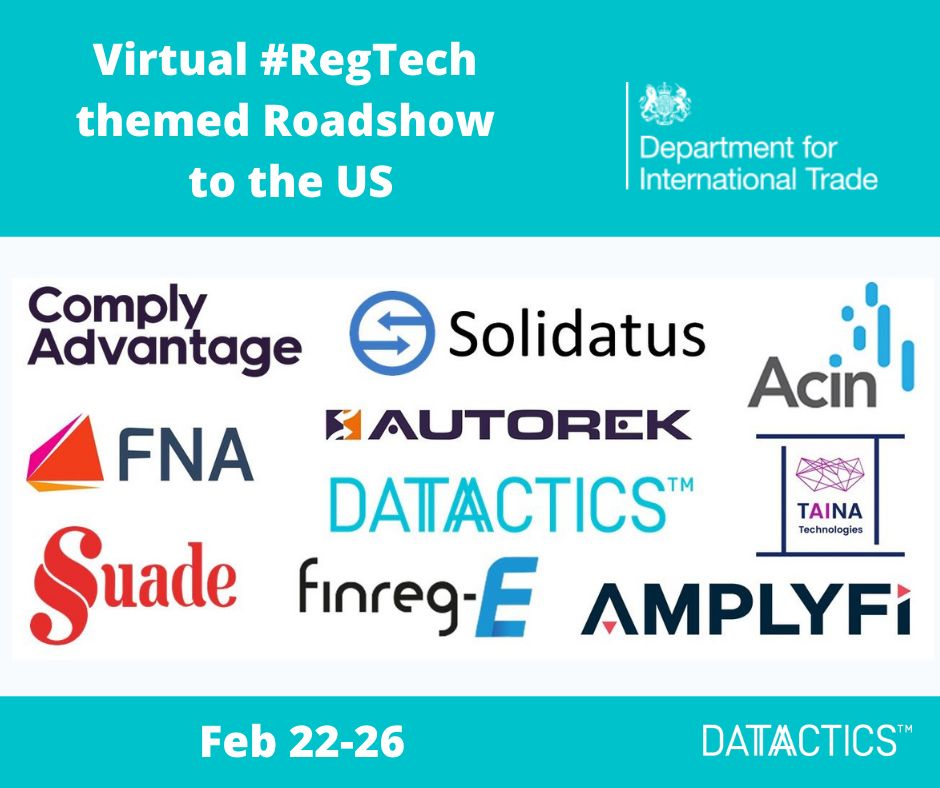 The DIT's RegTech Roadshow takes place virtually 22-26 February 2021.
It will provide ten innovative UK-based regulatory technology companies with the opportunity to meet industry stakeholders, regulators and potential partners. They will also receive guidance and training from DIT partners on how to set up and grow a physical presence and hear from experts on the key challenges facing the US market and how their technology can help solve them.
Datactics was selected following a highly competitive recruitment process. To qualify for the roadshow, each company had to meet the following criteria set by DIT: 10 or more employees, a minimum annual turnover of £1 million, an enterprise-ready solution, and an existing base of clients in the UK and US markets. The companies selected have all achieved great success both domestically and globally, cultivating a strong international client base and achieving a reputation of excellence in helping revolutionize the way the financial services industry manage risk, compliance, and regulatory change. The cohort represents diversity and female leadership within the UK industry, with each firm offering a unique and innovative solution that is revolutionizing regulation compliance and all the companies combined service nearly every Tier 1 and Tier 2 financial institution.
Kunal Khatri, Director for DIT North America, said:
The UK has been at the heart of the global financial services innovation for decades, and in 2021 we will continue to lead the global FinTech and RegTech revolution. We're excited to showcase the talent and expertise that UK companies have to offer. This roadshow is a great opportunity to deepen our bilateral engagement on financial services with the US and encourage private sector collaboration to make the world a safer, easier, and more equitable place to do business.
Commenting on the selection, Stuart Harvey, Datactics CEO, said:
This is a great opportunity for Datactics to showcase our best-in-breed data quality and matching solutions to the US financial market. We have proven success in the UK and Europe and already work with clients in the US. We are looking forward to helping financial institutions transform their data-driven business, manage risk and regulatory compliance.
The UK leads in the field of regulatory innovation thanks to its high concentration of financial services firms and the institution of the Financial Conduct Authority's regulatory sandbox. British RegTechs are well-positioned to add value and help revolutionise the way US companies approach compliance.
In addition to the 10 companies, DIT is excited to welcome media partners and advisers who helped to develop the program, including the A-Team Group's RegTech Insights, and the COMPLY Conference, host of one of the largest RegTech industry events in the US.
For other news and awards about Datactics please read this page. Alternatively, you can contact us by clicking here.