Data quality and matching specialists add top title from A-Team Data Management Insight to recent major client wins and close out 2020 on a high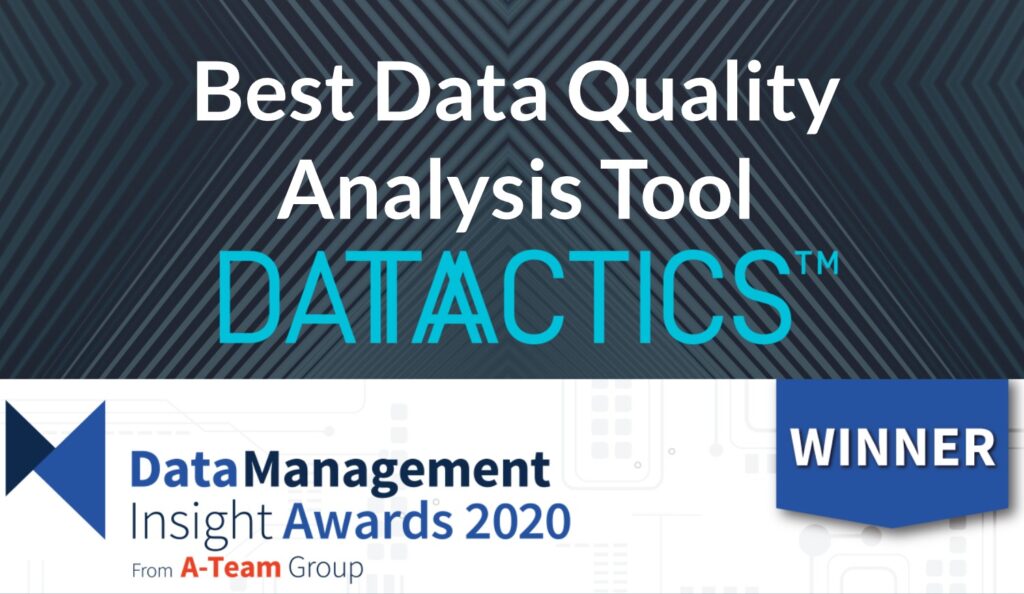 New York, Amsterdam, London, Belfast, December 4th 2020
Datactics has won the Data Quality Analysis Tool award from A-Team Group for the second year running, closing out a successful 2020 for the Belfast-based software firm which added three major Tier 1 financial clients in New York, Amsterdam and London.
Stuart Harvey, CEO at Datactics, was delighted to win the title:
We see this award as a thumbs up for the technology and the team. We are seeing strong growth in a demand for self-service technology in relation to data quality. This approach means that broken data is rapidly identified and returned to data stewards for review or automatic remediation. Datactics is now a crucial part of our clients' data automation workflow and showing a strong return on investment.
Angela Wilbraham, CEO of the A-Team Group, who hosted the Data Management Insight Awards 2020, commented:
Our awards recognise leading providers of data management solutions, services and consultancy to capital markets and Datactics has proven themselves to be worthy winners of this prestigious title. We congratulate Datactics winning the Best Quality Analysis Tool in recognition for the continuing excellence in the data management space.
The final word goes to Kieran Seaward, Head of Sales at Datactics:
We're delighted to be ending the year on a high. We've met the challenge of 2020 head on, securing three major clients in Europe, the UK and the USA on some of their biggest data management programmes to date. As we shared at the recent Data Management Summit, one real-world success story was demonstrated by a client of ours in the UK.

Using our platform, their non-technical data specialists were able to reduce the time taken to build and deploy a data quality solution from three weeks to under three hours, greatly speeding up their scenario planning as part of COVID-19 preparations. We'd love to thank all at A-Team and the judging panel for their hard work and look forward to working with them next year."

---
About Datactics
Datactics specialises in self-service data quality and matching software designed for non-technical business users in financial services firms. The platform helps to eliminate roadblocks common in data management where firms are overly reliant on IT to interpret and hard-code rules into core systems. Solutions ensure compliance with data-driven financial regulations; deliver a true "single customer view"; and increase the accuracy, and reduce the cost, of AML & KYC functions.