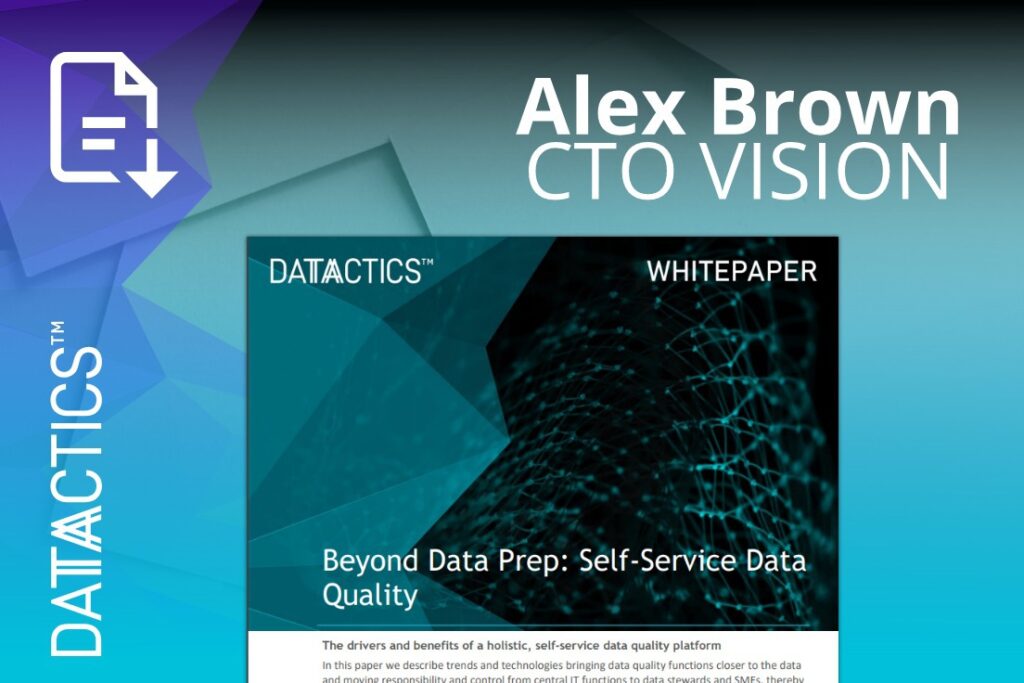 As featured in the recent A-Team webinar, we've been strong advocates of a self-service approach to data quality (SSDQ), especially when it comes to regulated data types and wide-ranging demands on a firm's data assets.
This whitepaper SSDQ, authored by our CTO Alex Brown, goes deeper into the reasons why this approach is so much in demand and explores the functionalities that a fully self-service environment needs to equip business users with rapid access to high-quality data.
In this Self-Service Data Quality whitepaper, we describe trends and technologies bringing data quality functions closer to the data. Self Service Data Quality democratizes data, moving responsibility and control from central IT functions to data teams and SMEs. As a result, greater operational efficiency and higher value data assets can be achieved. 
Download our Whitepaper SSDQ here. For more information on our user friendly  Self Service Data Quality platform, take a look at our page here.
The Changing Landscape of Data Quality-There has been increasing demand for higher  quality data quality and less data quality issues  in recent years – highly regulated sectors dealing with personal data, such as banking, have had a tsunami of financial regulations such as BCBS239, MiFID, FATCA and many more stipulating or implying exacting standards for data and data processes.
Meanwhile, there is a growing trend for more and more firms to become more Data and Analytics (D&A) driven, taking inspiration from Google & Facebook, to monetize their data assets. This increased focus on D&A has been accelerated by easier and lower-cost access to artificial intelligence (AI), machine learning (ML) and business intelligence (BI) visualization technologies.
However, in the now-waning hype of lots of tools and technologies comes the pragmatic realization that unless there is a foundation of good quality reliable data and efficient data preparation, insights derived from AI and analytics may not be actionable. This is where having a modern data management framework is crucial, where organisations can take a look at how they are approaching data governance and data quality.
With AI and ML becoming more of a commodity, and a level playing field, the differentiator is in the data and the quality of the data… To read more see the whitepaper above.
Click here for more thought leadership pieces from our industry experts at Datactics, or find us on Linkedin, Twitter or Facebook for the latest news.