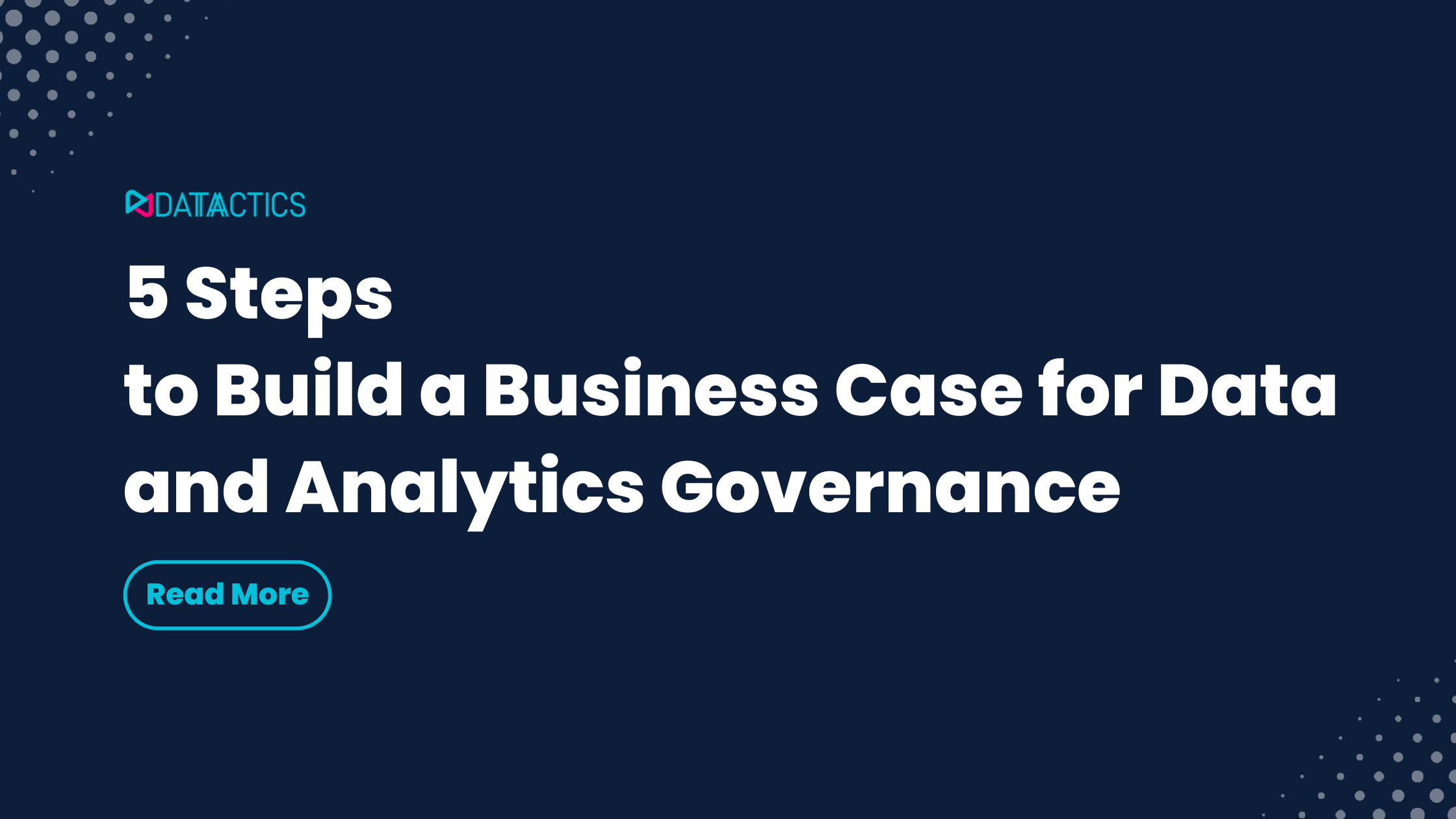 The task of creating a compelling business case for data and analytics governance is often complex and daunting. In this blog, we break down the big picture into five simple steps to follow and turbocharge your data management strategy.
Why is data and analytics governance important?
Data and analytics governance is crucial for organisations in a number of ways.
It ensures that the quality of information is maintained to internally agreed standards for accuracy, consistency, and reliability and that these measures (or 'dimensions') are consistent across the business;
It means that the business knows which data can be relied upon for making informed decisions, building trust in data-driven insights, and helping the business to grow;
It helps organisations comply with regulations and industry standards, ensuring proper data handling practices and minimising potential legal and reputational risks;
It enables better data access and sharing practices, fostering collaboration across departments and promoting a data-driven culture within the organisation.
Overall, it plays a vital role in maximising the value of data assets, mitigating risks, and driving better business outcomes.
What does a successful business case for data and analytics governance look like?
"Data and analytics leaders often struggle to develop a compelling business case for governance. Those who succeed directly connect data and analytics governance with specific business outcomes — and then sell it."
–Gartner®, ''5 Steps to Build a Business Case for Data and Analytics Governance That Even Humans Will Understand', By Saul Judah, 3 January 2023.

GARTNER is a registered trademark and service mark of Gartner, Inc. and/or its affiliates in the U.S. and internationally and is used herein with permission. All rights reserved.
Making a business case simple and relatable should be the top priority of data leaders in developing their data strategy. Keeping it up-to-date and relevant should also be top of mind.
This blog explores the five key steps set out by Gartner® in their research, "5 Steps to Build a Business Case for Data and Analytics Governance That Even Humans Will Understand.", looking at the areas that data leaders need to consider and providing suggestions on how to implement them.
Step 1: Identify Which Business Outcomes Cannot Be Delivered Because of Poor or No Data and Analytics Governance
Business and data leaders will find their tasks much easier if they can demonstrate the pain that the business will encounter if data and analytics governance is not implemented. Quantifying this can be both persuasive and informative.
While stories that focus on the negative impacts can be considered a high-risk strategy, they are greatly effective in highlighting the urgency of needing to act. Identifying these pain points and challenges associated with unmanaged data and analytics is a key part of building a successful business case.
Step 2: Connect Business Performance With Information Value Through Key Metrics
Data-driven organisations require metrics to demonstrate the value of data and analytics governance. These organisations heavily depend on metrics, key performance indicators (KPIs), and data to make informed business decisions. Budgets held by senior executives are under constant pressure; data and analytics governance leaders will need business-critical metrics that drive actions to demonstrate why data and analytics governance deserve a bigger slice of the pie.
Starting with metrics that matter to the business will help to ensure that the data is speaking the same language.
Step 3: Outline the Scope and Footprint for Governance Through the People, Process and Technology Needed to Deliver the Prioritized Outcomes
Nobody likes 'scope creep', and data and analytics governance is no different. A clear scope will help drive the budget to the areas that will make the biggest difference, in prioritising programs that address clear business outcomes.
This will help identify the roles needed to deliver these outcomes, including specialists, engineers, owners of processes, and those responsible for the metrics that have already been identified.
It follows that after identifying the scope, roles, and people, you are now in a position to start specifying the technology needed to help deliver it.
Step 4: Define the approach, outputs, timescales, and outcomes.
Many IT projects and programmes have a reputation for being over-large and taking too long. Creating a business case at this stage is the perfect opportunity to challenge that myth.
There are multiple methodologies for implementing data governance, and assessing a variety of models will help immensely. Equally, seeking guidance from specialist consultancies (there are many!) will be of great use. At Datactics, we have hand-picked a few consultancies in the UK and USA who we trust to offer great recommendations. You can find more details on our 'Partners' pages.
From a timing perspective, it's important to balance your desire for quick results, with the discipline to deliver; a healthy bias for action will serve you well at this early stage.
Step 5: Complete the Financials for Your Proposal
When it comes down to it, senior executives will expect a price to be paid for the work you are proposing. You can create a compelling business case for data and analytics governance by incorporating:
Demonstrations of cost saving, risk mitigation, and new business opportunities arising from better quality data;
Total cost of ownership for the proposed technological solution(s);
Return on investment;
A "Do-Nothing" option – with financial implications included.
To read more Gartner®  recommendations on building a business case for data and analytics governance, click here for complimentary access to this report.