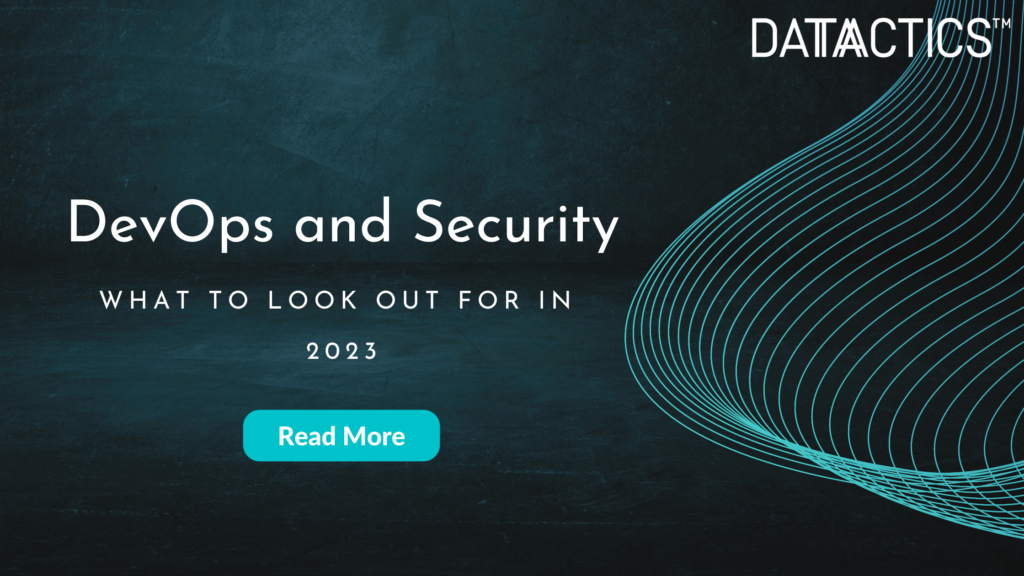 No one team can be all things to an entire company – Or can they?
 Last week the DevOps & Security Team here at Datactics got together to reflect on what our priorities are as a team and to plan out 2023.
As a small team in an ever-growing company, we began the session by reflecting on what our role has looked like at Datactics, before honing in on what the key areas of focus are for us this year. After plenty of discussions, it turns out that (at least for all things IT) one team can indeed be a lot of things.
What does DevOps do?
At Datactics, you can break down what it is the DevOps team does into 6 main areas: 
User Support (UserOps) – Supporting the company's user base.
Systems Operations (SysOps) – Supporting the hybrid infrastructure. 
Security Operation (SecOps) – Keeping the company safe and secure from threats.
Development Operations (DevOps) – Supporting the developers and making it easier for them to develop.
AI/ML Operations (MLOps) – Supporting the AI/ML engineers and making things work.
Client Support (ClientOps) – Working to keep our clients happy.
In light of this, we shared some thoughts on what developments we're expecting to see within IT infrastructure over the next 12 months, covering everything from self-service user support to AI and automation.
User Support – The Rise Of 'Self-Service' 
Everyone likes a bit of self-service. From online check-in to self-scan checkouts in the supermarket, we like to do things for ourselves. The world of IT infrastructure is no different, with self-service user support becoming an increasingly popular option for busy organisations.
People are seeing the benefits of self-service user support in the form of reduced costs and increased efficiency. Additionally, this frees up valuable IT team's resources, which can then be redirected into other areas of the business.
What does self-service user support mean for Datactics? Throughout 2023, we will be looking to make as many offerings as possible to our end users. Leveraging the ever-growing force of Powershell and other scripting tools, we want to equip our users to help themselves.
(We do, of course, still look forward to interacting with our users when they undoubtedly have their "we forgot our password" moments)
Hybrid Infrastructure: It's Here To Stay
This is one I often see debated. When I first joined Datactics, there was plenty of discussion around whether or not we could be a fully  cloud company (a discussion I am sure many of you have had yourselves, or are perhaps having right now?) – The answer back then was found to be no, we could not move fully to the cloud given the nature of the company. I am now into my fourth year and I still stand by that decision.
We are a hybrid-cloud company making use of various SaaS offerings such as Office365, Jumpcloud, AWS, and more, alongside our internal services all running across our VMWare estate. As we continue to push into AI/ML and develop new platform offerings, I see this blended approach growing and we're looking forward to working alongside our partner, Dell, as we expand. 
Alongside this, and overlapping with our ClientOps piece, we will be continuing to review and improve on the Datactics Platform Cloud deployment by using tools from Ansible and the Azure Marketplace – As clients continue on their hybrid journeys, we have a responsibility to make sure we have options for both On-Prem and On-Cloud deployment. 
Being hybrid gives us the necessary level of control over all systems that we require and, personally, I just don't see cloud offerings matching that anytime soon (agree or disagree, I am always happy to discuss this one, so feel free to drop me a line!).
Security Is King
Unless you spent 2022 living under a rock, it's hard to ignore the increase in the number of security hacks, breaches, and threats that insidiously infiltrated some of the world's largest organisations last year. The constant threat of attacks like these isn't going anywhere and the cost of a breach similarly shows no sign of diminishing. IBM's Cost of a Data Breach report revealed that the global average cost of a data breach reached an all-time high of US$4.35 million in 2022.
For us, whether we are trying to protect our infrastructure, increase user security awareness or add additional features to better secure our platform, security really is king. We make use of multiple tools at Datactics (both on-prem and SaaS) to accomplish our infrastructure estate's security, which enables us to stay on top of all current threats and ensure that we are as protected as possible.
This year, we intend to take things a step further and are currently looking at what's involved in obtaining ISO or SOC certifications, in addition to maintaining our Cyber Essentials Plus Certification (the highest level of certification offered under the Cyber Essentials scheme). We will also be increasing our end-user security training and will be running a number of drills to make sure our people are as security savvy as possible.
Empower your developers
DevOps is now an industry standard term. However, if you ask two DevOps Engineers for a description of their job, you will get two entirely different answers. For us here in Datactics, we see DevOps as making the lives of our developers as easy as possible – Giving them access to tools that allow them to do what they do best (and quickly). 
With a number of big projects in the pipeline for us in 2023, we see this as a key role and are constantly increasing our automation offerings to the dev team to make operations and software delivery as efficient and effective as possible. Using Ansible, Terraform, and other toolsets, we aim to support the Datactics development team as much as possible in their projects; supporting agile software development without being a roadblock. 
The use of AI and ML in Infrastructure
We are privileged to have an amazing team here working on our AI and Machine Learning offerings. In a short period of time, they have developed a number of different micro-services for Data Quality which we're looking forward to seeing make waves in the market this year (keep an eye out for more news on this).
As many of you will know, the complexities of bringing an AI/ML offering to market are massive and we certainly found this to be true. We worked closely with the AI team last year to make our offerings production ready by going through various deployment options and, of course, security testing alongside our partner Vertical Structure. 
As we go to market in 2023, we look forward to taking things further. We will be getting alongside our clients and leveraging the power of the cloud with the help of tools like ECS, EKS, AKS, and Tanzu, as we bring AI/ML to the wider Data Fabric market. 
Clients: We Love Them
From initial introductions to POCs to production deployments, clients are key in pushing us to be better. They help to steer platform roadmaps and keep us on our toes. No matter how good the QA is, a client will always try to do something with our platform that we had not considered. As we support the Datactics client base in the deployment, support, and development of our platform, we cannot wait to see where they take us next. 
Datactics are lucky to work alongside a great client base – As we aim to fulfill our mission statement of becoming an indispensable partner we look forward to continuing to work with all of them throughout 2023.
As 2023 stretches out before us, I look forward to working with the talented DevOps & Security Team (Paddy Donnelly, Victoria Wallace & Jessie Steenson) and the wider Datactics family to push the limits of what we think is possible; achieving not only the highlighted areas above but so much more.
As a wise man once said, we want to go "To Infinity And Beyond!"