Quick Answer from Gartner Research: What is Data Fabric Design? Download Today!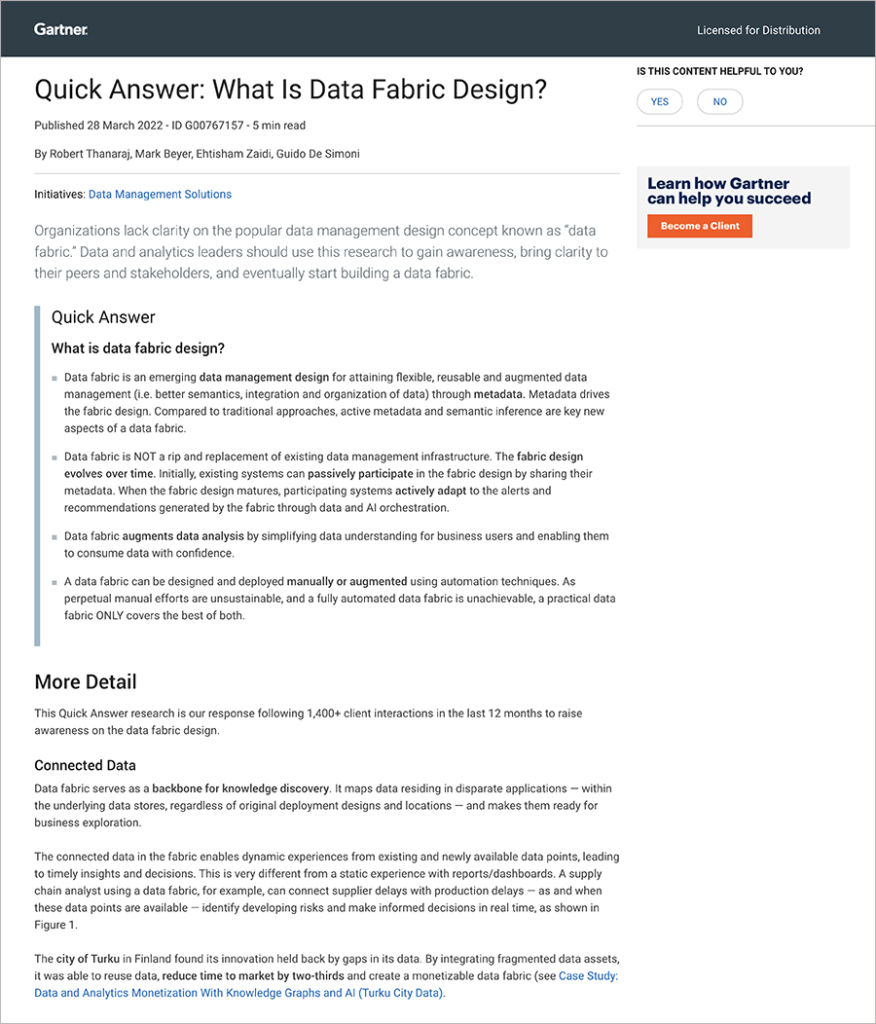 According to Gartner, "organizations lack clarity on the popular data management design concept known as "data fabric." Data and analytics leaders should use this research to gain awareness, bring clarity to their peers and stakeholders, and eventually start building a data fabric."
Datactics understands this in the context of data quality specifically, as a data fabric implementation provides the optimum architecture to apply data quality controls to a large volume of critical data assets, helping you achieve a more unified view of your data quality.
To read more Gartner recommendations on building a data fabric, complete this form for complimentary access to this report.
Source: Gartner, Quick Answer: What Is Data Fabric Design, by Robert Thanaraj, Mark Beyer, Ehtisham Zaidi, Guido De Simoni, 28 March 2022
GARTNER is a registered trademark and service mark of Gartner, Inc. and/or its affiliates in the U.S. and internationally and is used herein with permission. All rights reserved.
Datactics is a leading provider of self-service, AI-augmented data quality solutions and is based in Belfast, UK. Its registered office is Suite 1, 3rd Floor, 11-12 St. James's Square, London, SW1Y 4LB, registered in England and Wales. 
"Gartner, Inc. (NYSE: IT) is the world's leading information technology research and advisory company. We deliver the technology-related insight necessary for our clients to make the right decisions, every day. From CIOs and senior IT leaders in corporations and government agencies, to business leaders in high-tech and telecom enterprises and professional services firms, to technology investors, we are the valuable partner to clients in over 9,100 distinct enterprises worldwide. Through the resources of Gartner Research, Gartner Executive Programs, Gartner Consulting and Gartner Events, we work with every client to research, analyze and interpret the business of IT within the context of their individual role. Founded in 1979, Gartner is headquartered in Stamford, Connecticut, USA., and has 6,600 associates, including more than 1,500 research analysts and consultants, and clients in 85 countries".