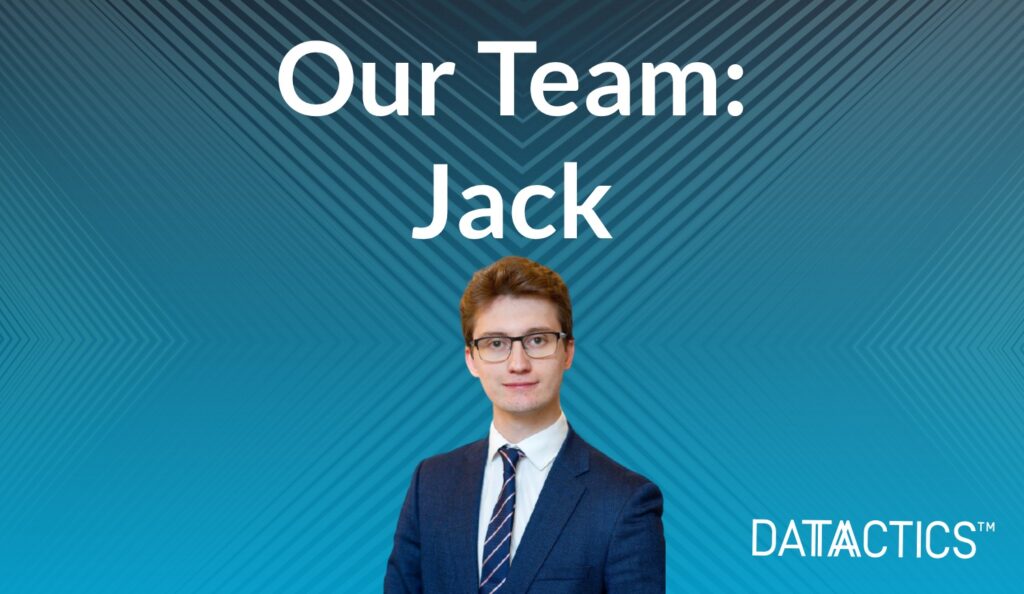 Following hot on the heels of Roisin Floyd, Michael Lynch, and Brendan McCarthy, our latest recruit is Jack Torrens. Jack will be joining the team as a Data Management Consultant in the Pre-Sales function of our business, listening to clients' data woes and helping recommend the best way to fix them. We are thrilled he has joined us! We thought we would take this opportunity to find out who he is, how he has come to Datactics, his goals, and ambitions. We hope you enjoy getting to know him…
Hi Jack! It's great to have you on board. What can you tell me about this role you have taken up with Datactics?
Hello! I will be working in Pre-Sales, with the aim of translating the needs of the user into solutions we can provide. I will also be working closely in partnership with the sales team and the technical teams to help match client needs to our technology. I was drawn to Datactics for many reasons. Firstly, it's a growing company that is making a clear splash, as evidenced by the sheer volume of awards accumulated. Secondly, I was interested in the work the company has done within FinTech and GovTech, as this fits well with my computer science background and financial industry experience. Thirdly, the culture of the company was clearly demonstrated through meeting members of the team. The team members I met spoke highly of the supportive culture embedded in the environment. All three points considered; I was very impressed by the company.
"At Datactics if you present an idea, it can be escalated and brought to reality quickly".
What was your background prior to this role?
I have a varied background! I did a Bachelor's degree at Ulster University in Computer Science, which included a placement year that allowed me to try my hand at being a DevOps Engineer. Upon graduating from University, I quite quickly developed an interest in Finance, which led me to undertake a Master's in Global Investment Management. There's not necessarily a clear path to get into Pre-Sales but I wanted to marry together my technical know-how, financial sector interest, and my business capabilities – this role encapsulated all of the above perfectly. Prior to joining Datactics I have worked within a large bank, which taught me invaluable skills. This particular role within the pre-sales team at Datactics is the perfect role for me. A role that I believe will allow me to utilise my full skillset. I am excited to see how my role develops over time.
What made you choose to study Computer Science?
For me, I was massively interested in the area. I also was acutely aware that a degree in this discipline would allow me to have a strong grounding for any role within the technological sphere whether that be FinTech or GovTech or both! My undergraduate allowed me to explore different areas within coding and allowed me to come to the realisation that my passion lay in Finance. Being able to combine the skills I learned from University in both my undergraduate and master's, is incredibly rewarding! My Master's in particular really allowed me to explore and define my groove – I am thrilled that I chose to study such a challenging course. A course that has opened many doors for me.
For your first 6 months, what are your main goals?
I am really excited to attract large clients, to get involved with key conversations that will help expand our client book. I have been thinking a lot about the best use cases for our product and solution. Already, I am bursting to get involved with meetings, learn the solution, and really focus on what gaps we can be filling. The Pre-Sales team is small but growing rapidly, and I am really looking forward to being a part of the team's success. As I grow in expertise and knowledge, I will grow in confidence in my ability to convey the capabilities of the solution.
Coming into the role, do you have any fears?
As I alluded to earlier, there is a lot to learn! I need to learn the solutions inside out. There will be nerves surrounding covering all the training and ensuring I am knowledgeable enough to engage effectively with any possible scenario the client throws at me. I am also keen to challenge myself and get involved with other teams. My goal is to ensure that I am collaborating with others and offering support where needed.
What were your first impressions of the company?
I am really looking forward to getting involved with social activities in the company, there seems to be a great culture here – so I am looking forward to participating in the next event! It's great to see so much offered to the team by the way of things like the Runners and Riders club and the Movie club. I am really looking forward to getting to know everyone.
Thanks, Jack, for taking the time to chat with us. It was great to be able to hear about your passions and your career journey to date. We look forward to hearing more from you soon!
Click here for more by the author, or find us on Linkedin, Twitter or Facebook for the latest news.